Start your dog grooming career with our Level 1, 2 and 3 courses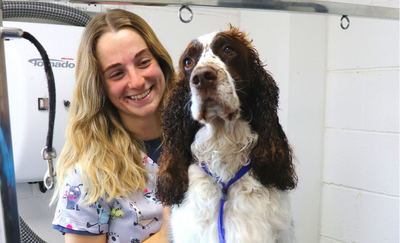 We caught up with Charlotte, dog grooming student who has secured a pet grooming job at a local salon through studying the practical and theory on all our Level 1, 2 and 3 dog grooming courses.
On these courses, you can learn anything from identifying breeds and coat types, identify basic canine behaviour, recognising health and safety issues; to bathing of dogs, professional conduct, biosecurity; to customer service and record keeping to legislations and codes of practice. These skills can lead you to a career as a dog groomer self-employed, at a pet salon or within the animal industry.
Tell me about the course you're on.
The Level 3 course runs 1 day a week and is roughly 40 weeks long. We learn how to style and finish dogs by covering breed standards, pet trims, and learning about body form and balance. But it's not just about how to make a dog look pretty! As dog groomers, we need to understand how dogs work both physically and mentally to give them the most enjoyable, cheerful, and comfortable experience.
How did you get into dog grooming?
Dog grooming was never the original plan. I first came to Plumpton College in 2014. I did the Level 3 Diploma in Adventure Education & Sport and for the past 6 years, I've been an outdoor pursuits instructor working with young people from different backgrounds, doing activities such as climbing, kayaking/canoeing. However, I've always had an obsession with dogs and always thought how amazing and rewarding it could be to work with them as a career.
I started my dog grooming career path by signing up to the Level 1 Principles of Dog Grooming. This course was fantastic with an excellent tutor; it let me dip my toe in the water before jumping straight in. Level 1 gives you a taste of what you can expect in Level 2 Dog Grooming Assistants, which I signed up to as soon as possible, as I wanted to keep the momentum going.
Level 2 was great; we spent one day a week at college, doing practical work in the grooming parlour, such as baths, drying, and brushing. And we learned theory such as legislation & laws, health & safety, dog anatomy, coat types, and equipment care. Once I finished, I immediately signed up for Level 3 Dog Grooming.
What do you hope to do after you've finished your course?
Currently, I work at a local pet grooming salon in Horsham alongside my Level 3 course. I hope to continue working there to gain experience and confidence in the hopes of becoming self-employed. I can't wait to start using the knowledge I've learned at Plumpton College.
What do you enjoy most about dog grooming?
It has to be the dogs! There are not many jobs you can do working and handling so many different breeds and temperaments of dogs. It's very rewarding when you get to work with a dog and build that bond and trust.
What's your favourite thing about studying at Plumpton College?
I love the location of Plumpton College, with it being set right in the South Downs. Everyone on my course is lovely too; I've made some brilliant friends while here as we've completed all the levels together.
Do you have any advice for potential students thinking about studying dog grooming at Plumpton College?
My advice: go for it! If you realise it's not for you, that's alright, that's what Level 1 is for, giving you a chance to have a taster, and at least you come away knowing how to care for your own dog at home. But if you do love it, you could have a whole new career ahead!
There is funding available based on individual requirements. Contact our Enquiries, Advice & Guidance team via the 'contact us' form or call 01273 890 454 to discuss today. We'll be happy to help.
Category: Veterinary
Learn more about our history
Since the original 400-acre College farm was bought back in 1919, Plumpton College has certainly seen a lot of changes.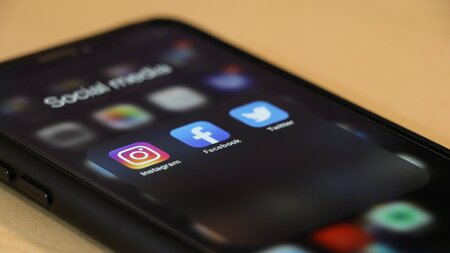 Stay connected
Keep up to date with us online. Give us a like and follow us on: