Passion flowers into winners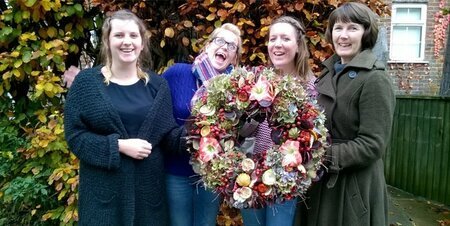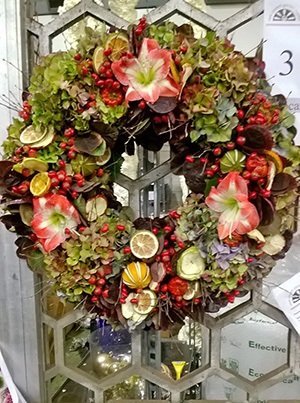 Plumpton College Floristry students have proved that an early morning start is really the best start for a professional career as a florist. The students were judged winners at the New Covent Garden inter-college competition in London. Level 3 Diploma students Paige Smillie, Amy Vaughan (team leader), Jayne Longhurst and Helen Streeter travelled very early one morning this week to London to compete in the prestigious competition. Their studies and passion were sufficient to win first place against fifteen colleges. The exacting design brief was to create an extravagant door wreath for a photo shoot for Country Living magazine. The students had an Apprentice- style challenge, bartering with market traders to get the best price, while working to a tight budget and deadline.
Three Flower Market customers, The Flower Apprecation Society, Hybrid Flowers and Danielle Scandone, generously gave their time and expertise, hoping to inspire the next generation of florists. Sadly, Danielle was unable to demonstrate on the day, but the wonderful Charlotte Slade of Jane Packer Flowers gave a wonderful Christmas demonstration in her place.
Steph Willoughby, Head of Floristry at Plumpton College says, "We are very proud of the students. This is the ninth consecutive year we have been placed in this competition and the winning creation is a credit to their design and business skills, their communication and vision in taking forward their studies to the next level"
She added that as well as academic studies, the College is also busy enrolling for Christmas floristry workshops for anyone interested in creating seasonal, scented designs. The day includes all materials, tutorial, refreshments and a lunch in a friendly environment, providing a colourful end to the term.
Learn more about our history
Since the original 400-acre College farm was bought back in 1919, Plumpton College has certainly seen a lot of changes.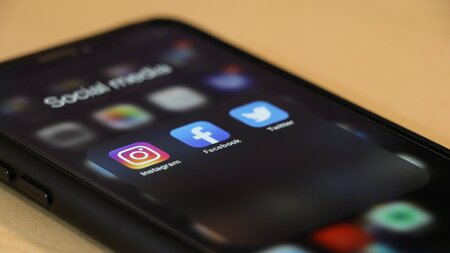 Stay connected
Keep up to date with us online. Give us a like and follow us on: