Local newsreader and reporter visits students
Written by 14+ Home Educated Group 18 January 2017 18:00 - 18:00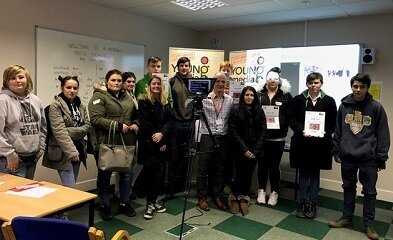 The 14+ Home Educated group recently had the fantastic opportunity to take part in the Newsroom Bootcamp and Employability Express Workshop with local newsreader and reporter John Young. Here they share their experience...
The day started with some very anxious looking students and teachers; we knew we would be doing something very different for the morning with someone we had not met before. We really didn't know what would be expected of us – or what we were in for!

John greeted us all with individual handshakes and made us welcome from the start. We learnt that John is a local journalist and television news presenter; he started with a short introductory video about himself.

We were introduced to the autocue that newsreaders use. Most of the group were far too nervous to try this out but four of us were selected and just did it – we received certificates for breaching our comfort zone.

John had found a news story about the supposed health benefits of the spice Turmeric; we had a discussion about how this was portrayed in the media, the ways it could affect some people and whether it was right to report in the media in the way it had been.

We spent some time evaluating news stories and deciding if they were newsworthy and why; this was in preparation for making quick decisions in selecting which stories to use in a news bulletin. We had to choose stories that covered these points - serious, extraordinary, now and wow.

Every few minutes the phone rang with new potential stories and we had to re-evaluate our choices for the stories we were intending to use. We found this difficult but it was useful experience for the future, teaching us about making quick decisions and problems solving. We felt under pressure, rushed, out of our comfort zone but we all kept going and completed the task despite the pressures and we completed it within the time -frame. These will be useful skills for when we go out to work.

We then moved on to the employability express session which was about helping us to prepare for interviews and applying for work experience and jobs. We found out that employers only spend 36 seconds reading people's cv, that employers generally don't reply to job applications and that employers want examples of our qualities.

Some of us had simulated phone conversations with potential employers (John) and we had to talk about our qualities, our qualifications and ourselves. We also talked to other members of staff from the College about ourselves. We were then able to interview them about how they got in to their jobs. This was helpful because some of us find it difficult talking to people we don't know and this helped build our confidence.

One of our group volunteered to be interviewed by John about what she wants to do for work and this was filmed. She was nervous but brave to do it in front of everyone.

By the end of the morning we'd had a go at things we'd never done before which at the time seemed scary but it showed us that we can do things if you just give it a go. We all thought it was an amazing morning and John was brilliant.
Learn more about our history
Since the original 400-acre College farm was bought back in 1919, Plumpton College has certainly seen a lot of changes.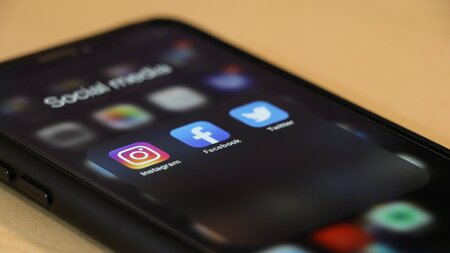 Stay connected
Keep up to date with us online. Give us a like and follow us on: