College demonstrates training provision for future skills to Ministers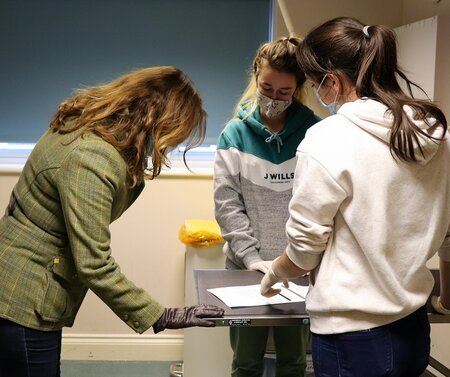 Both the Minister for Apprenticeships and Skills and the Minister for Employment visited Plumpton College, East Sussex today, hearing how the College is addressing the skills gap facing employers.
Making her first visit to a land-based college since becoming Minister for Apprenticeships and Skills, Gillian Keegan MP (Chichester), was joined by Minister for Employment Mims Davies MP (Mid Sussex) and met on arrival by Plumpton College Principal Jeremy Kerswell and NFU South East Regional Board chairman David Exwood.
The Ministers received a guided tour of the campus near Lewes, meeting staff and students while learning how the College engages with land-based businesses across the South East.
The College has recently launched an adult retraining programme focused on providing key employability skills and sector-based training to participants. The programme has been led by employers, who are in desperate need of entrants to their workforce, not only exacerbated by the current pandemic, but also by the impact Brexit has had on the labour market.
"I really enjoyed my visit to Plumpton College, my first to a land-based college since becoming Apprenticeships and Skills Minister, and meeting some of their fantastic viticulture (wine making), butchery, and veterinary nurse students.
It was great to see first-hand how the college is working with the local community to equip them with the important skills our land, food and agricultural industries need and to make sure they have the talent pipeline they need to thrive."
Minister for Apprenticeships and Skills, Gillian Keegan
The college, which remains independent, has developed its provision from its roots as an Agricultural College to one of the most specialist providers of land-based courses, offering 19 different course subjects. The sector remains of strategic importance to the college, given the skills gap, and the need to balance productivity and sustainability in the future. New lecturer, Ben De Hallivand, who has worked within the agriculture industry gave Minister Keegan and Minister Davies a tour of the outstanding facilities at the college's 750-hectare Lambert Farm.

Principal Jeremy Kerswell shared that the college has been awarded funding to invest in new centres of excellence for both the agri-food and horticulture industries. The Agri-Food Centre is being built in the heart of the campus and redevelopment of the horticulture campus based at Stanmer Park Brighton within the Victorian walled gardens, will open to the public as a new visitor destination Spring 2021.
Jeremy shared
"It was a pleasure to welcome MP Gillian Keegan and MP Mims Davies to the campus today. I am pleased that not only did they get to meet some of our staff and students, but employers to discuss how we work collaboratively to provide courses that meet business need.
To do this we have to continually adapt our programmes and ensure they met the needs of the sectors we serve. Remaining agile within the current climate is key to the sustainability of land-based colleges, and to be able to continually invest in innovative ways to deliver the skills students need to thrive in the workplace as demonstrated on the visit today".
NFU South East Regional Board chairman David Exwood, a mixed farmer from Horsham, in West Sussex
"Plumpton College is at the forefront of delivering agricultural and viticulture skills training. It's impressive to see how the College is working with industry partners to meet specific skills needs within the sector and how it has adapted to challenges posed by the current Covid-19 pandemic.
The meeting was a good opportunity to highlight the importance of retraining in the rural sector to the Apprenticeships and Skills Minister, Gillian Keegan, and Mims Davies MP, while discussing the funding requirements of these courses.
At a time of great change, there are always opportunities and training facilities such as Plumpton are the key to unlocking those opportunities. As a rural business owner, I know first-hand how important it is for colleges to build industry partnerships so that the skills gap is addressed."
Ministers met students and employer D'Arcy Gander, Director of VineWorks who was delivering a presentation to the second cohort of learners. They were interested to understand future employment opportunities with the programme guaranteeing that the employer will provide an interview upon finishing the course. The college has a unique wine provision offering courses to degree level, with unrivalled facilities including a commercial winery and research laboratories. The college has ambition to launch further programmes in production horticulture and agriculture next year.
As well as adult programmes, the college offers a range of apprenticeships for learners of all ages, boasting both regional and national employer partnerships such as Tesco Booker and The National Trust. MPs Davies and Keegan were shown how the college is able to deliver courses using a blended learning model offering classes online to extend its reach, but utilising practical facilities both at the college and in the workplace.
They joined butchery students virtually in Guildford, studying English and maths, and Veterinary Nursing apprentices in mock practical exams in the Clinical Training Suite on campus which includes a theatre and preparation room giving students a real-life experience within the classroom. MP Keegan, who trained as an apprentice was keen to ask students about their career progression after their apprenticeship and what work was available for them in their sector. Students shared details of the variety of clinical skills they were practising for their exam, all under timed conditions to replicate the nature of the fast-paced environment they will be working in.
Category: College News
Learn more about our history
Since the original 400-acre College farm was bought back in 1919, Plumpton College has certainly seen a lot of changes.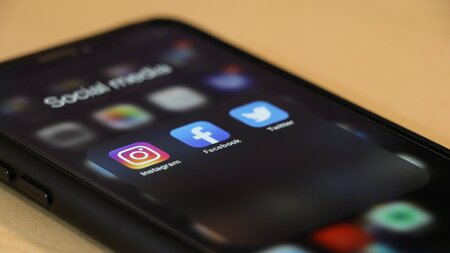 Stay connected
Keep up to date with us online. Give us a like and follow us on: