FdSc Equine Science & Coaching
Foundation Degree
If you're looking to follow a career in coaching, this is a great choice of course for you.
What does the course cover?
This course offers the ideal combination of equine science and practical skill development. Modules are particularly tailored for a career in coaching but are equally applicable across various professions within the equine industry.
With some of the highest qualified BHS instructors in its team Plumpton College can offer a standard of coaching not available elsewhere in the South East. After a generic first year covering topics such as Equine Anatomy, Nutrition and Behaviour, specialist subjects in the second year include Coaching for Competition Riders and Advanced Equitation. Some practical experience and knowledge of horses is essential prior to joining the programme.
Why Choose Us?
Whilst studying for the degree you can choose to train for the British Horse Society (BHS) examinations to gain personal accreditation. This is optional and is not included in the course fees.
Excellent equine facilities with a well-equipped yard for up to 40 horses, two indoor schools, an outdoor school, a horse walker, and a cross-country course
Benefit from small class sizes, with equitation and coaching lessons involving a 1:6 ratio
Opportunities are also available to undertake work experience abroad
The course is offered by one of the university's partner colleges: Plumpton College, based at Lewes, East Sussex.
Personal Accreditation
Whilst studying for the degree, you can choose to train for the British Horse Society (BHS) examinations. This is optional and not included in course fees. Students are expected to register independently with the BHS.
Course Structure
Modules are delivered in a variety of ways including lectures, practical sessions on the College yard, equitation sessions and field trips. Opportunities are also available for you to undertake work experience.
Careers Hub
We offer impartial careers guidance to all of our students, email careers@plumpton.ac.uk to explore your next step or to book an appointment – we're here to help.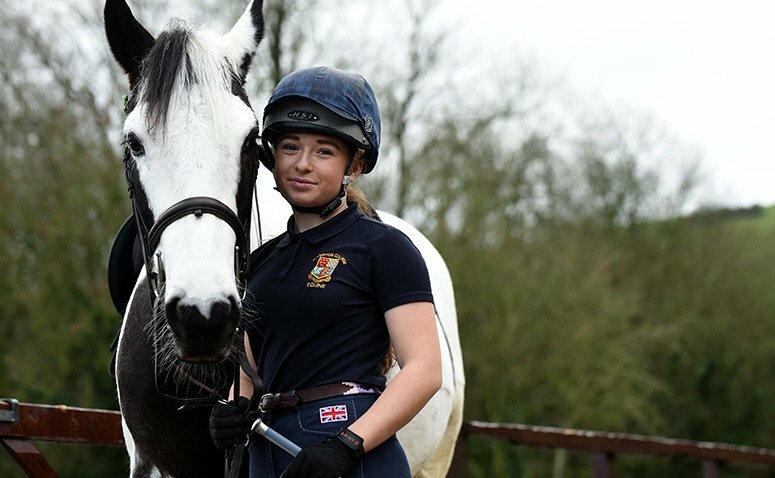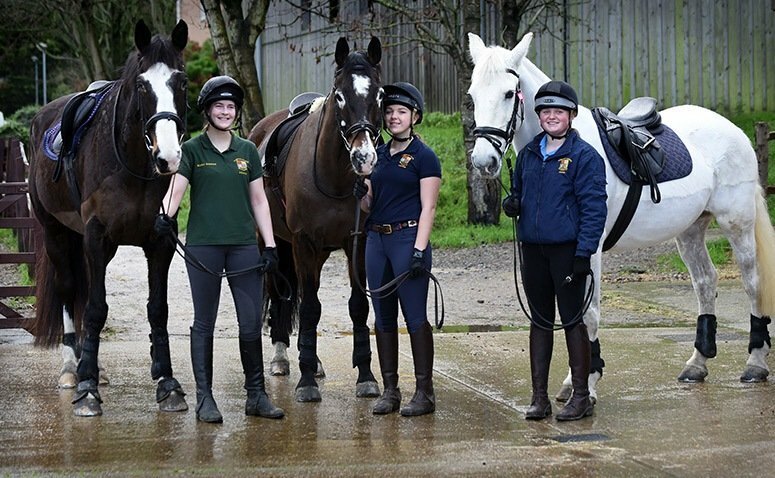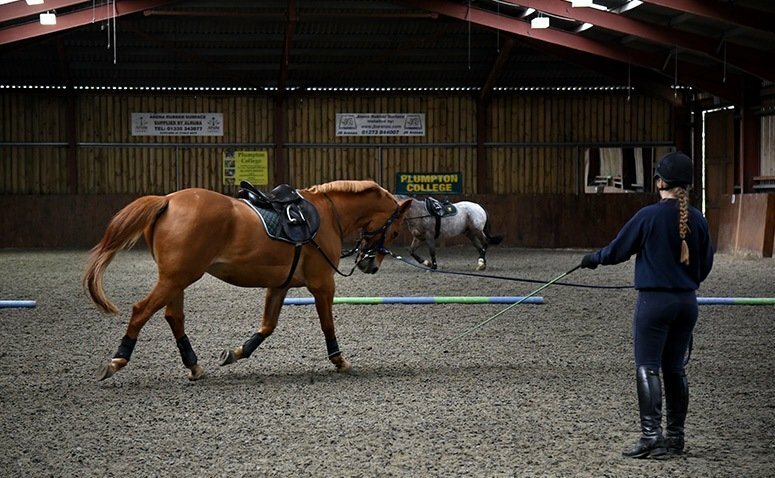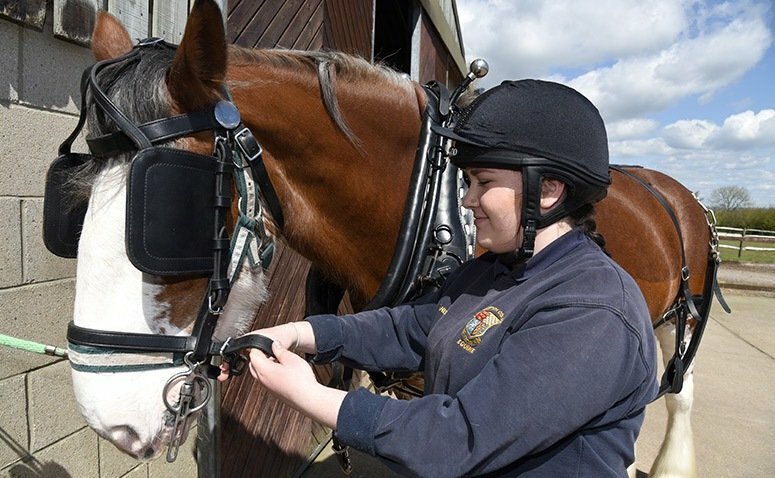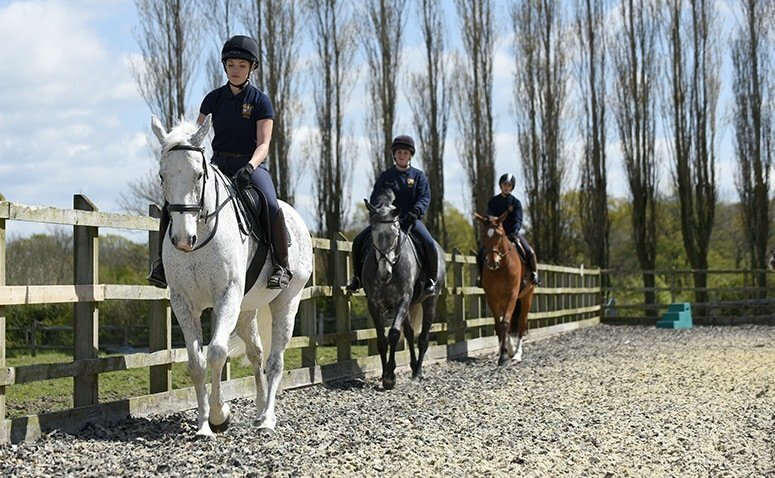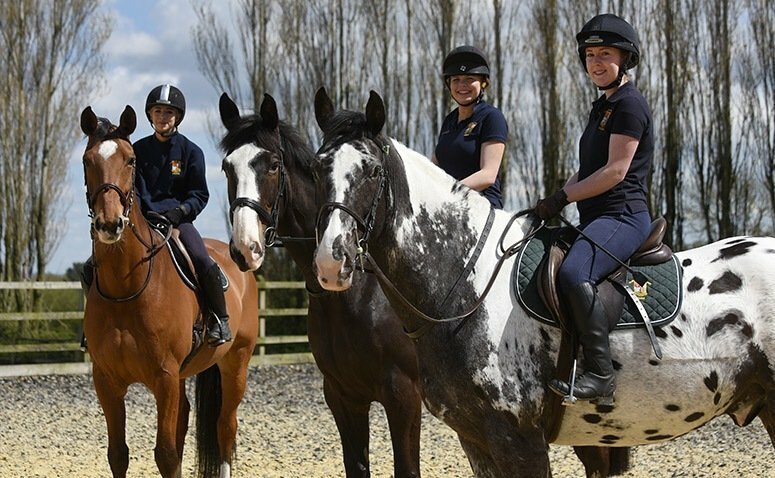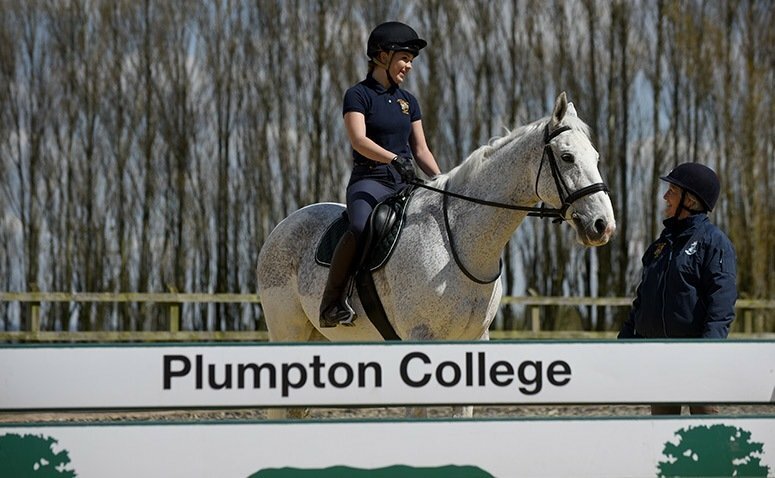 Course details
Dates & Location

The academic year runs from September to June.

Duration

Full-time: 2 years

Part-time: 4 years

UCAS Details

Code: P400

Points: 56
Entry Requirements
We consider a range of Level 3 qualifications with UCAS Tariff points, specifically:
A Level: two subjects (CD) and must include one in a STEM-related subject.
BTEC National: Extended Diploma (MPP) in Equine/Animal Management.
Access to HE: science/Biology subjects
We also consider applicants with relevant industrial experience if over 21 years of age.
We expect a minimum of five GCSE's, including Mathematics, English Language and a science, all at grade 4 or above (grade C or above under the A*-G system).
Students with English as a second language will be required to have gained IELTS at 6.5 overall with 6.0 in Writing.
The best thing about the equine degree course at Plumpton is the wide range of subjects offered and the mix between practical and academic. As a mature student embarking on a second career it has given me a taster of every aspect of the equestrian industry and opened my eyes to the breadth of career opportunities available. The practical training received is brilliant preparation for anyone thinking about doing the BHS pathways and within the first year I went from having very little practical skills to being BHS Stage 2 level.
Facilities
We're very proud of our excellent equine facilities here at Plumpton. Lots of space and excellent facilities, you'll get to enjoy lots of hands-on time with our horses as well as building your knowledge of this fascinating industry.
Come and visit our two large schools here at Plumpton
We've got two large indoor schools on-site, complete with galleries, for you to enjoy during your course.
Lots of space for you to enjoy outdoors at our extensive estate
You'll be able to use our 30m x 60m outdoor menege during your course in addition to stabling for 50 horses.
A variety of horses for you to experience and enjoy
We make sure that you get to work with and ride a variety of different horses throughout your time at Plumpton including Shire horses.
The latest equine facilities are available on-site
Keep up with the latest technologies introduced in the industry. You'll get to experience equipment such as a cross-country course, treadmill and weigh bridge.
Library
The library facilities at Plumpton located in the centre of the College campus. There is plenty of space for quiet study and plugs at every desk. The library has extensive computer facilities to support student research and there is also easy access to printers. The library is staffed by the library manager and library assistants.
There are over 10,000 books on land-based subjects, plus a range of magazines and journals, including electronic resources that may be accessed from College or home. The library stocks specialist material that covers a broad range of animal management, conservation and veterinary science subjects to facilitate students in their assignments and research projects. Students also have access to subject-specific e-journals and e-publications.
I.T. Resources
We have a dedicated Higher Education I.T. room here at Plumpton, providing reliable access to a quiet study space and printing facilities.
Our Virtual Learning Environment (VLE) is based on the programme SharePoint. It is used daily by both staff and students to ensure that we adhere to the College aim of using modern technology to help support outstanding teaching, learning and assessment at college. Staff are encouraged to empower their students through the use of digital tools both in and outside the classroom. For example, they can provide support before a lesson by uploading lecture slides onto the module page. Digital enhancement can be conducted in a variety of ways during a lesson, such as encouraging student interaction through the use of Virtual Reality. Meanwhile, post-lesson enrichment can come in the form of a lesson-review quiz. Students must also submit assignments online via Turnitin, allowing staff to provide accessible and detailed digital feedback.
HE Study Rooms
HE students have access to their own study rooms that is for the sole use of HE students. The rooms are located in the Research & Development building, and creates a quiet self-study environment for students. Additionally, there is also a dedicated HE common room designed to provide students with a space to relax and engage with other HE students.
Future Opportunities
Our graduates are well placed for employment in the equine industry, including lecturing, self-employed instructor roles, equine management, retail, yard management, breeding and stud farm management, competition grooming, riding instruction, equine sports coaching, equine rehabilitation and therapy and management, or students can go on to further study at Level 6 (top-up degree) and specialise further.
Previous students have worked in: Cliffe Equine Vets, international competition yards, specialised as Veterinary Physiotherapists and many are employed as Equine Yard Managers and coaches at riding schools.
Modules
Equine Functional Anatomy
Practical Equine Management
Introduction to Business Management
Study and Research Skills
Ground Schooling and Remedial Exercise
15 credits (optional module)
Equitation
15 credits (optional module)
Business and Event Management
Equine Behavioural Science
Skills for Coaching Competition Riders
Applied Performance Training
15 credits (optional module)
Advanced Equitation
15 credits (optional module)
Other courses that may interest you
Ready to take the next step?