A Day in the life of a Dog Groomer at Plumpton College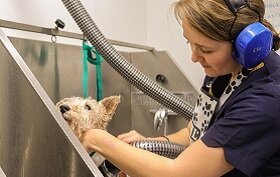 What inspired you to get into professional dog grooming?
I've always loved animals, but always had a particular love of dogs, and knew I wanted to work with them one day but wasn't really sure what to do. It tied in well, as I've also liked the idea of working for myself and having my own business so thought dog grooming would be the perfect job for me.
What were you doing before you started studying at Plumpton College?
Before starting at Plumpton I was working as a waitress in a gastro pub, I still work at the pub now on evenings and weekends to support myself alongside my studies. 
What do you hope to do after you complete your course?
After I've completed the course I hope to continue growing my knowledge by gaining more experience. I'd like to focus on gaining work in a parlour or helping out a smaller dog grooming business, giving me even more confidence to open my own business.
What previous dog grooming experience did you have before you started your studies?
So this year I'm currently studying my level three, this is after completing the levels one and two over the last two years! I had absolutely no experience prior to starting my level one, so it's been a great structure of building blocks for me.
What's your favourite dog breed to groom?
There are still many breeds I that I haven't groomed so it's quite hard to pick! But so far I have mostly enjoyed hand stripping a Border Terrier or grooming a cockapoo.
What's the best thing about studying at Plumpton College?
The best thing about studying at Plumpton College is definitely the campus, it's beautiful with so much going on, the views are also incredible. I feel lucky to study somewhere so idyllic!.
What advice would you give to someone considering a career change into dog grooming?
I would definitely recommend completing the level one before you begin. It isn't a requirement to get in to level two but you learn a lot and it's a great introduction into grooming.
What's the best skill you've learnt to-date? / proudest achievement?
We usually do theory in the morning and then practical in the afternoon. Last week we were shown a demonstration on how to do 'column legs' on a dog, in the afternoon I was grooming a cockapoo and was able to put what we had learnt into practice, it went very well and my teacher was impressed with the result!" 
Why would you recommend Plumpton College?
I would recommend Plumpton College as there are so many different courses you can study here, there's also lots of facilities available including a library and a gym. The teachers are very knowledgeable and make learning interesting and fun.
Martha is just one of many embarking on her journey into the Dog Grooming world. Our cohort is the largest it's ever been, with expert professional teaching staff and state-of-the-art facilities, it's the perfect starting point. Come and see for yourself at our next open event!
Learn more about our history
Since the original 400-acre College farm was bought back in 1919, Plumpton College has certainly seen a lot of changes.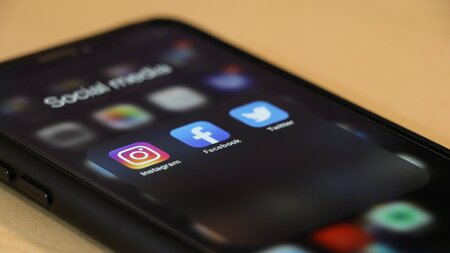 Stay connected
Keep up to date with us online. Give us a like and follow us on: