Level 1 | Electively Home Educated & School Link
This is a varied and interesting course designed to provide you with a broad educaition in the main aspects of animal care.
You will work with a variety of animals including mammals, exotics, reptiles, fish, birds and amphibians as a basis for further education courses at college and for moving into relevant employment.
This course will help you develop you practical skills to a professional and competent level as well as increasing your knowledge and understanding of the natural world.
Completion of the Level 1 Animal Care Diploma will allow you to progress on to other courses or gain employment in the animal care industry.
Course details
Dates & Location

September 2024

Duration

1 year - Certificate

2 years - Diploma

One day per week
Entry Requirements
School Students
Applicants must be 14 years of age or older by 31st August of the year of applying.
A service level agreement must be agreed and signed between the College and participating School before learners can be enrolled.
The school must be in agreement with the application and agree to pay the fees.
Electively Home Educated
Students must have been out of education and home schooled for at least 6 months prior to enrolling.
Applicants must be 14 years of age or older by 31st August of the year of applying.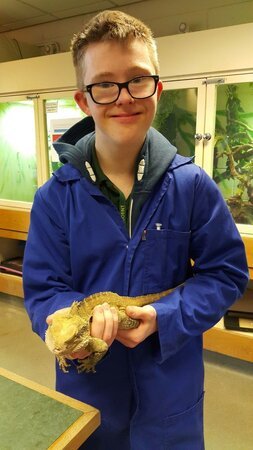 I chose this course as I am able to practise my literacy and numeracy skills whilst learning about caring for animals and about different environments. I enjoy practical tasks and this course gives me lots of hands-on learning.

The best part of this course is caring for the animals and the practical handling sessions especially the guinea pigs.

In the future I would like to enrol on the Rural Pathways course at Plumpton College with a view to working in agriculture.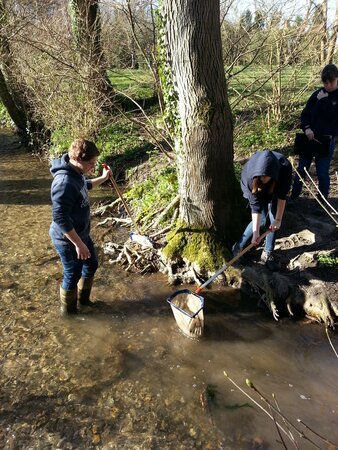 Luc progressed from the 14 - 16 level 1 course to take the level 2 and then 3 in Animal Care, achieving 'Top Student' on the 14-16 course.
Future Opportunities
Students usually come into college at age 14 and are on a two year programme. On successful completion of this they are then in a position to apply for a place on the 16+ full time study programmes. Towards the end of the second year this is discussed with students as part of the progression tutorials.
On applying for a 16+ course students will be required to attend an interview for the course and will be processed as a new applicant.
Once students are a 16+ programme they are also in a position to apply for bursaries to support learning, travel etc.
Modules
Indicative Programme Content
Animals in the wild and society
Animal health and well-being
Feeding and watering animals
Safe and effective working practices
Wildlife and conservation
Maintaining health and well-being of animals
Movement handling and accommodation of animals
Personal progress
Ready to take the next step?