The 35th OIV Vine and Wine Congress in Izmir, Turkey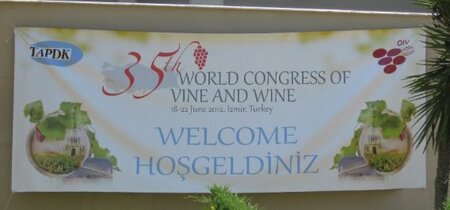 I was recently invited to attend the 35th OIV Vine and Wine Congress in Izmir, Turkey on behalf of Plumpton College to present a paper on sustainable wine production and the WineSkills initiative. How could I say no?
To some it might seem an odd destination for the congress but Turkey has been producing wine for over 2000 years and grape growing for 5000 years. It's the 6th biggest grape growing country in the world and 2nd largest raisin producer. 95% of grapes grown in Turkey are for table grapes or raisins and 90% of those are exported, a significant amount to the UK. The core aim of the congress was to benefit from the sharing of knowledge and research by academics, viticulturists, oenologists, marketers, trade officials and diplomats. The congress had a focus on trade, diversity, sustainability, innovation, traceability, biodiversity, consumer health and customer quality expectations.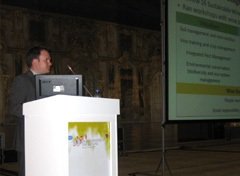 Delegates were welcome by OIV President Yves Bénard who was only a few lines into his speech, talking about movements in global production, purchasing and consumption trends, when he mentioned the growth of the UK wine production industry and focus on quality. Unfortunately at which point my German colleague next to me nearly had a hernia as the translation he received in his head set was 'fock us on quality'! However, he went on to recognise the importance of the UK as a major wine purchasing country and wine trade centre…..great to get a mention even though the UK is not an OIV member.
Most of the viticulture focus at the congress was on table grape or raisin production and the oenology section on subjects as diverse as standardising analytical techniques, SO2 reduction trials, new microtoxin reduction products, the use of metabolic blockers in sequential fermentation etcetera etcetera.
My main interest was the congress sections dedicated to law and the economy in particular the focus given to the role of environmental credentials of wines. The key conclusions from research around the world were that the market drivers and economic imperatives to improved efficiency in production processes and environmental protection, particularly around energy, water use and biodiversity, are increasing significantly. The collection of research demonstrated that this was particularly the case for wines being marketed at a younger audience, generation Y.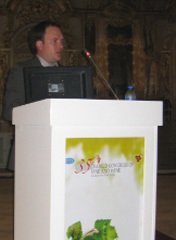 My presentation looked at the development, structure and delivery of WineSkills as a training provider and its role in supporting the sustainable development of wine production in the UK. There was significant interest in the WineSkills initiative, particularly from new emerging wine producing regions or those that have limited wine production education provision. Peter Hayes (The WineSkills Vineyard Management and Vinegrowing Mentor and OIV Vice President) was present and extolled the virtue of WineSkills in discussions with several member countries.
Talk about the UK production industry raised a lot of interest, some were surprised wine was made at all in the UK, others had heard and were keen to try some but most were very interested about the potential of the industry and exports.
Of course this was also an opportunity to sell Plumpton's wine education provision to interested parties from around the world. Plumpton College paid for me to go, so sell I did! Let's hope the hard work pays off.
Finally, the OIV President and Director General were keen to talk to relevant bodies and individuals in the UK about OIV membership, as one OIV official put it: 'It would be good to have the UK at the party'. Now that's not my area but I'm sure they'll be knocking on someone's door soon…and if nothing else the OIV would be all too keen to have some English presentations again next time. If you get chance I would highly recommend attending.
Learn more about our history
Since the original 400-acre College farm was bought back in 1919, Plumpton College has certainly seen a lot of changes.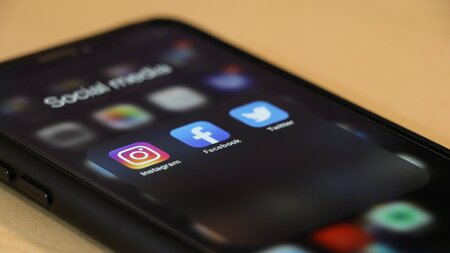 Stay connected
Keep up to date with us online. Give us a like and follow us on: