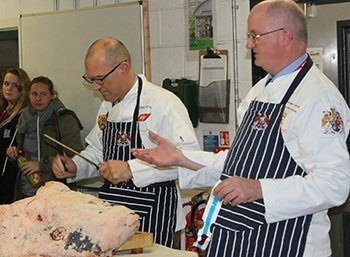 Plumpton College students studying on the agriculture programmes had another outstanding lecture recently. A packed audience of first and second year students met with two of the world's sixteen Master Butchers for a fascinating lecture and practical demonstration in butchery and an update on the UK Meat industry.
Julien Pursglove, Technical Manager, Lamb, Game & Venison, Meat, Fish & Poultry at Sainsbury's and Dave Smith, Senior Accounts Manager, APB group visited the College to offer practical skills and industry advice to students hoping to enter the profession.
In 2011, Sainsbury's became the first major retailer to employ a Master Butcher, under the Meat Training Council's new qualification scheme. Julien Pursglove is only the fifth person in the UK to be accredited with this title. To qualify for the award, Julien had to demonstrate to the Meat Training Council's moderators that he had sufficient knowledge and skills to justify the title, ranging from understanding livestock production, carcass dressing, butchery and dealing with customers in a retail environment. As well as these traditional skills, he also had to cover modern hygiene practices and people management. Sainsbury's are proud of Julien's achievement, which reflects their commitment to supporting colleagues with ongoing training and development.
One of Europe's leading food processors, ABP group provides quality beef to thousands of customers across the world. Dave Smith, also a Master Butcher, one of only sixteen people in the world with this title, says, "The meat industry opens several doors to people who may not necessarily want to follow a career in butchery- such as engineering, IT or even sales and purchasing – the opportunities really are endless. At ABP UK, we work very closely with the National Skills Academy and have recently become members, as well as engaging with local schools and colleges to show young people just how much opportunity there is in our industry"
Plumpton College Lecturers Catherine Daw and Mark Campbell organised the event to complement the students' academic studies. These exciting courses are delivered predominantly through classroom sessions and lectures, which are combined with laboratory classes, farm visits, guest speakers and practical activities. Course modules include beef production, livestock husbandry and business management. Students benefit from learning in the new dairy production, processing and trials unit, while experiencing diverse systems of production. Graduates from the programme progress to agriculture based careers both within the UK and overseas, including whole farm or unit management, while allied career industries include animal breeding, nutrition, agronomy, agricultural sales, teaching and the Civil Service.
Despite the economic challenges, it is an exciting time for the land based sector. It is widely recognised that nearly half a million new entrants are needed to boost the workforce in the next ten years and these will need to be more highly skilled than ever before to meet the needs of an increasingly technologically advanced sector.
Plumpton College is very well equipped to continue to meet these needs and enable excellent progression of its students into employment, with over thirteen subject areas offered, outstanding state-of-the-art facilities and a range of provision to meet every need, from Foundation Learning to Honours Degree and full time to Apprenticeship.
Learn more about our history
Since the original 400-acre College farm was bought back in 1919, Plumpton College has certainly seen a lot of changes.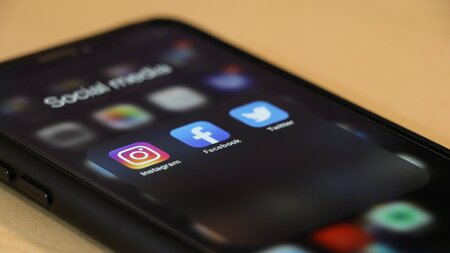 Stay connected
Keep up to date with us online. Give us a like and follow us on: