Plumpton College study tour to Bordeaux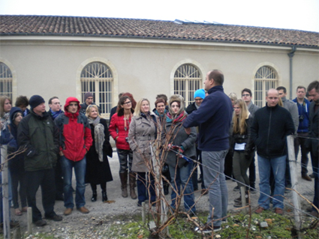 Study Tour Report
Château de Sours, Saint-Quentin-de-Baron, Wed 28th November 2012, by Harry Lewis
We started the tour off by looking around their three different wine-producing areas. The red, white and the rosé. This place had a warm feeling of character, passion and love for the job. Even though the tiredness of a very early start from the UK was dragging us all to the floor, the beauty and ambience that the Chateau produced was enough to keep us all interested for the whole tour. We visited the cellar where the wine is kept for ageing, then we gratefully and gracefully sprinted to where lunch was being served with wine. It was delightful food with a quality wine, which many liked and bought; I certainly did!
Laithwaite's Le Chai au Quai, Castillon-la-Bataille, Wed 28th November 2012, by Lucy Robinson
After the extensive tour of Chateau de Sours, tasty lunch and a visit to the hotel for a much needed refresh and some power naps (3am starts not agreeing with most people), the coach picked us up at 4.30pm and off we headed to Laithwaite's Chai au Quai in Castillon. Following a long journey east (and possibly a hint of getting lost!), we finally arrived in Castillon to be met by a roaring fire and a beautifully-renovated Chai. We were given a very informative introduction to the history of the Chai and Laithwaites, and then the winemakers Jean Marc, Mark (ex Plumpton) and Nadia provided us with a cellar visit and tank sample tastings of a variety of wines. The stand-out wine for most was the experimental dry Botrytis which will be released next autumn. Also tasted were a Sauvignon, a Chardonnay and a Grenache gris.
Laithwaite's approach to winemaking includes creating blends from grapes grown in various southern regions. Seeing such an experimental approach to winemaking was very interesting, and after the cellar visit, the group investigated the shop and saw many of these wines in bottle. We were then provided with a filling dinner of saucisses en pain and a delicious potage aux légumes.
Jean Marc and Mark very generously opened many bottles for us all to taste. It was a great experience to have the opportunity to try a good range of the French wines produced by Laithwaites, and a little later, Jean Marc pulled out some special wines such as Le Presbytère 2003 made from 100 year-old Merlot vines.
The visit was much enjoyed by all and many purchases were made in the shop. Perceptions of Laithwaites were definitely changed thanks to the experience, and it provided a very different viewpoint of winemaking in France in comparison to the other visits to come.
Vinitech, Thurs 29th Nov.
This was a very large international exhibition of vineyard and winery equipment and materials. Sebastian from Tonnellerie Baron gave an interesting talk about the process of barrel making, showed the OXOline barrel storage system and also demonstrated their 'Integrale' barrels designed for fermenting red wines in barrel.
Talks were also given by Pellenc on their range of viticultural equipment, including machine harvesters and vineyard power tools, such as electric secateurs. Olivier Zekri from Mercier vine nursery talked about the nursery process and production of grafted vines.
Château Batailly, Pauillac (Grand Cru Classé), Friday 30th November 2012 by Sean Burridge
We rolled into Chateau Batailley after a few wrong turns from our coach driver, Chris, on a crisp, clear morning. From our arrival position we didn't really see the chateau, just the winery, which looked somewhat like a ranch from Dallas, but surrounded by vines as far as the eye could see. We were later informed that there are around 50 hectares of vines managed by a staff of 25.
We were greeted by the winemaker, Arnaud, who was a typically Gallic individual. He showed us around the winery and fermentation tanks where they produce up to 300,000 bottles a year. According to Arnaud they do not inoculate the tanks as all the yeasts come in from the vineyards. He also says that the malolactic fermentation is carried out at the same time... "It's all natural" he stated. He explained how the vines are grown on "grubble" (but I think he meant gravel) to help produce the perfect terroir for their wines. The vines are old and pruned by hand, both of which help to maintain the quality and character of the grape. When Jo asked about screwcaps, he appeared to have no idea what she was talking about and dismissed her question with a typically French, Gallic shrug!
All the wines from each vintage are sold to négociants, except for 10% which the chateau keeps to use at wine tastings, for the owners and for gifts. We were unable to buy any, which was a shame because the 2008 Grand Cru (70% Cabernet sauvignon, 25% Merlot and a little Cabernet franc and petit Verdot if I remember correctly) was eminently drinkable with plenty of black fruits, a hint of acidity, soft tannins but enough for good mouthfeel and potential to age.
All in all a good visit.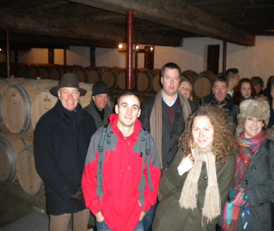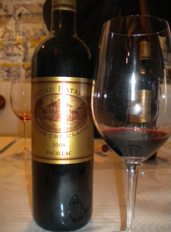 Chateau Lagrange, Friday 30th November 2012, by Alex Pooley
After a chilly lunch in Pauillac we arrived at Chateau Lagrange to be shown the vineyards and cellars by Technical Director Matthieu Bordes.
The estate covers 157 hectares (ha) of largely gravel soils in the west of St Julien. 117 ha of these are under vine, with the vast majority being black varieties in rough proportions of 65% Cabernet sauvignon, 28% Merlot, and 7% petit Verdot. A small amount of white is made from only 4ha, with Sauvignon blanc being 60% of plantings, Semillon 30% and Muscadelle 10%.
The vines
In the 1990s, the Suntory Group (who purchased the estate in 1984 for €10m) invested €30m updating the winery and re-planting 60 ha of older, less productive vines. The older part of the estate is planted at 7,000 vines per hectare, whereas the new vines are planted at approximately 8,700 vines per ha for Cabernet sauvignon and approximately 10,000 vines per ha for Merlot. This higher number of vines per hectare reduces the number of bunches per vine, and the size of the berries, which increases concentration of flavour in the wine.
In total there are approximately 900,000 vines across the estate, with an average yield of 40 hectolitres per ha. The older vines, usually those which are 60 years old or more, are re-planted at a rate of two hectares per year. Around eight hectares of vines are cultivated biodynamically. So far the resulting wines have not been entirely satisfactory; according to Matthieu: "There are many ceps in the forest".
The average age of the vines used for the Grand Vin is 35 years. Bordos believes that a vine's useful lifespan reaches to 80 years but chateau policy is to start grubbing up at 55 – 60 years.
Harvest
Harvest is an extremely busy time, with 150 pickers employed to bring in as many grapes as possible at optimal ripeness. At the height of harvest it is common for 240 eight kilogram crates to arrive at the grape reception area every 10 minutes!
An optical sorting machine scans a sample of good berries and stores this data as a benchmark. It then rejects any bunches which do not meet this quality level. It can sort ten tonnes per hour, therefore saving the work of 20 people. However the machine is very strict and rejects more bunches than humans would. Therefore, from 2009, the estate decided to vinify rejected grapes separately. Much of this wine is good quality and goes into the second wine.
The winery
Matthieu was very frank about the presence of Brettanomyces in the vineyard and on the berries. In order to tackle this, a pasteurisation machine is used to flash-pasteurise any wine in which Brett is detected; the process is so quick that supposedly the organoleptic profile of the wine is not affected. He told us that Brett is not talked about enough by the Bordelais; in fact many of the older winemakers do not recognise it as a flaw.
In 2008, many of the largest tanks in the winery were sold and replaced with smaller ones, increasing the number of tanks from 56 to 92. The aim was that the number of tanks should match the number of separate plots in the vineyards, therefore allowing each plot to be vinified separately and understood on its own terms.
After inoculation with yeast, the tanks go through 15-20 days of temperature-controlled fermentation. The wine is settled for one night then transferred to barrel.
In February the wines are tasted, racked into tank and the blending, from 92 separate parcels, can begin. At this stage there are three wines: the first wine, the second wine and 'the undecided'. These wines are filtered, checked for Brett then put back in to barrel to age.
No less than €2m is spent on making the wine each year, which includes employing six coopers. The first wine is 50% new barrels; the second wine 25% new barrels. There are 4,200 barrels in the Chateau Lagrange cellars; every one is sold off after four years of use.
The wines
Les Fiefs de Lagrange 2005:
Soft tannins, juicy open fruit flavours. Very approachable.
Ch Lagrange 2006:
Lots of grippy tannins, refreshing acidity. The flavours are balanced with no greenness, but slightly hollow middle at this stage. Long.
About 250,000 – 320,000 bottles of this wine are produced per year.
Château Guiraud (1er Grand Cru Classé) Sauternes, Sat 1st December 2012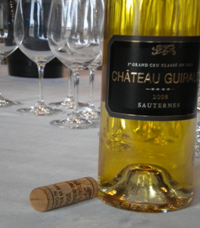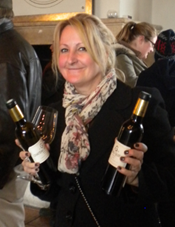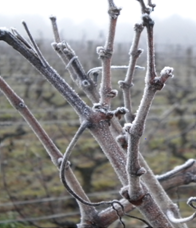 Domaine de Gourdon, Duras, Sat 1st December 2012, by Amanda Thompson
We were met with a truly warm welcome in a swiftly-delivered glass of mulled wine on arrival at Domaine Gourdon in Duras. The flatter, more bleak landscapes of the left bank had given way to the undulating, more villagey Lot et Garonne, just east of the Libournais where ex-Plumptonian Jon Coulthard has his small vineyard. With the aid of his vineyard partner and little helper, we were served a feast of cassoulet, bread and cheese, followed by apple crumble and custard, washed down with his Domaine Gourdon Merlot, Chateau Terra and rosé. It may have been a bit 'parky' in his barn, but the mood and the food made for a merry afternoon.
After coffee, Jon took us on a walk around his vineyard. Here was a chance for us to pose the real questions, answered by someone who was once in our shoes, and who now runs an operation that some of us may well like to be at the helm of one day. In a happy contrast to the esteemed and highly prestigious Chateau Batailly in Pauillac, or Chateau Guiraud in Sauternes, Jon bought a lot of his kit second-hand, borrows equipment and picks up sound advice from his neighbours. He's learnt how to follow and dodge the necessary bureaucratic hurdles involved in setting up a business in France. He patiently explained the intricacies of each corner of his plantings, going into detail on the wines he makes and why he makes them the way he does. All of this wisdom was available that afternoon and Jon was kind enough to share it with us.
It made a great end to a really wonderful and varied trip.
Learn more about our history
Since the original 400-acre College farm was bought back in 1919, Plumpton College has certainly seen a lot of changes.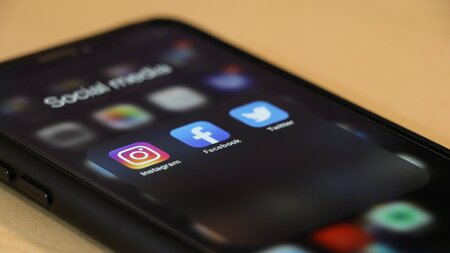 Stay connected
Keep up to date with us online. Give us a like and follow us on: