Plumpton College study tour of Champagne, 2nd - 7th March 2014
Study tour report Mon 3rd Mar Comité Interprofessionnel du Vin de Champagne by Piotr Nahajski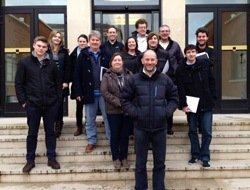 We were hosted at the CIVC (Comité Interprofessionnel du Vin de Champagne) by Phillippe Wibrotte, Head of PR. The (CIVC) is a semi-public body set up under the aegis of the French Government to co-ordinate the common interests of wine growers and houses in Champagne. Among its key duties are the promotion and protection of the Champagne appellation around the world.
Under French Law the CIVC is entitled to enact 'general measures' and make decisions 'that are binding for all stakeholders'. These decisions take the form of regulations, which are then communicated via the appropriate channels (person-to-person, via press publication or via public posting).
Phillippe emphasised the delicate balance in the Champagne region between growers and 'houses'. This is enshrined in an organisation that has two chairmen – one representing growers the other houses - and an executive board made of equal numbers of representatives from each constituency.
Champagne in numbers
Philippe outlined the scale of the Champagne region in numbers:
34,000 Ha of permitted planting; 15,000 growers (with an average of 2Ha each); 56% of growers farm less than 1 Ha; 280,000 plots; 319 villages; 136 Coops; 300 Houses; 300 million bottles pa – representing 10% of worldwide sparkling wine production. 4.4 billion Euros of total production; 120,000 grape pickers; 44% of production is exported – to 190 countries worldwide; Key export markets are GB; USA; Germany; Japan; Belgium; Italy; Australia;
CIVC Organisation and Role
Phillippe described the history of the CIVC which was founded in 1941 but which had its roots in organisations created after the phylloxera epidemic of the late 19th Century. The CIVC employs 125 people and has a budget of 20 million Euros which is raised by levies on grapes (7 cents/kg) and on finished wine (7 cents/bottle).
He outlined the current priorities of the CIVC performed through its 'commissions':
To protect the Champagne 'brand' from misuse around the world;
To coordinate a balance between supply and demand of grapes;
To encourage sustainable wine production (Viticulture Durable);
To develop new technologies for grape growing and wine production;
To monitor weather, grape phenology and to declare the harvest dates.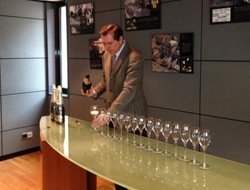 He emphasised that the CIVC had the power to control all wine activities with the Champagne region.
Current areas of special research focus include:
Reductions in pesticide use (lutte raisonee);
CO2 reduction (50% by 2050);
Preservation of 'terroir';
Waste water reduction;
Confronting challenges of Peak Oil.
He explained the change in demand for Champagne based on periodic worldwide financial crises. He explained that nevertheless demand was on a long term upward trend and that there was now very little unplanted land. He described the proposal under review to extend the land classified for grape growing. He thought future economic growth would come also from greater 'added value'.
Image 1: Outside the CIVC, image 2: We went on to taste some Champagne (Roederer Brut, NV).
Mon 3rd March, Syndicat General des Vignerons by Georg Kapella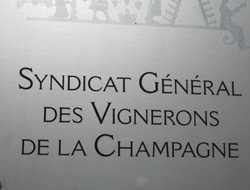 Report about the visit of Syndicat General des Vignerons de la Champagne, Epernay with Helene Pouzet
At Synducat General des Vignerons de la Champagne in Epernay we heard at first a presentation about important numbers & topics of Champagne, after this we had a Champagne tasting. Syndicat General des Vignerons de la Champagne was founded in 1919 and is the management and regulation of the AOC and is "fighting" for the interests of the growers in Champagne. Syndicat General des Vignerons de la Champagne created in 2001 a collective brand for the growers, called: "Les Champagners de Vignerons". The objectives are: promote members on national scale and propose services to improve sales. The targets are the consumer, the journalists and members.

Important numbers:
Grape varieties in %
Chardonnay 29.3%
Pinot Noir 38.3%
Pinot Meunier 32.1%
Total bottles of Champagne
2012 - 308.59 million bottles
2013 - 303.87 million bottles
Shipment
France -2.4%
EU -3.3%
World +3.2%
Houses -1.5%
Cooperatives +2.3%
Growers -3.2%
Sale since 1984 till 2011
Houses +2.6%
Cooperative +2.1%
Growers 0.6%
Key players
Two main families
Grower 30.249ha -> 31% of bottle sale
Houses 3.225ha -> 69% of bottle sale
AOC
Unique terroir (soil, climate)
Conditions of production (specific process & monitoring)
Delimited territory
Champagne AOC
Growers
90% of vineyard
1/3 of sales

Syndicat General des Vigneros
Houses
10% of vineyard
2/3 of sales

Union des Maisons de Champagne
Image 2: tasting of Champagne Drappier at the SGV
Tues 4th March, Champagne Taittinger by Mark Cancea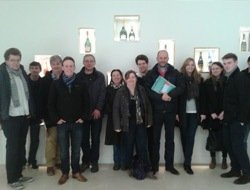 After a good hearty breakfast, for those who could manage it, the group embarked the mini-bus for the short journey across Reims to the Maison de Champagne Taittinger on the Place Saint-Nicaise. On arrival at the reception area we were met by M. Jean-Pierre Redont, the VIP and hospitality ambassador. Jo introduced the group to Jean-Pierre followed by a group photo taken by Jean-Pierre we were led to the theatre for a short promotional film.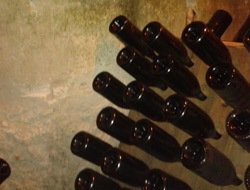 Images: Group photo at the reception, apologies to Sergio on the right hand side. Steps leading down to the cellar. Walking through the cellar.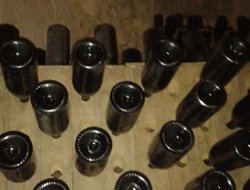 The film included the history and house style of Taittinger taking us back to when Pierre Taittinger first discovered the Champagne region during the First World War as a liaison officer and returned later with his brother in law to develop a Champagne business. They began the business in 1932 buying the house Forest-Fourneaux and the residence of the Counts of Champagne which included 10 hectares of vineyards. They considered viticulture an integral part of the business and acquired additional vineyards at times of opportunity which has been continued by their descendents. Today they have around 290 hectares of vineyards providing nearly 50% of their annual grape requirements of which 90% of vines are planted from mass selection, the remainder by clonal selection.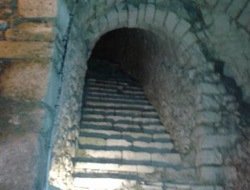 All of their vineyards are situated in premier or grand cru villages and the blended wines are made with 40% Chardonnay or more except for the rosés which are made with 30% Chardonnay, to produce a house style that aims for a lighter body with finesse and elegance compared to other houses. The non vintage wines are blended with up to 20% reserve wine, mostly brut with a few sec and demi sec wines. Brut wines are aged for 3 years, sec wines are aged for 4 years and demi-sec wines are aged for 3 years.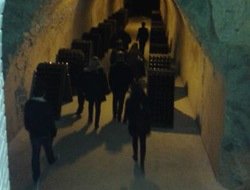 In exceptional years vintage Champagnes are made from grapes from the best vineyards in a brut style, these are made from 50% Chardonnay, 50% Pinot noir from mostly grand cru vineyards, aged for 5 years. The most sought after that command the highest premium are the Comtes de Champagne and are made in the cellars of the Saint-Nicaise abbey. Very few vintages are made and use only grapes from those vineyards that are rated the best. A rosé and blanc de blanc style are made and 5% of the Chardonnay may spend up to 6 months in oak and bottle aged for at least 7 years. Currently the 2011Comtes de Champagne rosé will be aged for 12 years and only 1224 bottles were made. The dosage for all styles, vintage and non-
vintage, is made with a liqueur d'expédition, the sugar level for brut style is 9g/l, sec 17g/l and demi-sec 35g/l.
Once the film had finished we were given a tour of the winery where alcoholic fermentation was done in stainless steel tanks and then taken down to the cellars where the wines were being aged including the Comtes de Champagne which were easy to spot by the different shaped bottle. For some wines remuage was still done by hand and would take four weeks to complete, the rest was done on a gyropalette. The wines were available from half bottles up to Methuselah but larger bottles up to Nebuchadnezzar can be ordered.
Around the 3rd century stones were excavated from the chalk and when the abbey was built and the cellar was dug out the excavated area formed a chimney up from the crypt. The cellar we saw had around 200,000 bottles currently stored although they have around 4 km of cellar space in total containing 3 million bottles.
Once the tour of the cellars was completed we were taken to the tasting room where Jean-Pierre discussed current production and marketing of the brand whilst offering four champagnes to taste, the Brut Réserve, Brut Millésimé, Prestige Rosé and Nocturne. The current production is 5.5 bottles per year of which 80% is destined for the export market. The major export markets are the UK, US, Belgium and Japan with the emphasis on glamour for their overseas marketing whilst projecting a more restrained approach in their domestic market, to be compliant with French legislation on advertising. Their sponsorship deals are targeted to maintain their brand image and were pleased to secure the rights to be the official Champagne partner for the 2014 World Cup.
Some of us were seduced into parting with our Euros; some of us took the opportunity to fill our glass more than once before we headed off for lunch but all of us had a very enjoyable morning asking many questions regarding the history, production, sales and marketing of Taittinger Champagnes that Jean-Pierre was happy to answer, though remaining tight lipped on the liqueur d'expédition.
Tues 4th March Sparflex by George Gresty
Following a memorable morning in the cellars at Champagne Taittinger the tour party visited Sparflex, a creative design and consultancy business for wine packaging based in the heart of the Champagne region. Established in 1984, today it stands as the global market leader of packaging manufacture for sparkling and still wines, spirits and other beverages. Its annual turnover exceeds €80million and it distributes to more than 50 countries worldwide including all of the main wine-producing regions and countries.
Sparflex works with wine-producing clientele to design and create various wine packaging products including foils, wirehoods (muselets) and labels. The fact that Sparflex designs and/or consults for 90% of English sparkling wine producers highlights their significance in the UK market. Their work underlines the importance of packaging and label design on adding value to individual brand images and Champagne's overall premium image.
(Sparflex packaging for a range of English wines)
The group's visit also introduced us to Sparflex's two sister companies, Linea and Litho-bru. Linea is also a packaging design agency specialising in wines and spirits. Its main focus is providing consultancy on brand development, rejuvenation and positioning. Litho-bru meanwhile supplies labelling and packaging to producers the world over from small local producers to global premium brands. They are the leaders in the Cognac market and are well-established in the Champagne and spirits markets.
In partnership, these three businesses provide a whole range of products and services allowing individual producers to establish, maintain and enhance an affirmed, focused and consistent brand image for their consumers. This market truly provides a key link in the supply chain that enhances attractiveness, appeal and individuality in a brand's message.
Despite having no physical influence on a wine product's organoleptic qualities, the impact of package design on shaping consumer opinion and confidence in brands is crucial and was the key theme of our visit to Sparflex. Not just a strong brand image but the right one for specific market segments is vital and can have a major influence on the overall experience of the product. This statement is significant for several steps of the supply chain as brand power will influence not just the opinion of the end-consumer but also the businesses they purchase from and the distributors who supply them.
The actual itinerary of the visit included a presentation of the various products offered by Sparflex followed by a tour of their manufacturing facilities allowing the group to experience the production line in full flow. Although this facet of the wine scene was most important for the college's Wine Business students, it was also a valuable eye-opener for Wine Production students as well.
Tues 4th March, Champagne Vincent Bliard by Darrel Allen
A Certain Organic Sparkle
Champagne is a renowned wine-growing region but does not only cater for the large champagne houses so our group made their way to a small winery on the hillside of Hautvillers. This is thesame town where some three hundred years ago, Dom Perignon served as a cellar master. This town now has some thirty family winemakers (grower-producers) and we were going to see one of them, Vincent Bliard and his wife Marie-Odile.
In the equipment cluttered courtyard Vincent welcomes the tour party and explains that the vineyards for his Organic winemaking practice were planted some forty years ago by his father. In fact, both his parents still live opposite the winery. This winery was built twenty years ago explains Vincent and only produces champagne from the best grapes from their own vineyards. He said it was far easier to make champagne this way, far less complicated and far more natural.
Vincent also mentioned that some larger concerns were indeed trialling the organic methods for the future. They produce between 12000 and 15000 bottles per year depending on the weather.
These growers are known as a Recolants-Manipulants because only make wine from the grapes that they grow themselves.
The vineyards have always been organic, tend to be less vigorous but require constant canopy management. Champagne Bliard are certified by the Organisation of France (AV). Covering an area of some 4.5 hectares in total and situated in different locations, within 3Km of the town. All the vines are planted on the typical chalk soil that is synonymous with this region. 1.5 hectares of this is rented out to third parties. The vines are planted at a density of 8500 vines
per hectare and contain 30% Chardonnay, 50% Pinot meunier and 20% Pinot noir obviously in different parcels depending where they are situated. Each of these vineyard areas provides a different characteristic and an obvious challenge during the blending.
By law, the grapes picked at these vineyards must be hand picked for quality. These pickers who come from far and wide and age from fifteen to seventy, and all are paid a minimum wage. When the grapes are harvested should any show signs of herbicides or pesticides they would then be sold off and they obviously cannot be used for the organics. As you can imagine, when your neighbouring vineyard is spraying for disease control it must be extremely difficult
not to have issues with the spray drift.
During March of each year, Vincent says that organic fertilisers are applied by hand to his vineyards, this total amounts to 2.5 tonnes. When asked if he had noticed any new pests in his vineyards such as the scaphoideus titanus or leaf hopping insect that spreads the flavescence doree vine disease, that had possibly moved up from the Southern regions of France as a result of global warming he said he was not aware of any but he added that with issue of global warming, it was noted that the grapes were being picked a few days earlier than previous years.
The only problem he faces which is common throughout the industry is the issue of rain and frost during flowering, alternatively, he felt that due to the positioning of the vineyards they did not have any major problems with frost.
All cuttings were burnt to reduce the incidence of disease and provided some natural organic matter to the soil. The percentage of organic matter in his vineyards was not known. Some of the vines were between twenty to thirty years old and the rootstocks being used were, Fercal, 41B and SO4.
For the pruning of the vines the Chablis system (above left), long pruning on a long trunk, the most common in champagne for all three varieties and the other being Cordon De Royat (above right) short pruning on a single long trunk, spur system, again popular with all three varieties.
In between the rows grass is encouraged to grow and is controlled with tillage, and mowing. Vincent also mentioned that he even still uses copper and sulphur which was a surprise to us all.
Once the grapes have been picked its time for them to be taken to the winery for pressing or pressurage which consists of pressing and squeezing out the purest cleanest juice from the grapes in the Coquard press (see below). This whole bunch pressing takes four hours and every half and hour the press is opened so that the grapes can be turned over and heaped towards the centre of the press.
The press holds two tonnes and this will provide roughly 1200 litres of juice. The first pressing or Cuvee should be around 40%. The two tonnes are pressed four or five times depending on the quality of the grapes. Once the grapes have been pressed they are removed and sent to a distillery to make spirits, the seeds will be used in grapeseed oil and the stems become compost.
The Coquard press where juice is extracted from the grapes We asked Vincent if he and any problems with oxidation during this process and he said it had never been a problem but if it was they would obviously add some sulphur to reduce this spoilage. Vincent let us know that at no point was the need to add or remove acids, likewise with the sugar. No chaptilization was done to the alcohol content of the wine and as far as he could remember, it was last done in 1984. This would only be done in exceptional circumstances. The wines will ferment and aged separately in large oak barrels and will contain between 6g to 8g per litre of sugar. Some years for instance will contain single varieties such as 2009 when it was 100% Chardonnay, whereas 1996 was his best year to date for the Blanc de Blanc, containing a blend of 30% Chardonnay, 20% Pinot Noir, and 50% Pinot Meunier. Racking is done 2/3 times a year with the juice spending four months on the lees. The juice spends 1 year in the barrel where it is also fermented. After the fermentation the barrel is filled to the top to stop oxidation. It is common to lose 5% of the volume due to evaporation. Sometimes the wine will go through MLF which should produce a softer more rounder flavour. Even though its an organic winery, Vincent has to be careful when it comes cleaning the winery to prevent any bacterial infection, he will use organic cleaning products and a peroxide. Amazingly, he still manages to climb through the small access doors in the large barrels to scrub them after they have been emptied. In blending and triage is done during March, 0.3g per bottle for the secondary fermentation of the the wine this will then be aged between three to five years. No particular type of yeast was mentioned during this process so it may be organic or non-organic.
The 4500L Old Barrel with the two smaller 2000L New Oak barrels
Most of the Bliards champagne is sold within France and only 20% is exported with Japan being one of the biggest customers where it can fetch some seriously high prices. After being shown through the various storage rooms where the champagne is kept our tour ended with a tasting of some fine champagne, one in particular caught my eye and that was the Blanc de Blanc, not quite as dry and a little more fruit than many others we had tasted. Pity we
could not buy it in the UK, especially since it was only €27.
The master winemaker, Vincent Bliard outside his organic winery.
Tasting in the cellar
Labelling machine
Oak foudre
The 2t Coquard press
The organic vineyards with Marie-Pierre Natale
Wed 5th March, Nicolas Feuillatte by Serena Edward
Nicolas Feuillatte- the biggest Co-operative in Champagne with 5000 growers, was started in 1972 when a group of growers needed storage (due to the high yielding vintage in 1970) and banded together to start the Centre Vinicole de la Champagne (CVC). Nicolas Feuillatte who came from a wealthy French family had made his money in America whilst dealing in coffee before coming back to France and investing in champagne vineyards, the first vintage was released in his name in 1976 which was the start of a champagne house in his name. He unfortunately had no children to leave his legacy to and decided to split up the vines and the brand to sell them off. In 1986 the brand Nicolas Feuillatte was sold to the co-operative. As a Co-operative it is owned by its members and offers them a range of services allowing them to send their juice into the winery and have it returned in bottle ready to be labelled and sold individually, or for the wine to be bottled and sent back to the growers for ageing, riddling and degorging before labelling and selling, It also makes wine on contract for some of the larger houses and has its own brand (Nicolas Feuillatte)which buys the juice from the growers and is sold in supermarkets and restaurants all over the world, 57% of sales are in France 43% abroad. The tour was led by a tour guide from the visitors centre who led us through the building explaining what happened in each area. First was the main winery with 400 tanks holding a total capacity of 30 million litres. The grapes are pressed in press houses around the region and left in tanks for a minimum of 16 hours to settle before being transferred in one of a fleet of 50 tankers to the winery (each tanker has separate sections to allow the Cuvee and the Taille to be kept separate) Once in the winery the juice is chaptilised and inoculated for fermentation which is carried out at 16oC in temperature controlled tanks and lasts for approximately 10 days. All wines go though Malolactic fermentation before being blended. The tour continued through the bottling room and the impressive bottling line which is the fastest in champagne handling 20000 bottles and hour and running 4 days a week year round. Technology is used to good effect with each bottle being scanned to check levels are consistent and correct before the bottles are transferred to the cellar to age. We were then taken into the blending room, with 6 tanks each holding 4000 hL, Blending is considered to be an important part of champagne and here it is no different, the chief winemaker is in charge of all blending and will taste over 150 samples before starting to put blends together, this is also the point at which he must decide if the vintage merits the production of a vintage champagne. This is all done by David Henault- no committees allowed in this department!
Main Winery
Blending Room
Then into the "small" winery (producing 20,000 bottles a year)where the luxury Palmes D'or and cuvee 225 is made, this is split into 2 sections one full of gleaming stainless steel tanks and the other with barrels, the barrels are used for selected parcels of Chardonnay which are destined for the cuvee 225. Barrels are bought after 2/3 years use in Burgundy for whites (mainly Chablis) and are used for up to 8/10 years, each year they are checked for sensorial properties and a decision is made whether to re-use them of replace them. Small winery – barrel room The riddling area was a sea of 468 gyropalettes stretching into the distance as far as you could see, all carefully ensuring that the sediment from the secondary fermentation was nestled in the neck of the bottle before being transported to the degorging line. Specialist cages are available for riddling half bottles and magnums. The degorging area was equally impressive, this was carried out by freezing the neck using glycol and was of course all automated, the line handled 10300 bottles an hour, the same rate as the labelling line which ensured that both could work in tandem, the bottles were packed by machine and it took 2 minutes to pack 72 bottles. Separate lines were used for half bottles and magnums, any larger bottles were done by hand. The tour was then taken to the cellar which was made up of separate caves (sections) and had storage capacity for 100 million bottles, it currently held 70 million (none of the students volunteered for a stocktake) The largest cave was 80 metres deep and stored 650,000 bottles. Unusually for a champagne house these were mainly at ground floor level and were temperature controlled and humidified, making technology much easier to use than in the traditional underground cellars
Tasting
Riddling Room
Ready for packing
Then it was on to the visitors centre where a tasting of 3 wines ( Brut NV, Grand Cru 2004, and Palmes D'or 2002) were ready for us to try, judging by the amount of students purchasing wines these were enjoyed and appreciated. The winemaker David Henault joined us to discuss technical details and answer the many and varied questions the students asked, which ranged from the amount of SO2 added at pressing ( 7.3g/hl cuvee and 9g/hl Taille), Which yeast was used ( IOC-18-2007), The analysis carried out on arrival ( sugar,acidity,so2,pH and YAN), How many staff in lab ( 3 full time and 10 temp staff for harvest), What acidity required and whether acidification is used ( aim for 3.1 pH with a TA of 5.3/5.5 –expressed as sulphuric acid and would acidify if required)to more general questions about sustainability and its importance to the company (sustainability was important but more for the vineyard in David Henault's opinion) The impressive visit was concluded with David Henault being presented with a bottle of Plumpton's finest "The Dean" and all students being presented with a book about Nicolas Feuillatte as a memento of the visit along with case of 6 bottles of brut NV to share.
Wed 5th March College Viticole d'Avize and Champagne Sanger by Collette O'Leary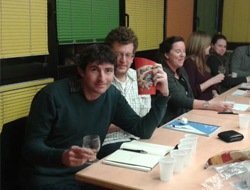 On Wednesday afternoon the students visited the Avize School of Viticulture for a masterclass in the art of pruning Champagne style. The Avize School of Viticulture is a Plumpton College equivalent and students are involved in all aspects of vine growing and winemaking. The school is said to train more than 80% of the winegrowers-to-be from the Champagne area. Pruning styles are closely regulated in Champagne and it is the only AOC to have laid down such a comprehensive set of rules for pruning, which in 1938 stipulated that only four pruning methods could be used: the Chablis style, the cordon royat, the vallee de la Marne and the Guyot. Pruning in Champagne is viewed as one of the most fundamental aspects of vine growing, with a strong belief that precise, expert pruning is fundamental for the production of quality grapes. A strict number of buds are allowed per vine to control yield and quality, and bud numbers and recommended pruning style are set according to variety; for example the Chablis style is used for chardonnay across the Côtes de Blancs and Côte de Sézanne with 5 nodes on the fruiting cane retained at pruning. Pruning in Champagne is a time intensive, highly skilled activity which commences immediately after the harvest and continues until mid-December. It resumes in mid-January, after the dormant winter period, and continues until late March. Unfortunately, or perhaps fortunately, the afternoon focused on the theory of pruning and the students were not let loose on the vines to try their hand at pruning Chablis-style! Later that afternoon we visited the school's winery, Champagne Sanger, for a tour and tasting. The Champagne is produced from grapes supplied by the Cooperative of the Former Students, and from grapes from the school's Grand Cru vineyard. Where possible, grapes and terroirs are vinified separately to produce a wide range of Champagnes which demonstrate the diversity of the wines produced across the region. Set on the site of a property bequeathed by former Champagne merchants Louise Eugenie and Jules-Arthur Puisard Champagnes are produced from 42 different terroirs. We tried the Brut Grand Cru Blanc de Blancs, Terroir Natal (native land) from Avize, one of only 17 villages to be classified Grand Cru. While few of us were convinced that the English wine industry would benefit from such strict regulation of pruning, it was a great experience visit the Champagne equivalent of Plumpton!
Image above: Blind tasting competition – winner Marc McNaughton!
Thurs 6th March, Station OEnotechnique de Champagne by Josh Lee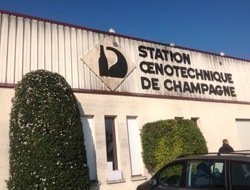 We visited Station OEnotechnique de Champagne which is based in Epernay on Thursday. They are part of a larger Italian group called Sofralab who provide oenological products and services to customers across France and in other countries. Their current focus is on new products such a new fining product based on yeast proteins as well as providing bottling and disgorging services and stability testing. We were greeted by Pierre de Caffarelli who told us a little about the company and its history. He then gave two lectures, the first on MLF in Champagne and the other on different approaches to tartrate stability. He spoke about how winemakers in Champagne are moving towards co-inoculation at 1020sg using a starter created at the start of vintage using taille pressings or slightly deacidified cuvee mixed with mineral water and nutrients. During vintage more malic acid can be added to the culture to keep the bacteria happy.
His talk on tartrate stability talked about using Carboxy methyl cellulose (CMC) and electro dialysis as alternatives to cold stabilisation. These approaches are particularly attractive for wineries who are trying to reduce their energy consumption. They are not without issues though as both have sensory implications and electro dialysis can remove cations required for secondary fermentation so it is only really an option for still wines.
After the lectures we were given a brief tour of the laboratory where the team were analysing 600 wines a day for pH, TA and conducting a variety of enzymatic tests for customers across Champagne.
Thurs 6th March Reims Management School by Hannah Thomason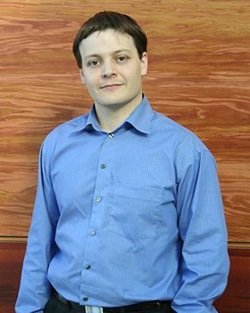 Managing the Future of Champagne With David Menival
Champagne accounts for 3.8% of the total French vineyard area.
42% value of sparkling wine world export but only 12.5% of production
Champagne has no homogeneity (different terroirs) so hard to imagine one product. Marketing has created one territorial brand and all sparkling wines from this region share one common image.
Development of Champagne
Pre WW2 Champagne had the monopoly on sparkling wine and accounted for 95% of shipments in 1933.
Post WW2 trouble selling its wines. Growers had a surplus of grapes. To cope 'Recoltant Manipulants' and Co-operatives were created.
In 2013 304m bottles of Champagne were produced. Negociants still have the monopoly with 69% of shipments
Is Champagne a Luxury Good?
High perceived quality
High perceived scarcity
High price perception
More than a utilitarian image. Hedonistic product
How has Champagne maintained perceived quality and scarcity?
AOC restrictions on area, viticulture and vinification practices.
Blended wine (NV) reflects one brand and one usual taste.
Restricting yields means perceived scarcity but the total Champagne area is 34,200ha and yields 15,500kg/ha.
Scarcity due to managing the lack of raw material
Must forecast. Each year buying grapes for next 3 years.
To cover their costs export for higher prices.
Managing its high quality image through international crises
Crisis usually occurs every 9 years.
Huge quantity sold at lower price to supermarket free up stocks.
Future troubles for Champagne
Every crisis means a decrease in the value of Champagne and other sparkling wines. However, the last crisis saw a decrease in Champagne value but an increase in the value of other sparkling wines. The quality of other sparkling wines is improving making them suitable substitutes to Champagne. Champagne is becoming only a sparkling wine not a product in its own right (the reason for its initial success).
Now the Champagne image is in trouble brands are now playing less to the common image and more to their individual brands. This means the product is no longer projecting a united front.
Fri 7th March Champagne Lallier by Sambrook Spurrier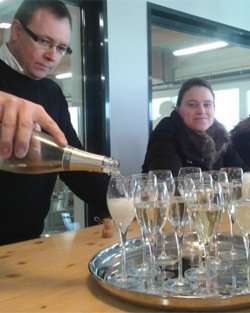 The company consists of 10 people, 5 of which are in the winery and 1 for exports. Top three export markets are as follows; United Kingdom, USA and Luxemburg. 50% of Lallier wines are exported with the other 50% entering the domestic market.
Lallier's export market is growing at a faster rate that the domestic market. Lallier do and will not tailor their house style to any market as there is still high demand for their products.
There is a greater concentration of zero dosage wines in the domestic market.
One point of difference that Lallier champions is its own yeast strain. This yeast strain is responsible for the creamy mouthfeel.
Lallier controls a sister company focused at a lower price bracket which is not Grand Cru. Demand has remained constant so there has been no need to focus distribution towards the domestic market.
There has been a decision made by the head of marketing to stick with the clear bottles despite disapproval from the head winemaker.
Boutinot are Lalliers distributers for the UK. Boutinot suit the wants of Lallier as they value both on and off trade equally.
Sister brand's average annual production is 250,000 bottles.
All wines under the Lallier NM label are Grand Cru. Lallier sources 20% of total production from their 15ha of Vineyards.
Learn more about our history
Since the original 400-acre College farm was bought back in 1919, Plumpton College has certainly seen a lot of changes.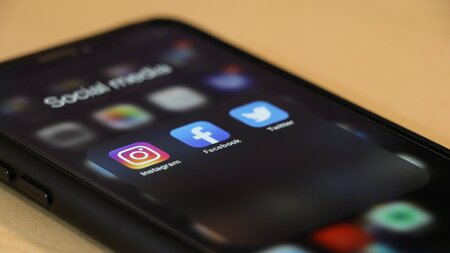 Stay connected
Keep up to date with us online. Give us a like and follow us on: