Plumpton College study tour of Barcelona, 2014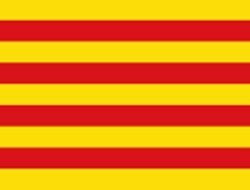 Cataluña – Cava country
By Juanita Rogers, 1st Year Wine production
La Sinal, or Sinyera, the Flag of Cataluña
Cataluña's modern history starts in 1258 with the Treaty of Corbeil between Louis IX of France and James I of Aragon, which effectively divided modern-day Cataluña from the county of Toulouse, (effectively modern-day Languedoc, France). The influence of the French and the Moors can still be seen in the Catalan architecture, food and wine. The region has a generic DO for still wine that covers the entire region, but it is also the region famous for Cava, Spain's answer to Champagne, and for some very fine wines produced since the 1980s from Priorat, an area north of the old Roman capital of Tarragona.
The main Cava producing region in the DO of both Penedes and Tarragona lies on the fertile plateau around Saint Sadurni d'Anoia and Villafranca del Penedes. Cava is made using the Traditional Method - that is, a second fermentation in bottle, followed by riddling and disgorging. However, that is where the similarity with France's sparkling wine ends. Cava is produced using Macabeo (Viura), Xarel-lo and Parellada, with Chardonnay only contributing to around 5% of the total Cava production, and small quantities of Pinot noir only allowed for the pink Cava. Macabeo is a late-budding grape, giving some insurance against spring frosts at the higher altitudes of Penedes' vineyards, set against the mountain range of Montserrat. Xarel-lo has a distinct flavour, and is best planted lower down the region. Parellada is considered by Jancis Robinson to be the finest ingredient of the Cava trio, giving crisp, apple flavours as long as the yields are kept low.
Our visits to the Cava producers were very interesting, and demonstrated not only how Cava was made and how it tasted, but taught us how industrious, pioneering and ingenious the forefathers of the Cava industry were. Josep Raventos, the forefather of modern Codorniu, was really the first producer to start making Cava by the Traditional Method in 1872, and his, and his son Manuel's, engineering prowess enabled them to become one of the top Cava producers of their time, with Codorniu claiming to have been the first producers to have used the gyropalette for riddling their Cava.
Our visit to the region also demonstrated some fine examples of Catalan architecture, with Modernist buildings by Gaudi and his contemporaries - Josep Puig i Cadafach at Codorniu, and modern sustainable and amazing buildings by Javier Barba (at Torres) and Josep Luis Juanpere and Escamis (at Cava & Hotel Mas Tinell).
Vila Viniteca – Leading Barcelona wine merchant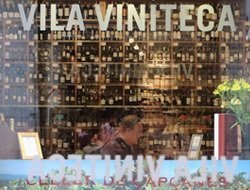 By Angela Cosgrove FdA wine Business year 1
The first visit of our trip was to the delightful Vila Viniteca: a wine shop hidden down a quiet street just outside the hustle and bustle of Barcelona's Barri Gotic. Walking inside was like peering into an Aladdin's cave of wine: beautifully displayed bottles stretching from floor to ceiling, with immaculate tasting notes adorning the walls and cases of wine. We were greeted by Maxime Blais Lebrun who filled us in on the history of how this business came to be the biggest and most renowned wine merchant in Barcelona. Starting as a family business in 1932 in a small market neighbourhood, it is now in its third generation and boasts 2 shops, its own winery, online shop, restaurant and deli. We visited their main shop on Carrer Del Agullers which serves as the main hub of the business but is far too small to hold their portfolio of 7000 lines. These are kept at their winery, an hour's drive away, which also acts as their main warehouse, serving twice-daily deliveries to the city address.
Their range of wines and spirits (including 200 gins) hails from all over the world, with prices from €2 to €2000, and vintages from the early 1900's. Many of their lines are exclusive to Vila Viniteca and it is their passion for having close relationships with winemakers is clearly evident. As well as a trip into their cellar to taste one of their own wines amidst prestigious bottles of Spanish, Bordeaux and vintage Niepoort, we were invited next door to their food shop for more delicacies. There was cheese galore, jars of quince and legs of aged ham hung from the ceiling. We were presented with creamy Manchego and rich Jamon Iberico to sample, as we perused the shelves with delights such as black truffle crisps.
With a taste of Spain on our lips we left with a fantastic insight into the wine trade of Barcelona and a thirst for more.
La vinya del Senyor – A classic wine bar in the shadow of Basilica Santa Maria del Mar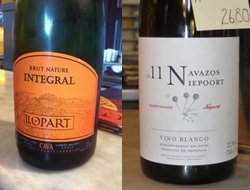 By Sarah Collis FdA wine Business year 1
Outside this wine bar are around ten small outdoor tables surrounding the bar, whereas inside, it is very traditional, with terracotta colours, a mix of wood, bright yellow paint and stone. The customers chat while sipping on a glass of wine, the atmosphere is chilled and relaxed. The first wine we try is a 'brut nature integral' llopart Cava recommended by the bar manager Mónica de la Torren. The bubbles are soft; it's a crisp, fresh, delicate, easy-drinking wine made with Chardonnay. Soon after enjoying the Cava, Matthew Hudson suggested a Palomino table wine that has been aged under flor (like a sherry but not fortified). While this style is generally not to my taste, I found it promising, not too oxidised, with even a slight tropical fruit flavour. I'm not saying I've converted to oxidised, dry wines, but there's certainly a softening in my attitude. However, I am aware that, some foods and wines only seem taste good while in the country of origin, and this one was helped along by more-ish salted almonds and Spanish olives.
We then chose to join the locals outside and try a Portuguese Riesling. It was 8.5% alcohol with an off-dry sweetness. It didn't have the complexity of a German Riesling, but it was very interesting indeed, especially for such a warm region as Portugal. It received mixed reviews and stirred a lot of debate within the group. Personally I really enjoyed it: quite refreshing and a good appetizer.
We then finished our afternoon at the bar by trying a wine from Priorat called Clos Dominic Blanc 2011. This was served blind, with everyone guessing at the wine origin and varieties. It ended up being a blend included Macabeo, Roussane and Marsanne, which provided it with a creamy, but refreshing, complex flavour. Funnily enough, none of us guessed these grape varieties, not even the lecturers!
Codorniu – One of the Largest and Oldest Cava producers in Spain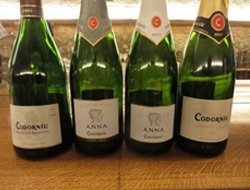 By Hugo Corney FdSc Wine Production year 2
Following a healthy 30-minute march uphill from the train station at Sant Sadurni d'Anoia in Spain's wonderful spring morning heat, we were in need of some refreshment. At Codorniu's grand tourist reception area, we were led by our host (Danny) to the in-house cinema, where we were able to catch our breath and see a historical snapshot of one of the oldest family businesses in Spain. Theiir motto is 'Never force nature'. The winery and reception areas are examples of Cataluña's famous Modernist architecture, designed by Josep Puig i Cadafalch (a contemporary of the famous Antoni Gaudi's), and are enjoyed by the 125,000 visitors they receive each year. Codorniu is a large wine producer, owning 3,400 hectares of vines, which, coupled with grape purchase agreements, enables the company to produce 40 million bottles each year. The scale of the operation comes home to us when the tour takes place on an electric multi-carriage train. Codorniu is focusing its efforts on reducing its environmental impact, with various pioneering approaches. The tour went into the 6 miles of caves which took 24 years to construct. Our guide decided to bring some excitement to the informed tour by racing the train through the caves, passing all the remuage racks, and amazingly without knocking any wine over. Following on from the caves, we visited their new micro-winery, used for testing new and classic techniques, including lees-aging periods and new varieties. They are currently investigating the impact of lees-aging Cava for 6-12 years. At the end of the tour we were offered a grand tasting of Cavas and table wines led by their winemaker Marta Bellapart, which they generously served with a selection of regional foods. This was a well-organised and welcoming tour enjoyed by all the students and staff
Recaredo`s Cava – One of Spain's leading Biodynamic Cava producers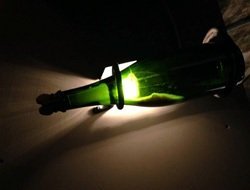 By Thomas Grundmann BSc Viticulture and oenology year 2
Truly worth a visit is the Recaredo Cava house, founded in 1910, at Sant Sadurni d'Anoia in Alt Penedès just outside Barcelona. Since 2010, they have been producing certified organic (50 ha) and biodynamic (25 ha), vintage Cavas. Due to a strong market demand, more and more of their vineyard plots are being converted into biodynamic farming. Notable is their current approach to replace the old exogenous Pinot noir vines with the autochthonous, aromatic white grape variety Xarel-lo, in order to suit the local growing conditions. Furthermore, vines are not trimmed during the whole of the growing season in order to achieve good maturity, keep acidity high, and allow early harvest in what is a hot and Mediterranean climate. Recaredo's yeast research projects are outstanding. Since 1999, yeasts isolated from their own vineyards are examined in long term trials and selected with the aim of producing Cavas with more character and individuality.
Only so-called 'Brut Nature' (without any added dosage sugars) Cavas are produced, mainly from Xarel-lo and Macabeu, with a little support from Parellada and Chardonnay grapes. Musts and base wines from the oldest Xarel-lo vines ferment in oak barrels for up to 30 months, which give structure and greater complexity for long-aged Cavas. To maintain the excellent quality, from tirage to disgorging, bottles are closed exclusively with 100% natural, real cork stoppers for their (in-bottle) ageing or second fermentation. In contrast to the usually applied crown caps, this process enhances the character and sustainability of their Cavas.
Gramona – One of Spain's most respected Cava producers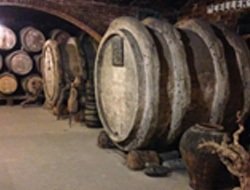 By Zsuzsanna Barna FdSc Wine production year 1
Sant-Sarduni d'Anoia (at the heart of the Cava producing region) is the home of Gramona, one of the world's most prestigious Cava-producing companies. It was established in 1850, and uses traditional method ofs production (bottle fermentation, riddling, and natural cork closures). Five generations of farmers, biologists, agronomists, oenologists and sommeliers have dedicated their lives to producing their famous bubbly. The grape varieties Xarel-lo and Macabeo (plus a little Chardonnay, Pinot noir, Viognier and Grenache) are used for Cavas and sparkling wine, while Gewürztraminer and Riesling are also grown for still wine. Gramona is very proud of its organic viticulture and winemaking. Since 2001 they have used geothermal energy and recycled rainwater. Gramona started to engage with biodynamic production in 2008. They make the longest-ageing Cavas on the market (using a solera method) giving their wines elegance, creaminess and complexity. This was demonstrated by a tasting of the popular Gramona Imperial and its flagship III Ilustros.
Torres – Worlds most admired drinks brand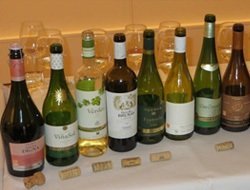 By Ziad Lima FdSc Wine Production year 2
As a kid my mother always told me not to be a jack-of-all-trades but a master of one. This was brought back to me upon hearing that we were visiting Torres, as they produce a wide variety of styles of wine and alcoholic beverages. In this particular case, Torres have proved my mother wrong, as they have been able to keep their exceptional standards incredibly high despite the number and varied styles of drinks they produce, some of which I had the pleasure of tasting. Torres have a long and distinguished history; it is one of the world's leading wine family dynasties, as well as one of its most recognisable brands. Brothers Jaime and Miguel Torres founded Bodegas Torres in 1870; since then, generation after generation of the family have innovated and expanded the business. Torres is Spain's largest producer of DO wines under its own label, and exports to more than 140 countries. Their contributions to the development of oenology in Spain include the use of fermentation at controlled temperatures and the maturing of wine in small oak barrels for defined times. They were also one of the first to import grape varieties, including Chardonnay and Cabernet Sauvignon (1966) and later Merlot, Pinot noir, Riesling and Gewürztraminer. Expansion of the Torres brand has seen wineries being established in Chile and USA. In 1979, Miguel Torres Carbó, a fourth-generation member of the Torres family, arrived in Chile and acquired a small winery in Curicó. Today Torres has expanded its operation to 400 hectares in the Central Valley. In 1986, Marimar Torres, daughter of Don Miguel Torres Carbó, planted the Don Miguel vineyard followed by the Dona Margarita vineyard, both in the Sonoma Valley.
Two wines that really stood out for me personally were the floral and tropical white wine, Days of Summer, 2013, from Itata Valley in Chile, and the intense, voluptuous and French-oaked red wine, Salmos, 2011 (Priorat). The entire selection we tasted had good to excellent balance, complexity and depth; our guide Kati was an exceptional host and the tasting converted some of our group into big fans of Torres wines. It was of particular interesting to see that a large commercial entity such as Torres has made the leap and invested in biodynamic practices with the Marimar estate in California, as well as the aim of sustainability with all their wineries. The use of renewable energy sources, recycling and treatment of wastewater are just a few steps that Torres have taken to improve the sustainability of their wineries, as well as to minimise their effects on the environment. It was an exciting and stimulating visit, and despite the size and scale of the operation there was no lack of passion and determination for quality.
Mascaro – A distillery in the heart of Penedes
By John Rawlings FdA Wine Business year 2
Our visit was to the Mascaro distillery at Vilafranca Del Penedes, around an hour's journey by rail from the city of Barcelona.
Mr Narciso Mascaro was born into a family of wine merchants, and in 1945 at the pinnacle of his career and abilities as a master distiller, produced Cavas, brandy and spirits under the Macsaro brand. It is a third-generation family business, whose emphasis has always remained on the integrity of the origins of the product which reflects its essence. To this end, vines are treated with care and grapes hand-picked then transferred using small crates to the winery, thus protecting and preserving their qualities. At the distillery, it was evident that Mascaro had chosen to specialise in distilling and producing premium spirits. Only natural products are used, and every care is taken during maceration, distillation and ageing to create the final products' distinctive character.
We learnt that:
Unlike other Spanish brandies, Mascaro only use pot stills (in homage to the Cognac region)
Sulphites don't agree with distilling, due to the aggressive chemical reactions that take place inside the copper stills.
9 per cent alcohol and good acidity is ideal for distilling and a good first distillation.
The base wine must be rich and concentrated in flavours; this is assisted via fermentation in constant-temperature underground vats.
The distillation is done in the coldest months (Jan & Feb) of the year to help the condensation of the spirit.
Distillation is done twice to create 70 per cent alcohol spirits, which are then aged
The distillate condenses into three cuts – 'heads', 'hearts',' tails'. Heads are removed, and returned to the pot for further for distillation the pot. Hearts are collected for spirit use. Tails are re-fermented. First distillation take the wines from 9% to distillates of around 40-46% alcohol. During the second distillation, the spirits reach 70% and are known as Hollanda which will be used to make the final brandy
The main difference in ageing between Mascaro and that of typical Spanish brandy is the use of single-vintage static ageing versus the more typical dynamic solera ageing. The brandies of Jerez also use old barrels, whereas Mascaro uses new French barrels, producing around 300,000 bottles per year.
Mascaro ensures that they distil grape varieties separately and age them separately to allow maximum blending options.
Hotel Mastinell's En Rima Restaurant – A unique enterprise in the vineyards of Penedes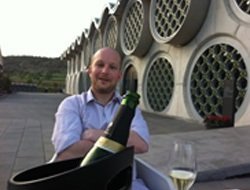 By John Winslow FDip Wine Business
Feeling a little rosy-cheeked from Torres and Mascaro, a nice leisurely cab ride to our dinner destination was in order. However, every would-be taxi in town turned out to be a learner driver masquerading as cab. Just as it seemed that the culmination of our journey was beyond us, we saw on the horizon the sleek architecture of hotel Mastinell; two stories of circular windows and doors made to represent giant wine bottles laid side by side in a rack. Up close the 'Hobbit Hole' doors and 'cross section of engine' windows finished off the exterior quite uniquely.
Having arrived slightly early, a crisp, fresh, clean and delicate glass of Cava on the sun terrace was just what we needed and exactly what we received. Moving inside coincided perfectly with the onset of a post-sunset chilly wind. The interior design looked even sleeker than the exterior and much conversation was had with regard to the outstanding quality of the rest rooms. The smooth, wavy, polished concrete ceiling commanded almost as much attention.
At the table, the penny really dropped as to how amazingly well we were about to be treated. The appetizer of cured meat and sumptuous olives was only the beginning of a fantastic meal, a choice between 3 dishes for each course. The starter of cod ravioli, asparagus soup or 'Emperdrat' chick pea and tuna belly salad was paired with El Alba white. This is a blend of Chardonnay, Xarel-lo and Muscat; a light, delicate, fruity wine with good acidic backbone. The main of catch of the day, pork sirloin or an amazing duck confit was paired with 'Arte', a smooth, well-balanced blend of Cabernet Sauvignon, Merlot and Cabernet franc, displaying savoury notes that left us purring. After the also outstanding dessert had been served from the open-plan kitchen, the only thing left to do was wait for one of the elusive taxis to take us to the station for the train back to Barcelona. In true Spanish style, the cab was late and we made it just in the nick of time. At a mind-blowingly low cost this represented probably the best value for money meal any of us had in a long time.
Learn more about our history
Since the original 400-acre College farm was bought back in 1919, Plumpton College has certainly seen a lot of changes.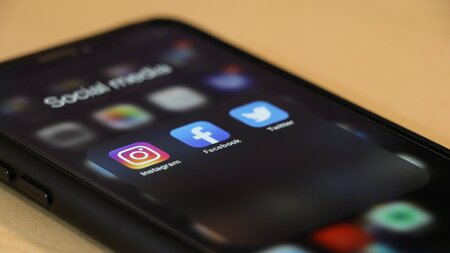 Stay connected
Keep up to date with us online. Give us a like and follow us on: