Plumpton College students represent England at the 10th annual EUROPEA Wine Championships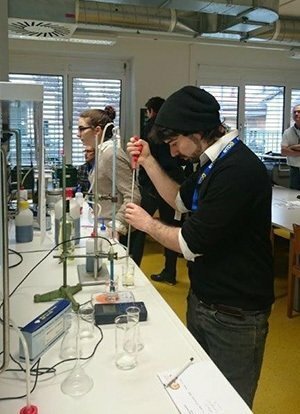 On the 7th April 2015, second-year students Nick White and Zoe Deluca-Hewetson, accompanied by Plumpton College lecturer Dave Perrin, travelled to the college of Klosterneuburg, Austria to take part in the 10th annual EUROPEA Wine Championship. This event, spread over four days, welcomed 66 young wine students from 33 colleges across 13 different European countries, for a series of rigorous viticultural & oenological exams and challenges. Taking place in a different country each year, it's been six years since we've returned with an award of any kind. Could this year see a return to former glory? The pressure was on.
Upon arrival, it was a relief to see we weren't the only ones riddled with a mild anxiety over the impending ordeal. But after a few generous measures of the college's own Riesling and some light-hearted ice-breaker activities with our new-found friends, we went to bed eager and excited for what lay ahead over the next few days.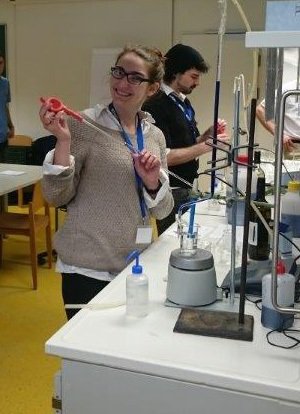 With exams starting in the true spirit of Germanic efficiency as early as 7:30am, the next three days came jam-packed with theory papers, sensory testing, lab analyses, winery operations, tractor, trellising and training work. Thankfully, the stresses and strains of the daytime activities were alleviated by additional events in the evenings: free-pour tastings, Austrian wine lectures and general socialising between students. Special mention should be made of Zoe, who, on the Wednesday night, took it upon herself to ensure England didn't go unrepresented in the aerial-box-stacking and dance party events.
By Friday noon, as the final exam papers were collected and the last of the spittoons were emptied, we breathed a collective sigh of relief – the tricky part was over. All that remained was to spend a delightful day exploring the sights, sounds and smells of the local region. Where better to start than the local monastery-cum-winery? At a reverential 901 years old, this national landmark proudly proclaims itself as Austria's oldest winery. Originally started by the pious, just and possibly tipsy members of some ancient and illustrious monastic order, this building exists not only as a local attraction and producer of premium wines, but stands as a symbol of nigh on 1000 years of Austrian winemaking culture and experience.
The rest of the afternoon was spent exploring the similarly ancient city of Vienna, though not without a quick detour to a local Viennese vineyard and winery. Nestled atop the plush hillsides which go to form the rolling backdrop to the city itself, this estate prides itself on a particular regional speciality, the 'Wiener Gemischter Satz': a still white wine made from a blend of grapes not only co-fermented, but co-grown in the same vineyard. The result is a unique, exciting and terroir-driven wine, popular with locals, tourists and supposedly championed by a number of prominent Master Sommeliers.
That night saw a return to the ancient, stone-pillared catacombs of the Monastery, only this time dressed for dinner. Many of the native chaps had slipped into the outer crust of the traditional Austrian gentleman: no trip to Austria would be complete without Lederhosen! Wine and conversation flowed, cheeks and candles glowed, and the band transitioned seamlessly from the Blue Danube into Smoke on the Water. Dinner was served, and we set about a veritable cornucopia of Austrian culinary delights which included, rather appropriately, crisp apple strudel and schnitzel with noodle. Once everyone was suitably fed and watered, the final event of the competition got underway – the awards ceremony. Out of 66 students, Plumpton College left highly satisfied with a Bronze in the Austrian wine exam, a very high ranking in the general tasting and a respectable midway position overall. All that remained to be done was bid a reluctant Auf Wiedersehen to our hosts the next morning.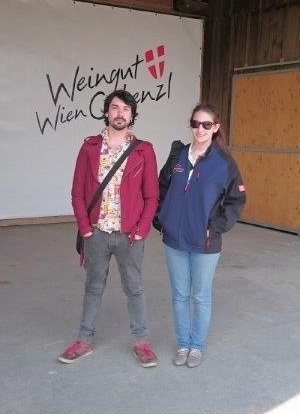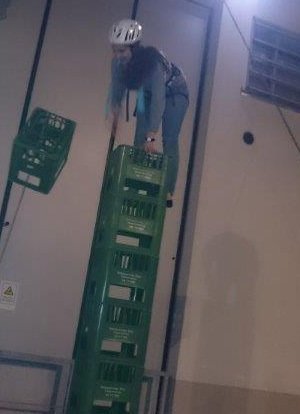 Before we bring this brief synopsis to a close, it would be fitting to express a word of gratitude to a few of the people who helped make this excursion a memorable experience:
First up for recognition is team leader Dave Perrin and his continental counterparts who assembled and prepared the competing students from their respective colleges and countries. Many of these came bearing vinous gifts from their own estates, all of which were thoroughly enjoyed each night at dinner, and subsequently into the early hours of the morning.
Our next set of thanks goes out to each and every competing student in the event itself, without whose good-natured sportsmanship and enduring fraternity, a competition as large as this could have quickly turned over-competitive.
The final, and perhaps most important acknowledgement should go the students and staff of Klosterneuburg for their warm welcome, heartfelt hospitality and peerless professionalism throughout. The Swiss team, as next in line to host the event, have the unenviable task of trying to match such a formidable reception next time around.
After such an intensely wine-filled week, it seems appropriate to end on a sobering thought. Over those few days, we met and befriended a host of young winemakers, some with intimidating levels of knowledge and an awe-inspiring enthusiasm for their metier. If this is the next generation of winemakers, the future looks very bright indeed.
Nicholas White
2nd Year BSc. Oenology & Viticulture
Plumpton College.
Learn more about our history
Since the original 400-acre College farm was bought back in 1919, Plumpton College has certainly seen a lot of changes.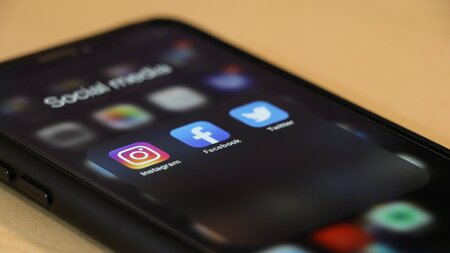 Stay connected
Keep up to date with us online. Give us a like and follow us on: