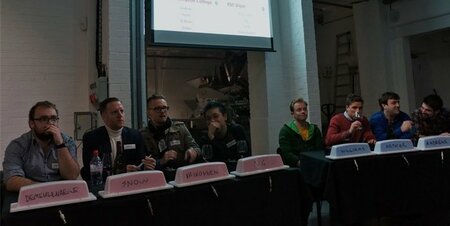 On Wednesday 18th February 2015, two of Europe's leading wine education institutions, Plumpton College and the Burgundy School of Wine & Spirits Business, met for an intervarsity competition with a difference. Taking inspiration from one of the nation's favourite shows, the two schools competed in "Oenology Challenge".
The competition took place at the London Cru winery in the heart of city; a very fitting venue for a quiz show about grapes and wine. Leading the quiz was world-renowned expert Justin Knock MW, whose questions really tested the schools' best students.
The visiting team took a sizeable lead from the start, then came a spirited fight-back from the Plumpton College wine students. Questions ranged from the technical (on legal aspects of Spanish wine production), to more populist areas, such as naming the winery associated with a musical snippet from the film "Summer Holiday". There were also picture rounds, with the students asked to identify, for instance, the famous Moselle Ürziger Würzgarten from photos. As the quiz drew to a close, the Burgundy team retook the lead and won by 115 to 95 points.
The winning team returned to France with a trophy and a bottle of English sparkling wine from the sponsors, Sussex Vineyards. Sussex Vineyard's owner, Jonica fox, said "We congratulate all the participants in Oenology Challenge and are delighted to support Plumpton College at this event. Tonight's prize, Mayfield Expression 2010 Brut Rosé, balances Pinot noir, Pinot Meunier, Chardonnay and a hint of Pinot gris in a field-assemblage cuvée made using the saignée method."
Everyone involved in the event enjoyed the evening, and appreciated the opportunity to engage with their counterparts from across the Channel. We all look forward to the next rendition of Oenology Challenge.
Plumpton College
Plumpton College is Britain's Centre of Excellence in Wine education, training and research, and is the only Higher Education Institution to offer undergraduate degrees in Wine Business and Production in English in Europe. Our courses include the best practice from both the 'Old' and the 'New' World, and we have excellent contacts within the English wine trade and with wine producers in Europe. First offered in 1996, around 150 students attend these courses each year, and graduates from the Wine courses at Plumpton College have forged careers and business in the UK and around the world
Founded in 2013, the School of Wine & Spirits Business is an institution dedicated to education and research in the wine and spirits industries. Our programmes prepare graduates to become capable specialists who trade in wines and spirits, market their products innovatively and play managerial roles in all divisions of these demanding industries. Located in Dijon, the capital of the world-renowned wine-producing region of Burgundy, the School of Wine & Spirits Business is part of the Burgundy School of Business (Groupe ESC Dijon-Bourgogne).
Justin Knock is a winemaking consultant and Master of Wine with 15 years of winemaking and international business development experience. He makes, blends and sources wine for clients in the UK, Europe, Australia, New Zealand, USA, South Africa, and South America. Well-travelled and with a strong scientific background (MSc/ BSc), an Australian compass and a London base, he has a rich insight into quality wine production, consumer behaviour and trends.
At Sussex Vineyards we are proud to be grower-producers of enticing English Sparkling Wines. We are a rosé-led house, making single vineyard wines in classic styles and with innovative blends from our two vineyards: Hobdens and Lakestreet in the East Sussex High Weald.
London Cru is central London's first winery. With state-of-the-art equipment and only the best grapes sourced from European vineyards, London Cru is the first opportunity Londoners have had to get directly involved in the winemaking process. Tours and tastings are offered, and the winery is available for hire as a unique events space in the city. Our winery is housed in a former gin distillery, under Roberson Wine's Earls Court head office, near its award-winning shop in Kensington.
For more information on the Oenology Challenge or on any other aspects of this article, contact Tony Milanowski, Course leader BSc Viticulture & Oenology, Plumpton College
Learn more about our history
Since the original 400-acre College farm was bought back in 1919, Plumpton College has certainly seen a lot of changes.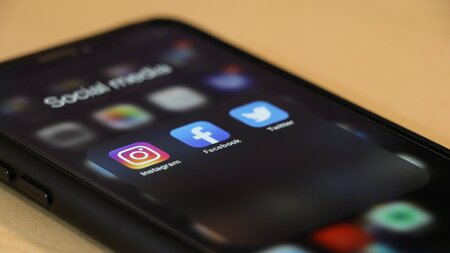 Stay connected
Keep up to date with us online. Give us a like and follow us on: