Inspirational Student Values Lunch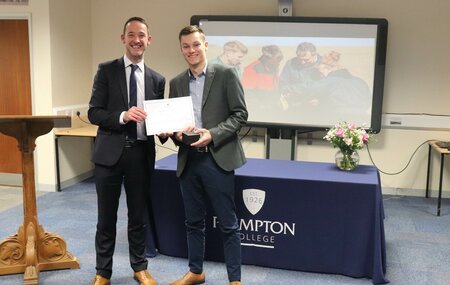 Our celebration lunch was held on Friday 17th January to recognise those students across the college who we feel best embody our college values. Together with their families we discovered just what makes them amazing ambassadors for Plumpton College and their respective industries.
Please see below all students who were shown recognition during the ceremony and how they have embodied our values.
Michael Hedges - C&G L1 Diploma in Land Based Studies – Animal Care
Michael is ready and eager to learn in every lesson. He is helpful in class, always keen to get involved in discussions and has produced some excellent writing this term. He brings a real sense of positivity to the group it is always a pleasure to both teach him and to talk to him, particularly about the fascinating stories that he writes.
Jennie Smith - L3 Advanced Technical Extended Diploma in Land & Wildlife Management – Y2
Jennie is a Trustee and volunteers with a group called Plot 22, a community plot at Weald Allotments in Hove. During the summer months they have hosted sessions for Dementia Inclusive Gardening and Grow & Play toddler/parent group. This work alone demonstrates how Jennie lives each of Plumpton's core values in her everyday life and which she also brings to her studies.
Hyun Kyung Lee - C&G Technical Bacc Certificate in Floristry
Hyun Kyung is very ambitious as English language is of her second language. She has done incredibly well learning botanical flower names and also all the floristry terms and definitions. She recently passed the Health and Safety exam with a good mark and has made excellent progress on the course. Her work is beautiful and she dedicates herself to being a perfectionist making designs to a very high standard.
Louise Munday - L3 Apprenticeship - Small Animal Vet Nursing
Very hard working will complete any additional work to succeed and also voluntary work, a head nurse in the making!
Stuart Coxhead - ESCG Apprenticeship Standard – Golf Greenkeeper L2 (Singing Hill Golf Club)
Although not been a Greenkeeper for very long, he is very keen to learn, and move on with his career. Does as extraordinary amount of research for his course work, and extremely dedicated. Plays Golf to high standard, and understands the expectations of the sport, from the players' point of view. All of which help to fine tune the maintenance programme.
Archie Carney - L3 National Diploma in Equine Management
Archie has been the definition of ambitious this year, setting clear goals for himself on his path to becoming a riding instructor. Archie has picked up an extra unit (Coaching) and is attending college on two extra days outside of his course in order to attend these coaching sessions.
Joshua Lade - BTEC L3 Extended Diploma in Agriculture – Y3
Josh is conscientious with his studies, contributes in class with a valuable insight to the industry. Josh wants to progress onto university to complete his studies, this can only be of benefit to the industry where students like Josh will become valuable members within the agriculture sector.
Mabel Purbrick - 14+ EHE L1 Certificate in Land Based Studies – Animal Care
Mabel has always used her own initiative whilst at College, she has excelled in her metal work class, producing what her lecturer describes as university level work already in her first year. Mabel is a resourceful member of the class, helping others and always willing to help lecturers in preparation / tidying up.
George Mathias - C&G L2 Technical Certificate – LBSE
George is passionate about all aspects of Land-based Engineering and has proven to be a fantastically skilled welder. Apart from completing welding tasks that some L3's would struggle with, he has also encouraged and supported his peers, thereby raising the standards of his cohort.
Vikki Packham - L1 Diploma in Vehicle Maintenance
As a mature student who also multiple responsibilities outside of college including children, Vikki is works relentlessly to keep on top of her studies she attends 100% of the time and put massive effort into her studies. She works so hard in the workshop session and shows a professional standard of output already.
Cameron Black - NPTC L1 Diploma in Land Based Studies - Floristry
Cameron is a very conscientious and caring member of our group who without fail will always bring a positive and friendly attitude with him into the class. Cameron is always eager to support not only his peers in his class, but also other members across both the floristry department and the rest of the college too.
Alex Lumley & Matthew Foster - L2 Diploma in Agriculture
On a Tuesday & Thursday morning Alex and Matthew turn up to help Charlotte (Sheppard) out with her morning routine without fail, rain or shine. She has mentioned many times how helpful and passionate they are!
Jesse Jury - BTEC L2 Technical Diploma in Animal Care
Jesse always has a positive outlook on life and is supportive of other learners. He is enthusiastic and engaged in the lessons no matter what content is being taught and does lots of revision outside of lessons.
Louis Read - Apprenticeship Standard – Butchery L3
Louis has a 2 hour drive to college and always attends without fail, he has a great passion for butchery and is eager to pass his end point assessment. Louis is a very good student, he's enterprising, has a lively mind and grasps new concepts quickly.
Caitlin Smith - L3 Extended Diploma in Horse Management – Y2
Caitlin is absolutely wonderful with the horses and goes out of her way to ensure that every horse she looks after on her routines has the highest standard of care- nothing is too much trouble! She also has this amazing level of maturity, whereby she is able to look at things objectively and is very good at reasoning.
Rhys Cuxton - L1 Introductory Certificate in Land Based Studies - Agriculture
Rhys started the year well but on the edge of being disruptive but has since been a pleasure to have in class, a deep thinker before answering and always goes about his work quietly in an exemplary manner.
Darren Davis - L1 Supported Internship
It is Darren's first year with us and he travels a fair distance to come into College and applies himself in lessons. Darren rises to any challenge set of him, be it in the gardens of Stanmer or the everyday workings of a classroom. He is supportive to his peers and has positive relationships with staff.
Charlie Major - BTEC L3 Extended Diploma in Blacksmithing & Metalworking – Y2
Charlie started with us on the level 2, has worked his way up through the ranks and is now on his final year with us. He constantly strives for perfection in his work and conquers all challenges with a smile. Charlie has demonstrated exactly how hard work and a professional manner can progress ones career.
Lucy Newton - BTEC L3 National Extended Diploma in Animal Management – Y2
Lucy is an extremely hard working student that is a credit to the college and embodies each value the Plumpton stand for. Lucy has worked to achieve her best across all modules of her extended diploma in Animal Management taking on her feedback and improving her assignment standards.
Samuel Roberts - L2 First Award in Animal Care
Samuel has demonstrated resilience and determination and successfully entered L2 in September this year. Sam has accessed all areas in the college to help him reach his goal: Structured Support, 1:1 sessions and tutorials. He now attends an extra day every week for Provision and I have seen his confidence, self-esteem and communication skills grow as he has persevered and taken responsibility for his learning.
Rikki Harris - Apprenticeship Standard – FDQ L2 Diploma in Bakery
Rikki is always going out of his way to help others in the group especially as he works faster than his class mates and always finishes first. He will help aid their work and clear up for them whilst they are doing a task he has completed.
Luke Simpson - BTEC L2 Diploma in Blacksmithing & Metalworking
Luke has been and continues to be an incredibly supportive young man. He regularly assists his fellow team mates in the completion of their work and has completed his own work to an exceptional standard. He has delivered work to a member of his group who was off sick and continues to support myself and challenge himself by delivering demonstrations to his peers on multiple techniques.
Mitchell Hollebon - BTEC L2 Diploma in Blacksmithing & Metalworking
Mitchell was involved in the recent coach incident and stood out as a bit of a hero during police interviews and helping his fellow students. Mitchell's name has come up over and over again as being the student who broke the emergency glass with his fists as the hammer had become displaced and who helped many of the students out of the bus along with the driver before getting himself out. He even went back in to retrieve bags and belongings.
Jack Poulton - 14+ Schools GATEWAY L1 Certificate in Skills for Engineering & Ceri-Marie McIntyre BTEC L2 Certificate in Horse Care
Jack and Ceri-Marie were leaving college when they came across the recent coach incident. They administering first aid and treated for shock. They both remained on the scene, assisting the paramedics with treatment. In today's society, in an incident such as this, there is a tendency for people to move away from such a situation. However, these two students moved in, towards potential danger, and administered first aid to those in need.
Learn more about our history
Since the original 400-acre College farm was bought back in 1919, Plumpton College has certainly seen a lot of changes.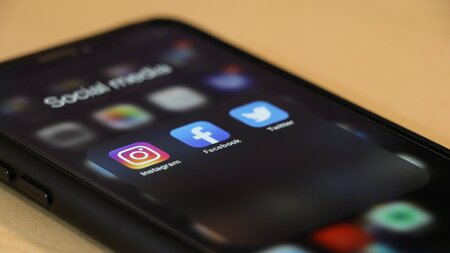 Stay connected
Keep up to date with us online. Give us a like and follow us on: