College opens new butchery training centre for South East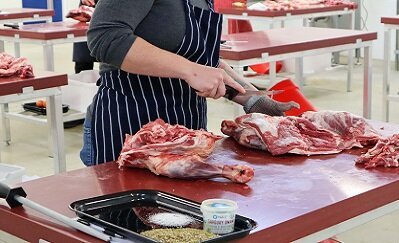 Plumpton College is responding to national food skills shortages by opening a brand-new specialist meat processing education and training facility at its college farm.
The land and environment college near Lewes are one of the only providers in the South East where students can train as an apprentice butcher. The new meat processing centre at Lambert Farm has been funded by the Rural Payments Agency and the South East Enterprise Partnership to help farms diversify and become more resilient.
The centre, which can accommodate up to 12 students each at their own butcher block, includes facilities to showcase every aspect of butchery to the students that they may utilise within the workplace.
Programme Manager Henry Martin shares
The space we have been using to train butchery students to date has been away from our main campus, with limited equipment and hand tools. The facility at Plumpton College allows students to use electronic equipment such as a mincer, slicer, and sausage filler, as well as packaging and storage equipment. This will enable them to make their own value-added products testing different flavour profiles and ingredients where perhaps in the workplace, they will not have the time and freedom to experiment and perfect their skills.
The centre utilises overhead cameras at the teaching block so that learners can watch on large screens a close-up bird's eye view of practical sessions without having to crowd around the tutor to follow at their own block. This also enables the delivery of remote sessions to learners across the country, particularly within the college's national accounts for butchery apprentices. The centre boasts large cold storage facilities and freezer space to be able to supply not only the college dining room, but the butchery counter at the college-run destination One Garden Brighton with meat from Plumpton Estate.
Jeremy Kerswell Principal for Plumpton College adds
The facility is unique in that it is at the heart of the college commercial farm which includes beef, sheep and pig enterprises. This offers students an enriching experience not on offer anywhere else, from farm to fork, spending time gaining insights from our farm and agriculture team with the animals, through to processing skills and then finally the supply route to market through our retail space and butchery counter at One Garden Brighton.
The retail and process butchery sector post-Brexit are going to rely on a better supply of more highly trained, educated, and entrepreneurial entrants. Currently the college has vacancies with 12 butchers in the South East that have careers available right now.
These facilities are going to provide a vital resource not only to students, but for local butchers and businesses as a hub for butchery training and education within the South East. We look forward to welcoming the local industry into the new centre to utilise the equipment, technology and wider farm estate.
As well as important practical butchery skills, the facility includes equipment and space to provide students with training around customer service and engagement skills that are vital for the workplace including how products are displayed, packaged and stored. Jeremy continues
Our students have been using their new space with great pleasure commenting on the large space available to them whilst working. Having their own equipment at college has given them a real sense of ownership and they have already started to create their own unique products. One student shared that they feel comfortable being at college because they can spend time perfecting skills that they haven't been given the opportunity to do at work.
The college is delighted to open the new facilities during national apprenticeship week; an important week to highlight apprenticeships and careers available to learners in the land and environment sector and celebrate apprenticeship success. Seven of the college's butchery apprentices have been nominated for this year's Institute of Meat Awards including Best New Apprentice and Best Multiple Retailer Meat Apprentice categories. Winners will be announced on the 24th of February.
The development is part of a wider investment by the college into its Agriculture and Food education and facilities to provide up-to-date skills training and support for local rural businesses and the wider community. This will include a new Centre for Sustainable Land Management, investments into farm animal production technologies for its sheep and beef facilities, a new sow unit and automated milking stations and improvements to cow welfare.
The college looks forward to hosting an open evening in the Spring for the sector to tour its new facilities.
Categories: College News, Land Management
Learn more about our history
Since the original 400-acre College farm was bought back in 1919, Plumpton College has certainly seen a lot of changes.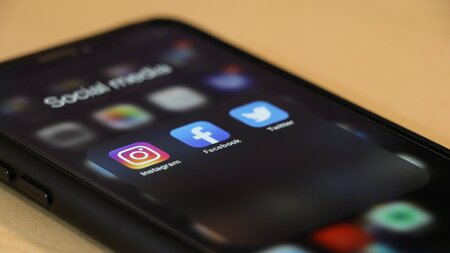 Stay connected
Keep up to date with us online. Give us a like and follow us on: