College celebrates walled garden restoration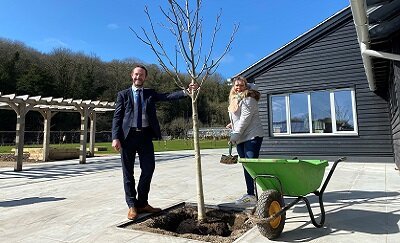 MP for Mid Sussex and Minister of Employment, Mims Davies joined Plumpton College last week to celebrate the end of construction works to redevelop the walled garden at Stanmer Park, Brighton which opened to the public Easter Bank Holiday weekend.
The walled garden has been transformed into a new centre of excellence for training and education in horticulture and a visitor destination.
To mark the occasion, Mims helped place the final commemorative tree in the centre of the garden, a Walnut Tree which will be a focal point for those that visit at the end of the tree-lined scented walkway. It highlights the history of the original kitchen garden which would have had many productive fruit and nut trees.
The near six-year project is opening as One Garden Brighton, with expertly designed feature gardens, One Market retail space and eatery One Kitchen, but at the heart of the destination is Plumpton College who have developed and now manage the space.
The college with partners Brighton & Hove City Council and South Downs National Park were awarded £3.8 million from the National Lottery Heritage Fund as part of the Stanmer Park Restoration Project. The project included restoration of the gardens and relocation of the college's horticulture campus providing classroom and practical training facilities, soon to be showcasing some of the latest innovations from across the industry including how robotics are used in production horticulture.
Principal at Plumpton College Jeremy Kerswell said
The horticulture sector has more demand than ever before for new skilled entrants looking for work with 70% of businesses in the sector struggling to find employees. Through One Garden Brighton, we hope to attract and inspire the next generation of horticulturalists from across the region. Visitors will be able to see our students range from school leavers to adults on RHS programmes learning, developing and maintaining the gardens as a showcase for their industry. I am delighted MP Davies could join us for a preview before we look forward to welcoming the public in this weekend.
MP Mims Davies commented:
I was delighted to be invited to plant this iconic Walnut Tree at the exciting One Garden Brighton. Thanks, must go to the Lottery Funding Heritage Fund that enabled this, and to Plumpton College for their vision in bringing this project forward. This will be a great attraction for many people to visit for many years, from both within and outside Sussex. It's fantastic to see how the SWAP programme has enabled people to get key skills and experience in the workplace.
Mims also had the opportunity to meet Kitchen and Market Assistants who through the local job centre applied to work at One Garden Brighton and had been successfully recruited. They recently took part in the Sector Based Work Academy Programme (SWAP) to help people gain new skills in employability and are offered the opportunity to interview for roles at the workplace at the end of the programme.
The college is hoping to reopen its doors to applicant students on 22nd May for an Information Event. If you would like to find out more about Full and Part Time Horticulture courses or other courses at Plumpton College for more information and to book your place.
For opening times and more information about One Garden Brighton visit www.onegardenbrighton.com.
Category: College News
Learn more about our history
Since the original 400-acre College farm was bought back in 1919, Plumpton College has certainly seen a lot of changes.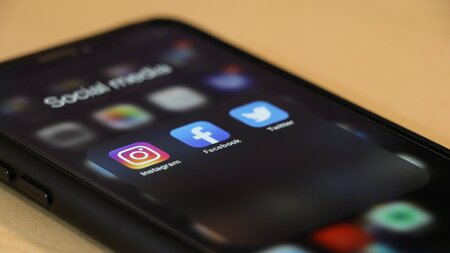 Stay connected
Keep up to date with us online. Give us a like and follow us on: