College cattle graze at Seven Sisters using virtual fencing tech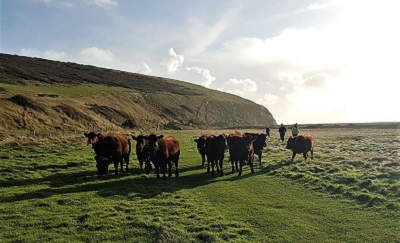 Plumpton College are delighted to move some of its pedigree Sussex cattle herd to Seven Sisters Country Park to graze the chalk grassland landscape as part of a new conservation management plan with The South Downs National Park.
The South Downs National Park Authority assumed ownership and management of Seven Sisters Country Park last July with a commitment to improving biodiversity at the iconic site. The cattle will help to remove unwanted tussocky grasses in targeted areas, rotated across the park. Some fields of the 280-hectare site have not been grazed to allow longer grasses that make the perfect habitat for voles to thrive. This introduction has also led to a resurgence of owls, including the short-eared owl.
The College are utilising the No Fence system, setting virtual fencing boundaries. The system allows livestock to roam more freely, keeping away from dangerous areas, whilst being able to access rugged terrain where it may be hard to put up physical fencing. It also allows the cattle to be easily moved without setting up new physical fencing and barriers across the park, maintaining the natural landscape.
As the park is a short distance from the College, the team at Lambert Farm can remotely monitor the movement of the cattle, ensuring their safety by utilising data that can be viewed via smartphones.
Farm Manager Ian Salmon shares more about the system
The livestock have all been fitted with a solar-powered GPS collar and a digital boundary. If an animal gets close to the boundary, it will hear an audio sound. No Fence trains the animals to turn around on the audio. If it ignores the sound, a weak but effective electric pulse will be given as a last resort. We currently have 11 of our Sussex herd grazing and will have over 30 grazing at the Park by the Spring.
Peter Cousin, Commercial Manager for Seven Sisters Country Park, said
The cattle act almost like "ecosystem engineers", the conservation grazing by the cows helps to manage the grassland, which can have up to 45 species of plants in a single square metre. We are committed to improving the habitat at Seven Sisters for a range of plants and animals. It's still very early days and will take many years, but it's fantastic to see the first green shoots of nature recovery.
Categories: College News, Sustainability, Land Management
Learn more about our history
Since the original 400-acre College farm was bought back in 1919, Plumpton College has certainly seen a lot of changes.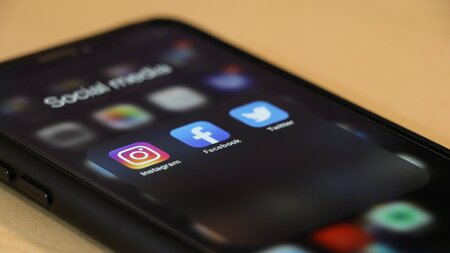 Stay connected
Keep up to date with us online. Give us a like and follow us on: