Big win for Level 3 Garden Design students at the South of England Show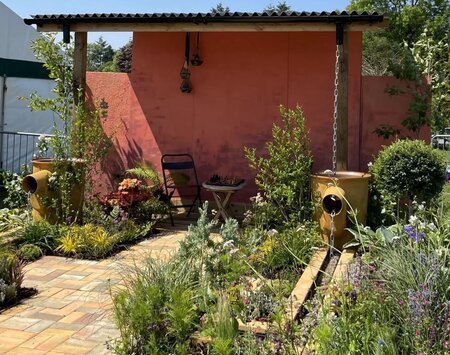 From the 9th-11th June, our Level 3 Garden Designers travelled over to the Ardingly to create their show garden, a beautiful oasis amidst the hustle and bustle of the South of England Show. Their careful focus on sustainability paired with thoughtful planting of native flowers earned them first place.
Evoking the Moorish spirit of the 14th century Alhambra palace, The Reflective Garden artfully blends ancient wisdom with modern solutions. Inspired by water use in ancient civilisations, it shows the vital role of water in both aesthetic and practical realms. From Egypt to Andalucia, the ancients have lessons for us all in being water-wise.
The design shows how rainwater can be preserved and used to irrigate a garden containing plants that are suited to our changing environment, supporting wildlife and bio-diversity.

The impact of climate change and rising temperatures means we must conserve water in our gardens. The Reflective Garden pavilion collects water from a typical pitched roof and guttering. Rain chains then feed the water from the roof into storage tanks and on into rills, which channel it to planting beds. The top of a buried water tank connected to the chains becomes a water bowl, adding a tranquil water feature.

Most of the materials used for the pavilion have been reclaimed and they will all be re-used. Water collection tanks are upcycled
hydroponics tanks. Paths are permeable to prevent water run-off and are constructed from old bricks, adding character. Re-used Breedon gravel has been applied as mulch to reduce the need for watering and weeding.
The Reflective Garden shows how attractive, sustainable drought tolerant planting can work in contrasting dry environments: hot and sunny, and cool and shady. We begin with two bright, sunny areas, with lower-density planting in a less formal style. In spring and summer, colourful flowering plants and grasses are a feature in this area. Walking down the central path through the garden towards the pavilion, we have two shaded sections with denser planting in a more formal style. The space is green, giving a sense of rest and calm, to be enjoyed all year round from outside and under the pavilion. Creating a bridge between the two spaces is a thyme lawn: a tapestry of sun-loving, low growing plants that require no mowing or watering and can cope with light footfall. Reaching the pavilion, we have uncultivated areas on either side, allowing wild plants to grow, which enhances the bio-diversity of the garden and provides a safe habitat for wildlife. The range of plant species, mainly perennials and grasses, is selectively modest, creating a sense of unity and harmony throughout the garden.
A huge thanks to the judges for awarding our garden first place, and thanks also to the local independent businesses that have supported The Reflective Garden project with donations of materials or plants. Wishing our students a huge congratulations!
Garden design and project management: Sarah Mayfield.
Planting design: Echo Cao, Fiona Wright, Lesley Willoughby.
Build design: Dom Thompson-Talbot, Gerald Gilbert, Keir Fawcus, Monika Greenhough, Sebastian Stall.
Styling: Carly Barton, Chloe Wallace.
Marketing materials: Francesca Naylor.
Learn more about our history
Since the original 400-acre College farm was bought back in 1919, Plumpton College has certainly seen a lot of changes.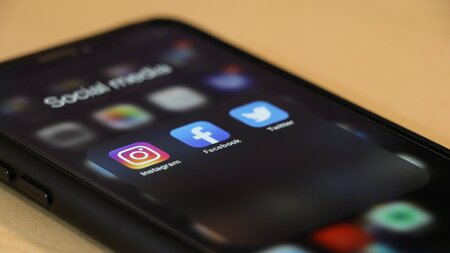 Stay connected
Keep up to date with us online. Give us a like and follow us on: