Meet the Wine Division
Plumpton College Wine Division benefits from having a talented staff team, some of whom have worked extensively in the Wine Industry in a range of areas such as wine research, global wine sales and marketing and vineyard management.
With their combined experience, passion and knowledge, the Plumpton Wine Division can certainly position themselves as one of the best wine training colleges in the world, with all students benefitting from being taught in state-of-the-art facilities.
With industry leading researchers who regularly contribute their findings within the industry, you can be certain that you will learn all the essential skills during your time at Plumpton, preparing you to find employment in this diverse and dynamic sector.
---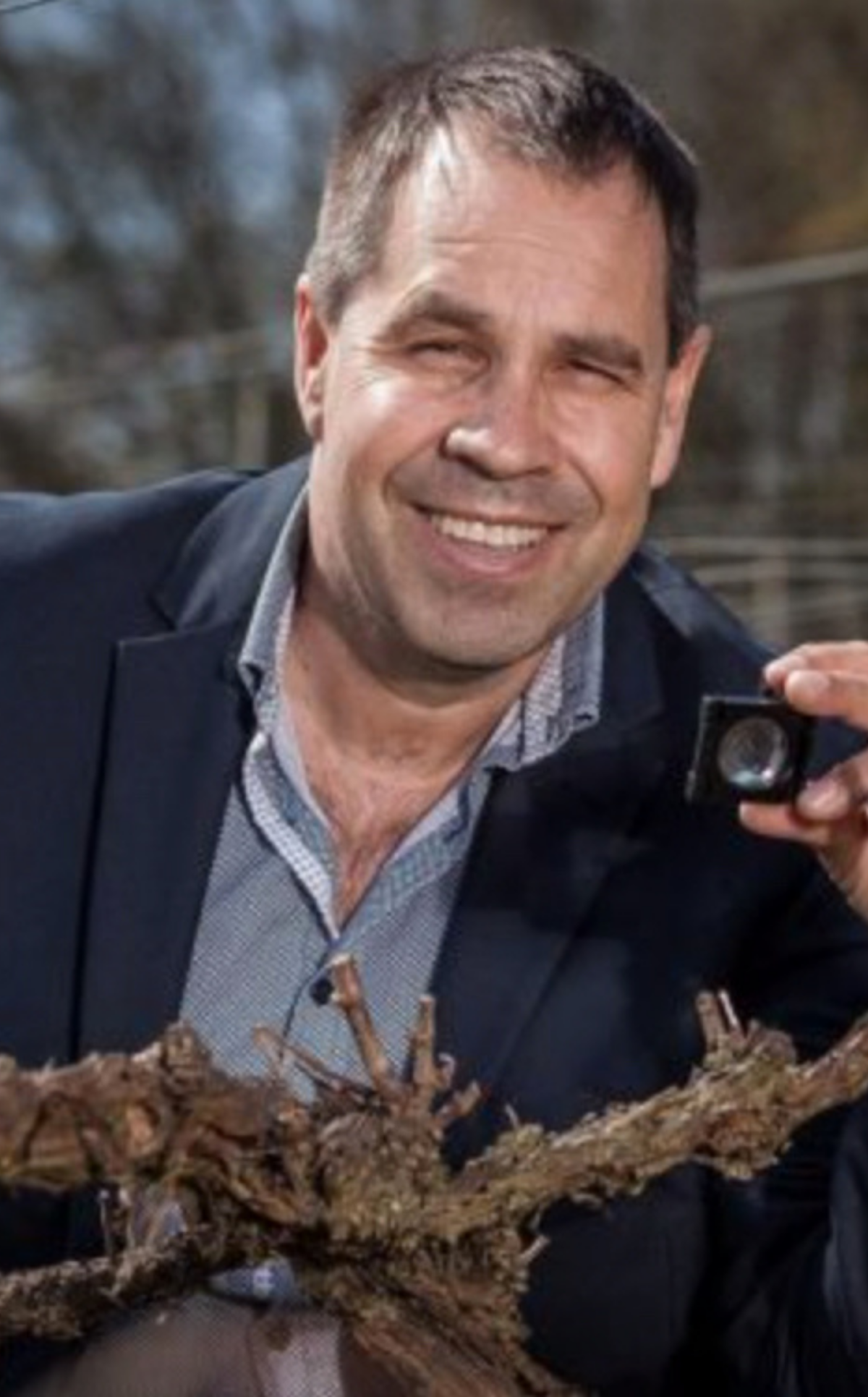 Dr Gregory Mark Dunn
Head of Plumpton Wine Division
Dr Gregory Dunn is the head of the wine division at Plumpton College, the only facility in the UK that trains oenologists and viticulturists at undergraduate and postgraduate level. Greg completed his PhD in the Botany Department at the University of Melbourne in the 1990s, after which he undertook research in forest hydrology and native forest silviculture in Victoria and sub-tropical Queensland, Australia.
Background
For the last two decades Greg has acted in a range of positions in research, education and training in the Australian wine industry, including for DPI Victoria, the University of Melbourne and the National Grape and Wine Industry Centre in Wagga Wagga, NSW. Greg is currently deputy editor for the Australian Journal of Grape and Wine Research.
Academic Qualifications
PhDThe University of Melbourne (1991)
BSc (Hons)The University of Melbourne (1985)
Diploma of Business (Frontline Management) (2004)
Publications
Dr Gregory Mark Dunn has had multiple publications in journals, books and conference proceedings. View the full list.
"Our courses are designed to springbroard you into a wide range of exciting and rewarding careers with so many opportunities at your fingertips."
Dr Akshay S. Baboo
Programme Manager BSc Wine Production
Dr Akshay Baboo is a winemaker, rootstock specialist, lecturer of oenlogy, and programme manager of the bachelors of science (honours) course in viticulture and oenology at Plumpton College.
Between 2004 – 2010 he gained experience working as a Winemaker for some of India's largest wine producers.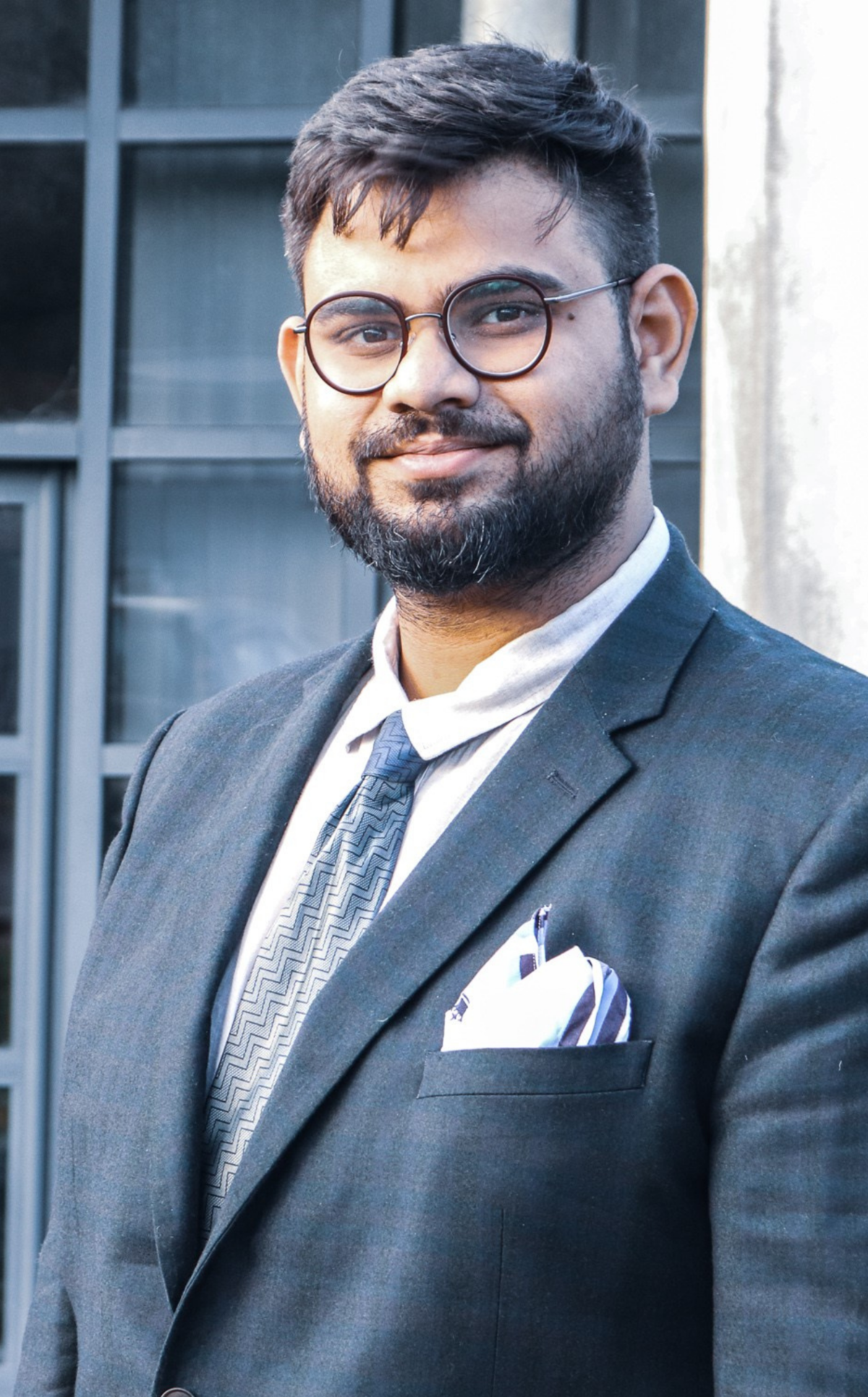 Background
After receiving the prestigious Raman-Charpak fellowship in 2011, he decided to complete his Masters of Science in the École Nationale Supérieure d'Agronomie – Montpellier (Montpellier SupAgro), in viticulture and oenology. This is where he first got interested in Rootstocks. During his time there, he also obtained the National Diploma of Oenology (DNO) from the Université de Bordeaux. Subsequently, he obtained his doctorate from the University of Turin.
Dr Baboo has since consulted for some of the world's leading wine producers in France, Italy, Germany, Spain, Swizerland and India. His last assignment saw him working for one of India's largest wine producers, where he was responsible for the viticulture spanning over 3500 hectares, and for winemaking, where he oversaw production of over 10 million cases of wine across 7 wineries.
Besides English he is fluent in French, Occitan, Italian, and six other Indian languages. His current research focus is in wine chemistry, wine ageing, and rootstock-site compatibility.
Academic Qualifications
BSc, MSc (ENSAM), DNO, Ph.D. (Torino)
Publications
Baboo A.S., Köhr, C. K., et. al. L'influence de la porte-greffe sur le rendement, la santé et maturité des raisins, 2014, INRA
Baboo A. S., Influenza dei portinnesti sulla produzione di metaboliti secondari nelle uve rosse, 2015, Archivio delle tesi di dottorato, Università di Torino.
Paul Harley
Programme Manager BA International Wine Business
Paul Harley, Course Leader for the FdA Wine Business and BA (Hons) International Wine Business degrees joined the wine industry in 2001 working in both London and South-East retail trade. He is a proud holder of the WSET Diploma in Wines and Spirits and was awarded the WSET Champagne Scholarship in 2006 for outstanding academic performance.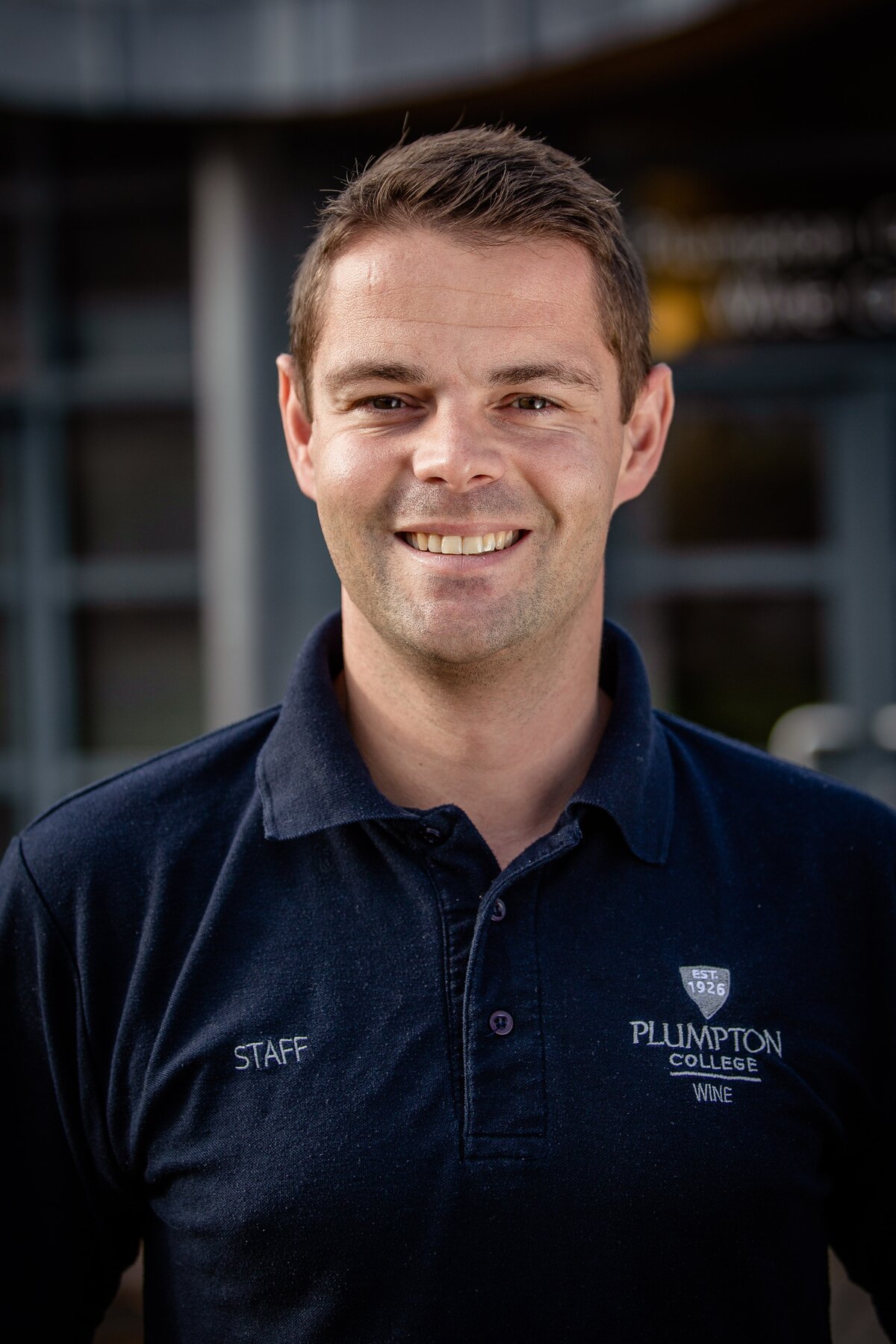 Background
Paul joined Plumpton College in 2007 as Wine Sales Manager and developed a wide-ranging network of trade and retail partners for the College's estate-produced wines.
In 2012 he became a full-time lecturer and proceeded to write and launch a number of new modules into the wine business curriculum, with support from key industry stakeholders, including subjects such as wine tourism, strategic management in the wine trade, fine wine, consumer behaviour and English wine. Paul has also been a Teaching Practitioner at Plumpton, helping new instructors and lecturers settling into their teaching roles across the college. Alongside this Paul has contributed to a book on English Wine that is due to be published soon and regularly judges for the International Wine and Spirit Competition.
"Studying wine business at Plumpton will provide you with a contemporary knowledge and understanding of the exciting and ever-changing global wine trade."
Tom Newham
Plumpton Vineyard Instructor
Tom Newham has been the Vineyard Instructor at the Plumpton College Wine Division since harvest 2016. Having originally trained as a boatbuilder and yacht instructor, his viticulture career began alongside the sailing work in the south of France during the 1990's. After working for several years for various small organic producers in France.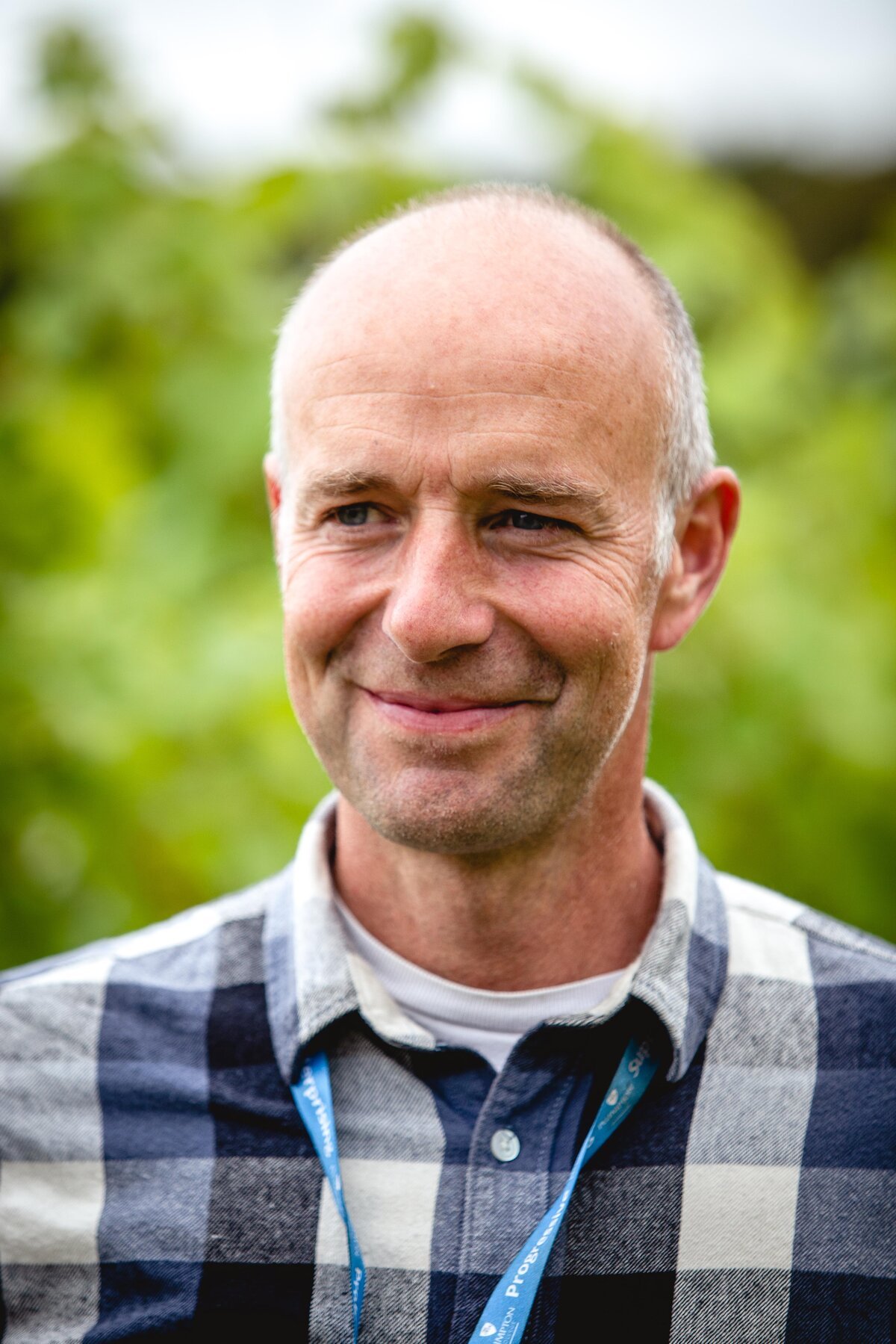 Background
In the early 2000's, Tom decided to return to the UK to study the Viticulture and Oenology BSc at Plumpton College, and since obtaining his qualification, Tom has been involved in the vineyard establishment stage, all the way through to working with mature vines, and winemaking practices at various English vineyards including Stopham Estate, Albourne Estate and Davenport vineyards. In 2012 Tom also set up and ran a small independent wine shop, which is still trading, now under new ownership.
Academic Qualifications
Ph.D. on Food, Sensory and Consumer Sciences
Dona Frost
Viticulture Apprenticeship Programme Leader
WineSkills Programme Manager
Growing up on an organic farm in Wales and frequent visits to family in Franconia, Germany, has meant that the food & wine culture is very much part of Dona's DNA. Dona has a particular interest in food production systems and spent many years as the Senior Certification Officer for the Soil Association where she managed more than 250 organic farm licences in the UK and internationally.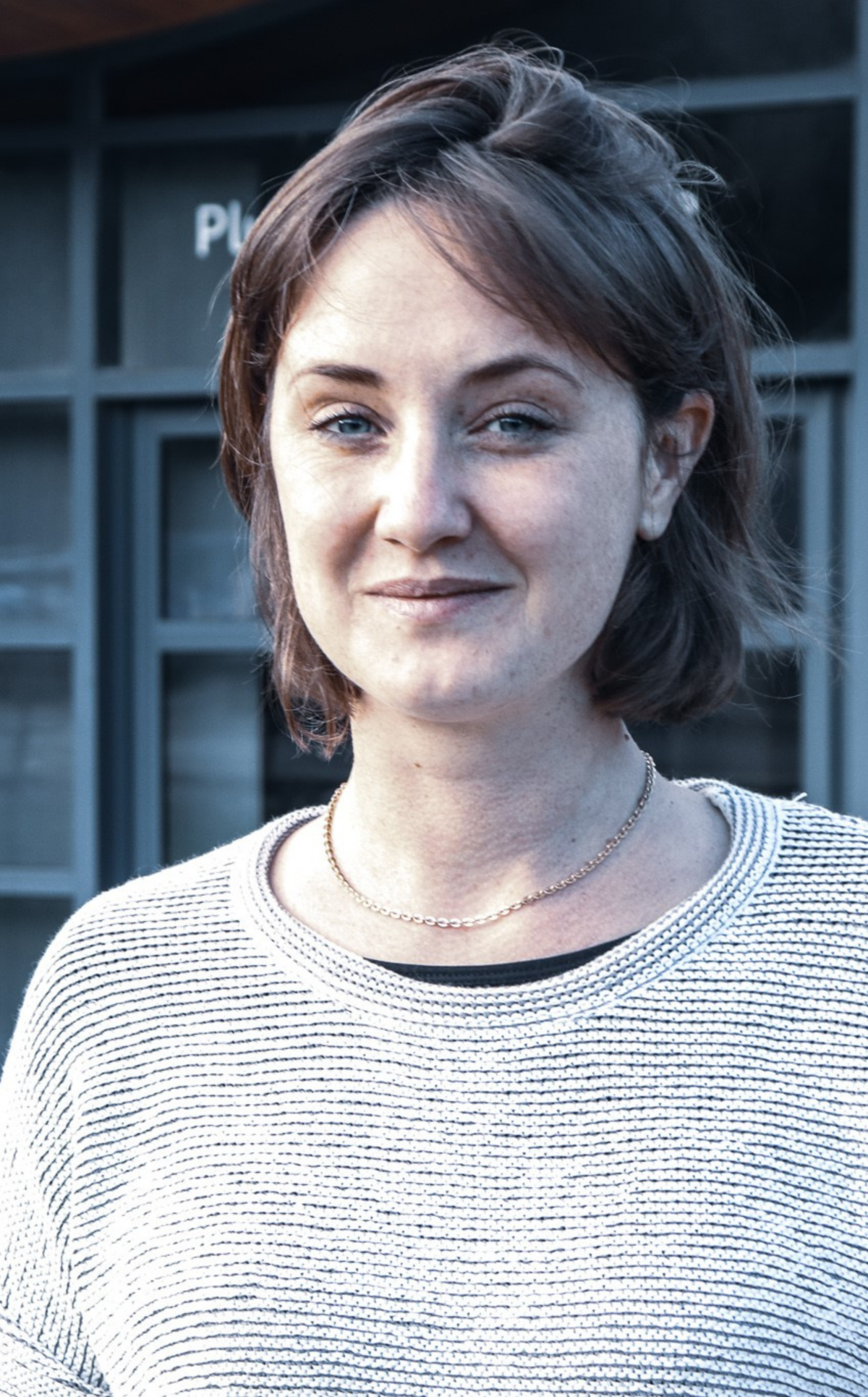 Background
In addition, Dona has also worked as a vineyard operative across Europe including; Champagne, France, Baden-Baden and Würzburg, Germany, as well as pursuing a winemaking & oenology internship at A Mano Winery, Puglia, and more closely to home as a cellar hand for Wiston Estate Winery. Dona also spent time in wine retail sales with a particular expertise in Spanish wine buying.
With a BSc in Viticulture & Oenology further studies have included plant pathology at the University of Florence and WSET certifications. Today Dona also sits on the WineGB SE committee, the Sustainable Wines of Great Britain committee and the WineGB Training and Education subcommittee.
Academic Qualifications
BSc in Viticulture & Oenology further studies have included plant pathology at the University of Florence and WSET certifications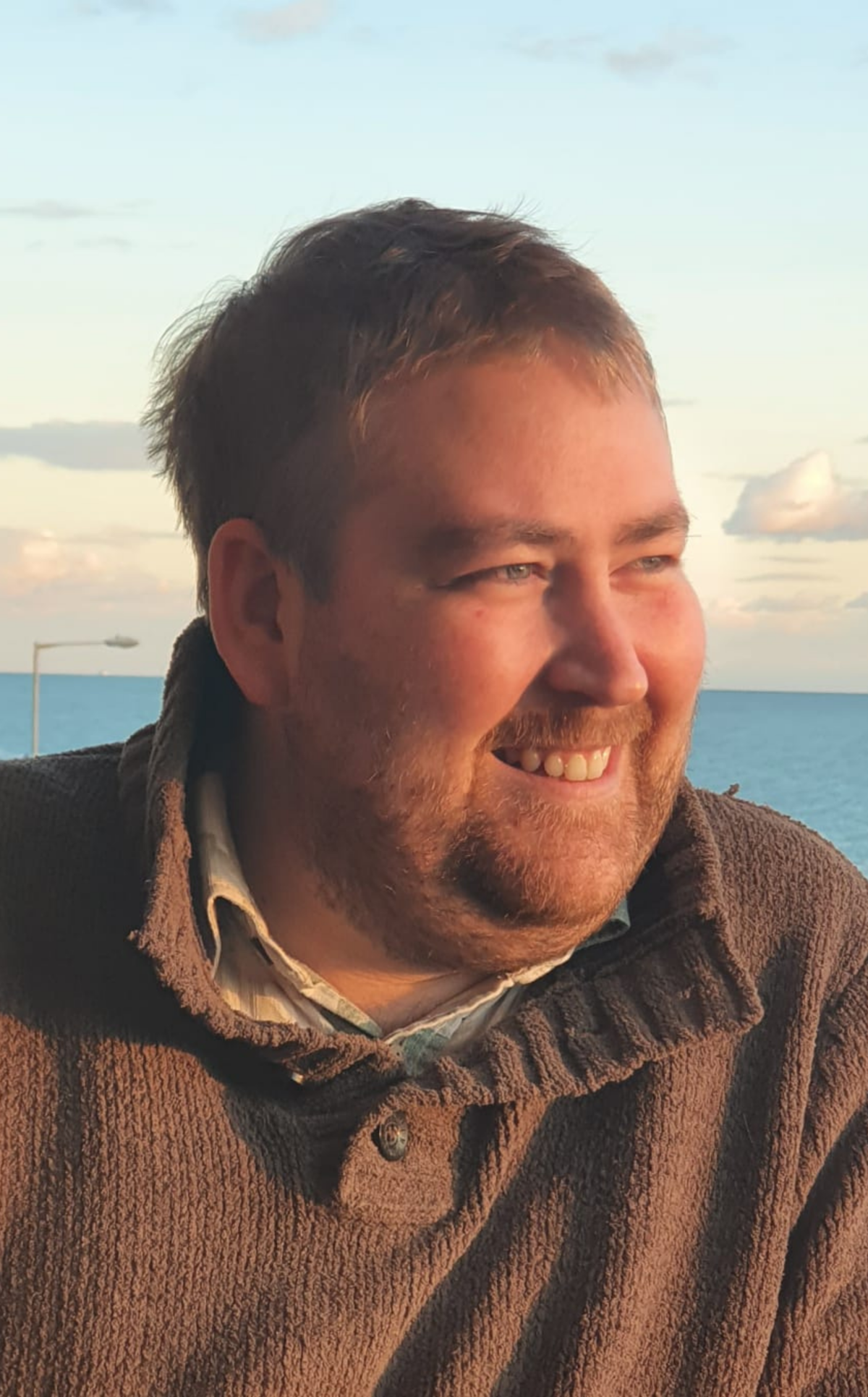 James Clapham
Pumpton Wine Division Laboratory Manager
James teaches the laboratory-based elements on the BSc Viticulture and Oenology programme. This includes both chemical and microbiological analysis, as well as other key subject areas. He is central to ongoing research within the wine division,supporting and supervising students in all areas of active work.
Background
Having graduated with a degree in Microbiology at the University of Bristol in 2007, James then went on to complete an MSc in Biomedical Science at the University of Brighton in 2014.
Research projects have included cloning and expression of bacterial adhesins , discovery of novel antimicrobial substances and enzyme based synthetic peptides for the prevention of biofilm formation. In 2021 he will begin his PhD.
Academic Qualifications
Degree in Microbiology at the University of Bristol in 2007
MSc in Biomedical Science at the University of Brighton in 2014
"Chemistry and microbiological processes are the foundations of wine science. Good knowledge of these subject areas is crucial to truly understanding wine".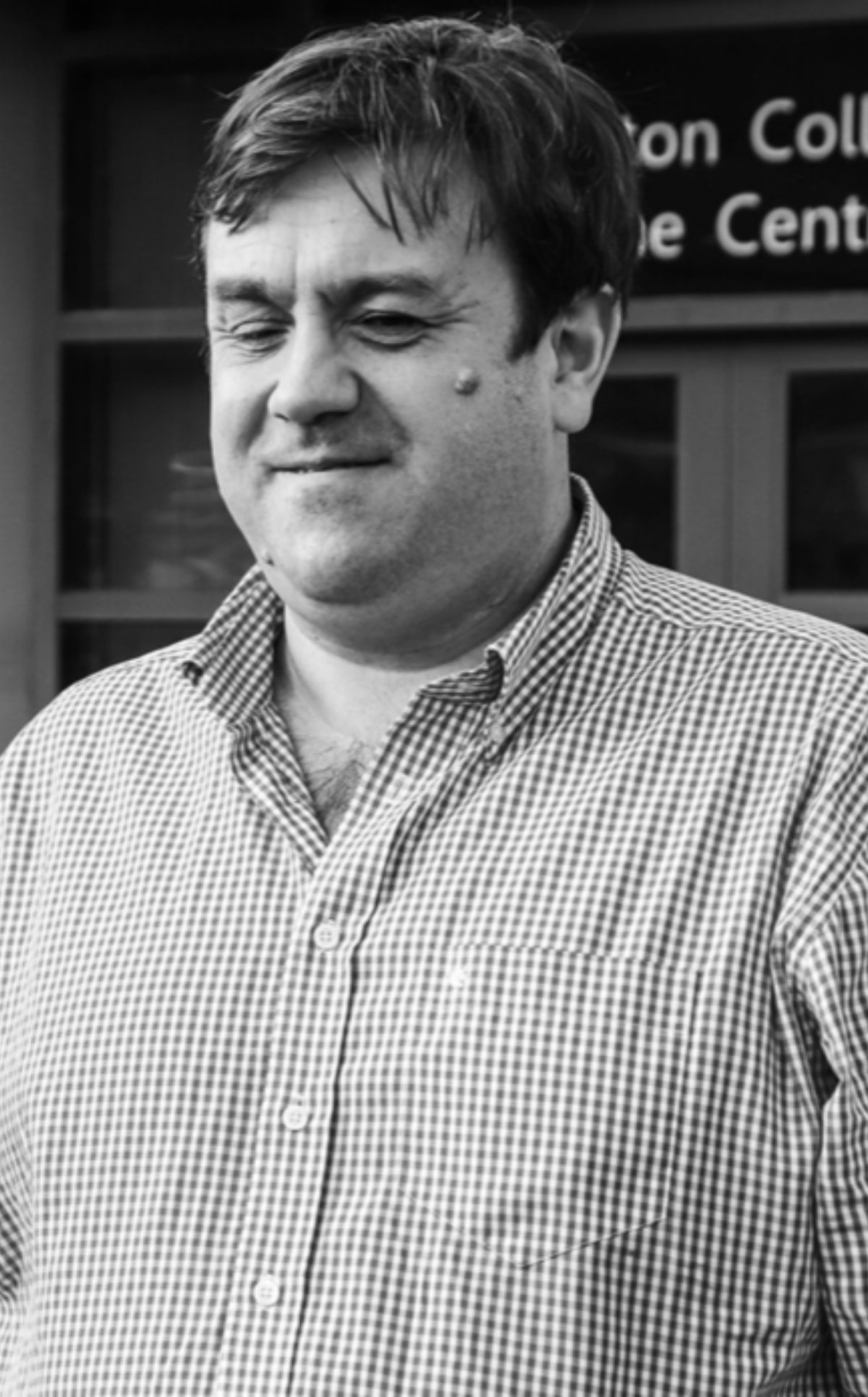 Tim Andrews
BA International Wine Business Lecturer
After working as a professional support lawyer for many years, Tim decided to follow a major career change in 2014 when he embarked on the Wine Business degree at Plumpton College.
During his time at Plumpton he also completed WSET Level 4.
Background
Since graduating, Tim has worked in various wine education roles, including a full time role with WSET, teaching the Level 4 Diploma course and developing study and teaching materials.
In 2019, Tim joined the Wine Division team at Plumpton College and brings his passion and impressive knowledge of wines of the world to his lectures.
Tim is a member of the WineGB Education and Training Working Group.
Academic Qualifications
BA (Hons) Modern and Medieval Languages
Post Graduate Diploma (Legal Practice)
WSET Level 4 Diploma in Wines and Spirits
BA Wine Business (top student)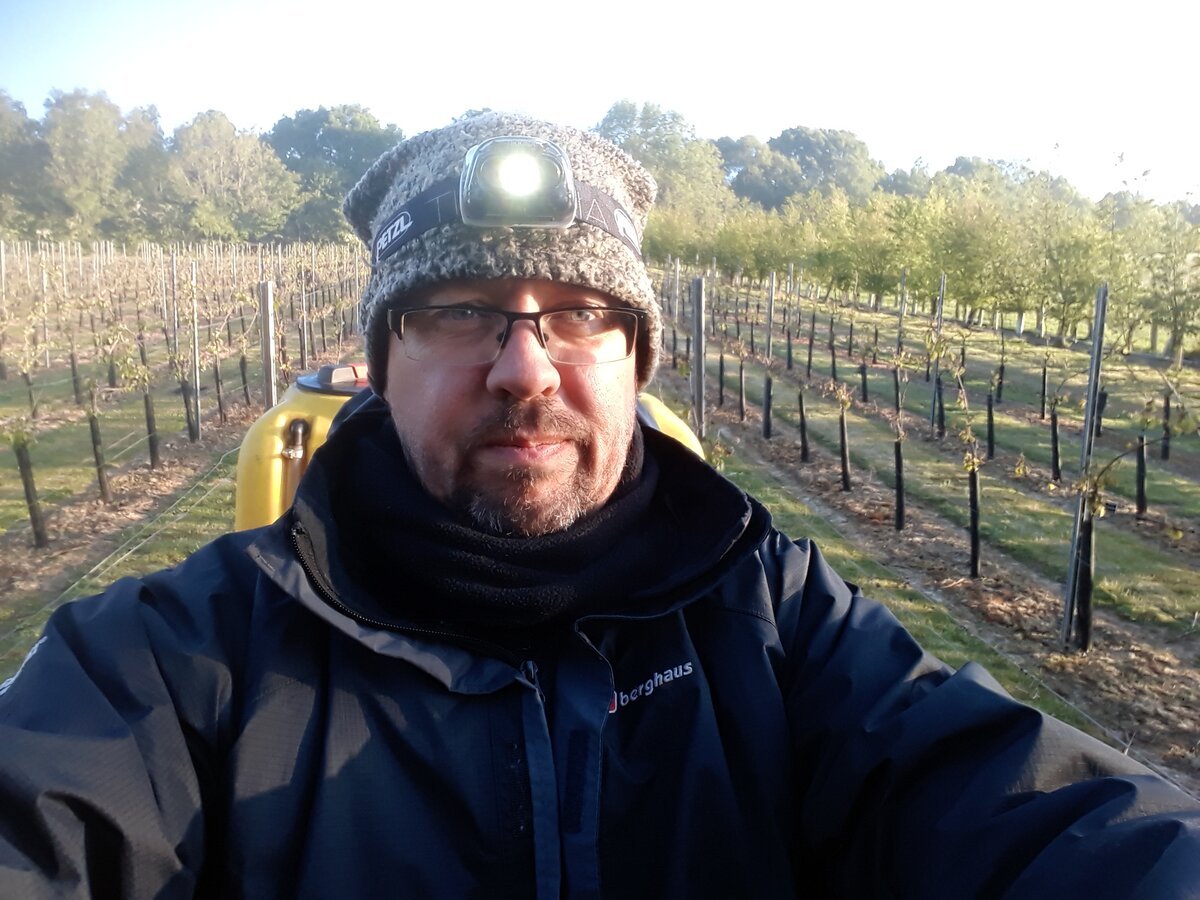 Paul Olding
Viticulture Lecturer
Dr Paul Olding is a part-time lecturer in viticulture. Having attended the Plumpton College Principles of Viticulture course in 2007, he planted his first vineyard on an allotment just off the South Circular in London which features in his book The Urban Vineyard. In 2014 Paul stepped up a gear and planted Wildwood Vineyard in East Sussex, producing estate-grown, award-winning still and sparkling wines.
Background
Paul has led a varied life, originally gaining his doctorate in animal behaviour from Oxford University, then becoming a successful BAFTA nominated filmmaker and now splits his time between filming, teaching and tending to his vines.
Academic Qualifications
BA Biological Sciences, Jesus College, Oxford University
DPhil Animal Behaviour, Jesus College, Oxford University
Publications
Dr Paul Oding has published a book, The Urban Vineyard which is a guide to growing grapes in your garden, on an allotment or other urban space and making delicious home made wine.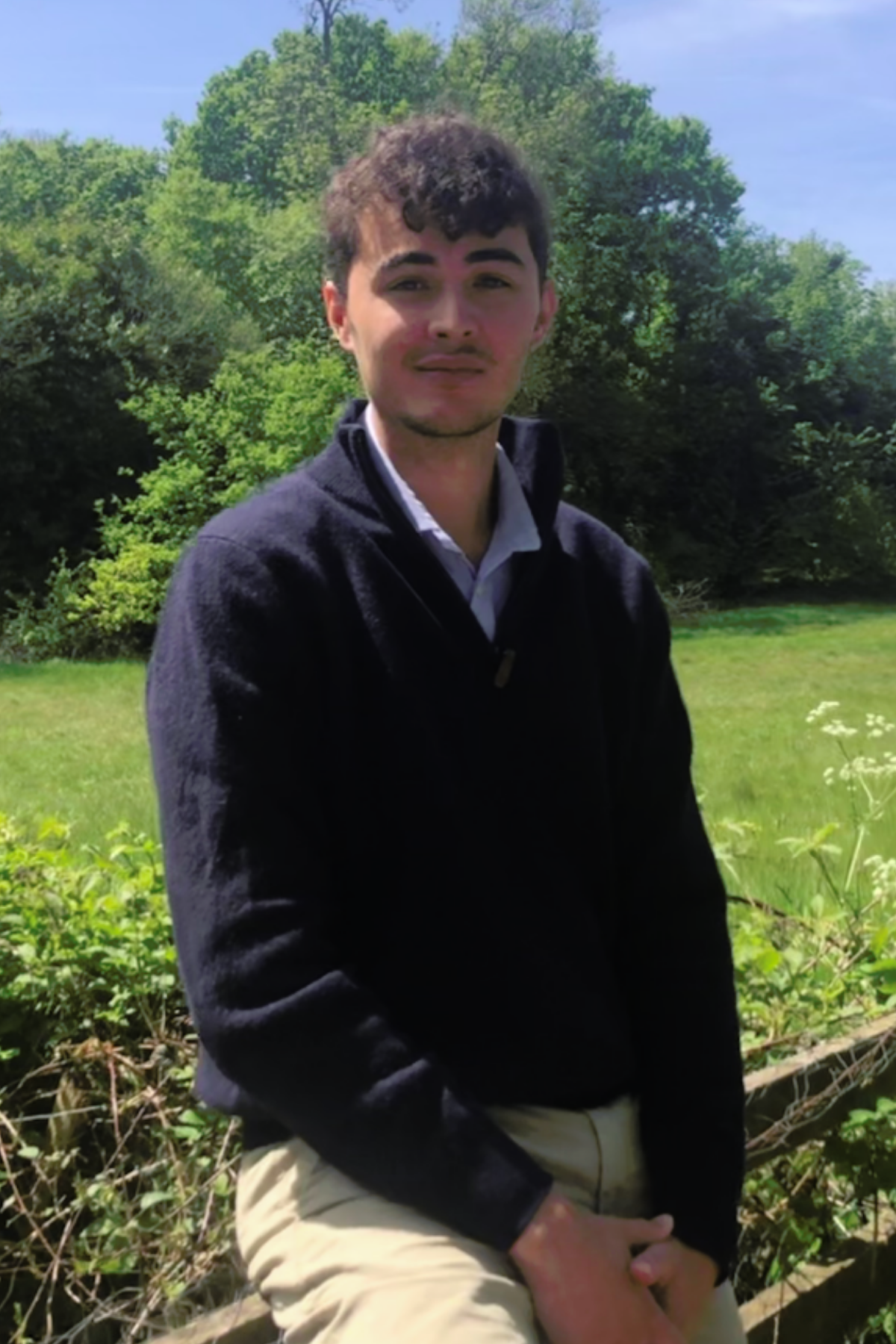 Charles Negus
Viticulture Apprenticeships Programme Manager
Charles is the programme manager for apprenticeships in the Wine Division. Having joined the UK Wine production industry in 2018, he has gained experience at some of the UK's largest and most prestigious producers. He is also a graduate of the MSc programme at Plumpton College, during this time Charles was awarded the Hazel Murphy A.M. Scholarship for his work in the programme.
Background
Having spent his childhood summers in the family home in Bordeaux and with family links to Wine producers and importers in the USA, the Wine industry has not been far away from Charles. However, it was not until he studied and lived in Australia that it became a realistic career pathway, upon returning to the UK and on completion of his Biological Sciences degree he sorted to cut his teeth in UK Wine production. As a result, Charles has been involved in all stages of production from both out in the vineyard and in the winery, at various producers in the South East.
Previous research undertaken by Charles has covered the efficacy of biological control of pest and diseases in Banana farms to emotional responses to sustainable wines. Currently, he is interested in the role mechanisation, varieties and yields will play in future success of UK Wine production.
Academic Qualifications
BSc Hons Science, Biological Sciences from Exeter University
BSc Hons Science from Australian National University
MSc Viticulture & Oenology from Royal Agricultural University and Plumpton College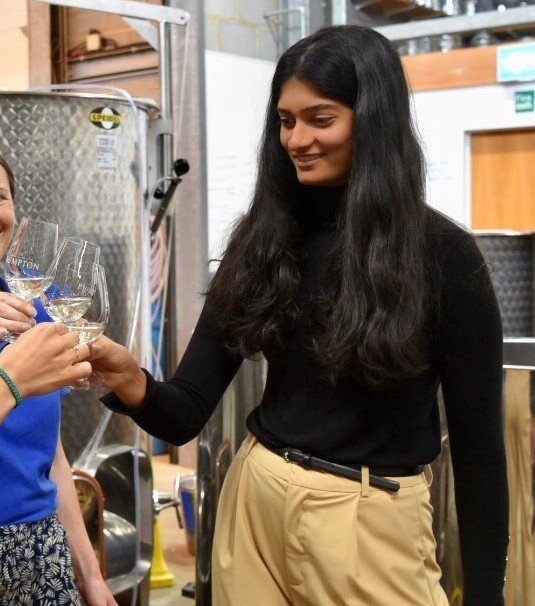 Deepika Koushik
Winemaker
Her winemaking experience includes stints in the Russian River Valley in the USA and Burgundy, where she was awarded the Confrérie des Chevaliers du Tastevin Award (2019). In addition to this, Deepika was the recipient of the INSPIRE Scholarship for topping her State in HSC level (equivalent to A levels) exams in India and was the recipient of the Mrs Ferooza Easwaran Golden Jubilee Prize for Securing the highest grade in Microbiology (2013-2014).
Deepika commented "I am passionate about viticulture and oenology and I have a strong understanding of the science at its core and an appreciation for the tradition that comes with creating wine."
Academic Qualifications
MSc (Viticulture and Enology) from UC Davis
MSc (Applied Biotechnology) from the University of Westminster (high distinction) and has taught undergraduate students microbiology in India and the USA