Find your ideal course in Veterinary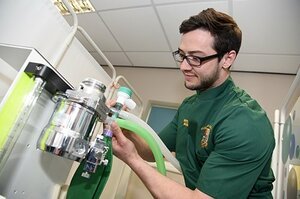 Veterinary Nursing and Veterinary Physiotherapy are incredibly rewarding industries that offer you lots of opportunities if you have a particular passion in working with animals.
Come and discover our great range of short courses at Plumpton that will enhance your current practical skills and develop your knowledge within the veterinary practice. If you've decided that this is a career choice for you and you're currently at college, we also have a great foundation degree in veterinary nursing that will enable you to discover a wealth of practical skills and knowledge.
Course Finder
Facilities
Access to many different animals
With extensive access to domestic, exotic and small animals, you'll also spend time working at our equine department too.
Work with the latest technological equipment
Our Clinical Veterinary Nursing Training Suite will give you experience of working with the latest technological equipment to extend your clinical skills.
Develop practical skills
You'll be able to develop invaluable practical skills at our excellent Animal Management and Dog Grooming Units at Plumpton.