City & Guild Level 3
If you're looking to build on your skills and create a real career opportunity within the agricultural machinery industry, this exciting course is definitely for you.
You'll get the chance to spend one day a week on a commercial placement; getting hands-on experience of agricultural engineering and other related working functions while building your contacts. You'll also get to study in our excellent workshops; fully equipped with the latest technology and facilities.
Course content
You can look forward to a varied programme of modules that also includes a work placement. You'll also continue your English and Maths up to GCSE level. Modules include:
Diesel fuel injection systems
Hydraulic and electrical systems and components
Understanding and servicing harvesting machinery
Welding
Calculations for land-based service engineering
Undertake land-based workshop processes
Repair land-based compression-ignition (diesel) engines
Repair land-based spark-ignition (petrol) engines
Repair land-based vehicle systems
Repair land-based electric systems
Test land-based electronic systems
Repair land-based hydraulic systems
Work Experience
Study programmes include a minimum of compulsory work experience hours achieved through one day a week or block placements. The amount of hours required is dependent on the study programme.
Careers Hub
We offer impartial careers guidance to all of our students, email careers@plumpton.ac.uk to explore your next step or to book an appointment – we're here to help.
Industry Work Placement
All students aged 16-18 on our Level 2 & Level 3 programmes will now have to take part in an exciting and compulsory 180 hour minimum industry placement programme alongside completion of their vocational course. The programme will give you the chance to gain valuable skills in a real working environment whilst being paired with your ideal employer.
Our mission is to pair students with their ideal employer and to support them continuously during the placement.
There is flexibility on how students complete the placement; it can be during non-college weekdays, weekends, in blocks or over the holiday period. You will receive all of the necessary information during your interview, and if you have any queries in the meantime please contact workexperience@plumpton.ac.uk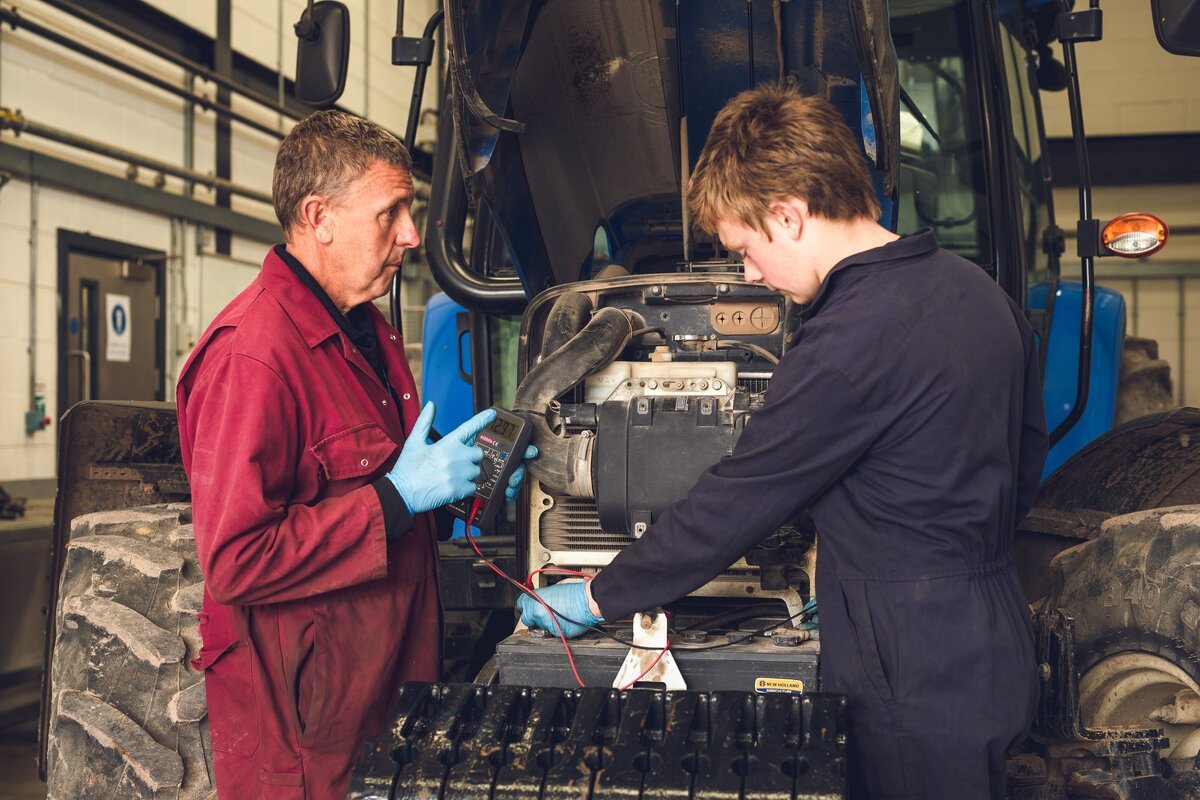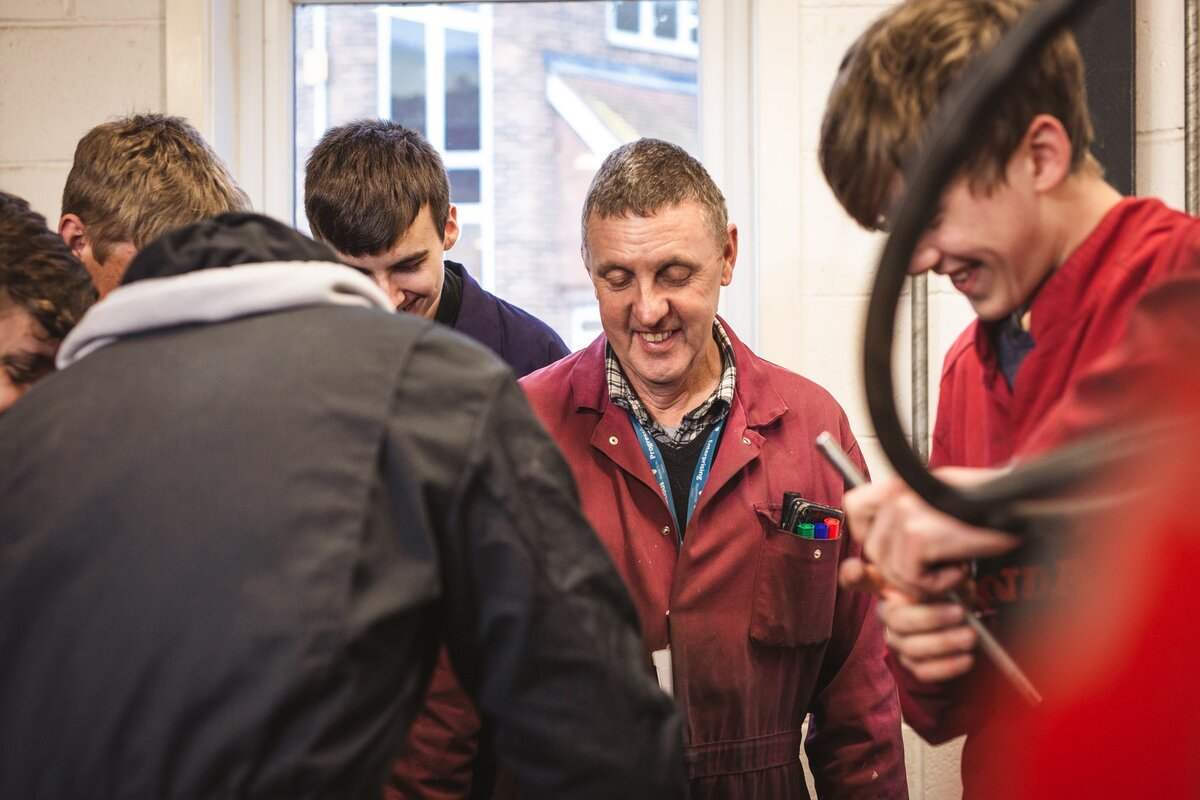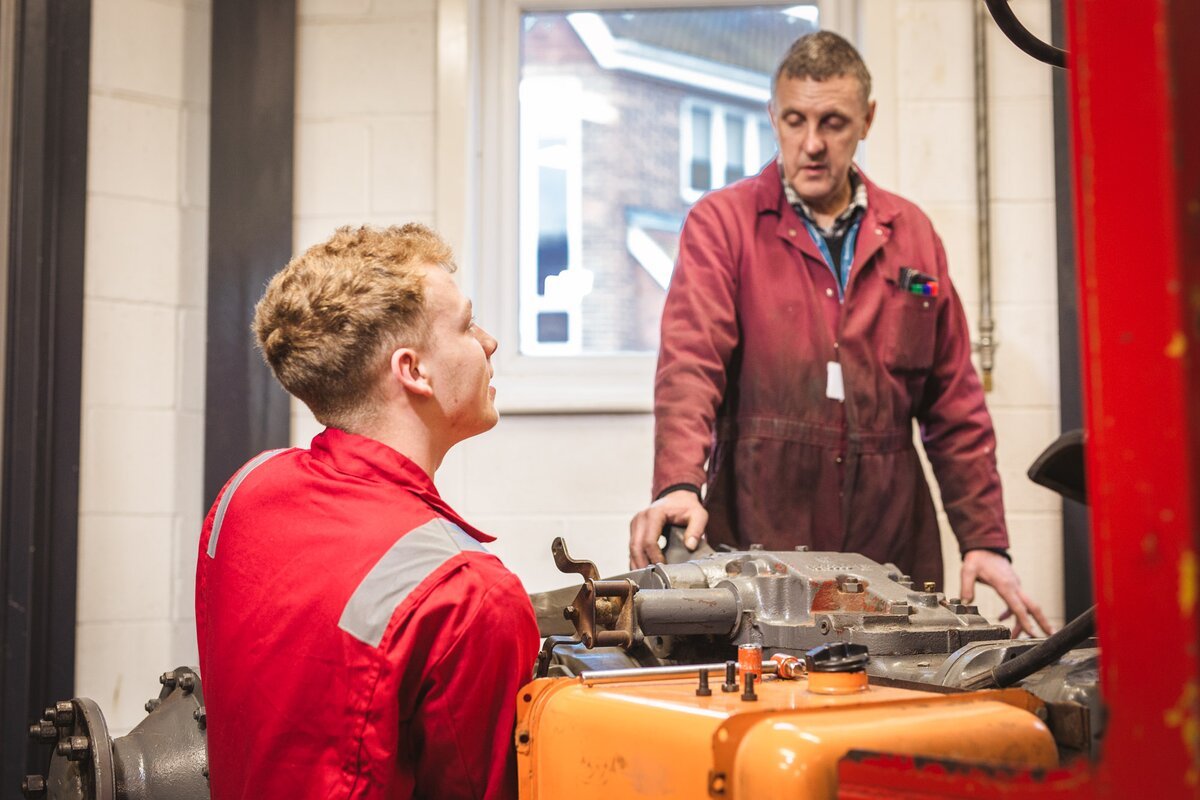 Entry Requirements:

You'll need to have achieved 4 or more GCSEs between grade 9-4 (previous grade structure A*-C) including English, Maths and Science
Successful completion of a related Level 2 course

Mature students without the above requirements will be considered.

Dates & Location:

September 2021

Duration:

2 years, full-time

3 days per week in College
1 day per week in industry / work experience (180 hours)

Costs:

£150 materials

If you will be over 19 on the start date of your course you maybe required to pay tuition fees. Please contact enquiries@plumpton.ac.uk to confirm.
Facilities
You'll get to work on a fleet of tractors, some with GPS, at our modern well-equipped workshops. This makes sure that you're learning on equipment that you'll be using in a current working environment. You'll meet visiting machinery dealers and enjoy specialist guest lectures. You'll also get the opportunity to develop your diagnostic skills as well as hands-on tools to use. We've also got an on-site welding shop.
Future Opportunities
During this course you will have developed the specific technical and professional skills and knowledge that will lead to meaningful employment in the Land-Based engineering industry. Learners will explore a wide range of compulsory topics.
Learners may progress into employment or within their current role. They could also choose to further their studies by opting for a degree or an apprenticeship course.
DEGREE
After leaving us you could choose to gain a degree in the following:
Chemical Engineering.
Civil and Environmental Engineering.
Systems Engineering.
Materials Science and Engineering.
Mechanical and Aerospace Engineering.
Electrical and Computer Engineering.
JOBS
Jobs available in Land-based Engineering are vast and varied, here are just some of them;
Workshop Supervisor/ Foreman
Finance Controller
Senior Parts Person (Technician)
Master Technician
Diagnostic Technician
Mobile service Technician
Service Technician
Sales Person
Parts/Stores person
Demonstrator
Delivery/Lorry Driver
Lorry Driver/Crane Operator
Yardman
Apprentice Trainee Technician:
Apprentice/ Trainee Parts Person
Farm-based or independent /nonfranchised engineer or technician
Manager Parts/Stores
Manager Manufacturing
Director/Managing Director/Dealer
Group After Sales/Service Manager
Group Sales Manager/ Sales Manager
Group Manager/ Branch Manager
Manager Workshop/Service
Owner
Ready to take the next step?
Apply for this course online now to begin you journey towards a qualification in Land-Based Service Engineering.
Talk to us
Not quite ready to apply yet? We are happy to discuss courses and help you find the perfect fit.