Level 1 | 14-16 Course
COURSE OUTLINE
If you have an interest in art and design and want to unleash your creative flair then this course will provide you with the practical skills needed to prepare you for work in the floristry industry. You will learn how to put beautiful flowers together to make designs and will work in teams to create seasonal shop displays.
COURSE CONTENT
Units include
Safe working practices
Basic floristry tasks
Produce and maintain shop displays
Assemble basic floral designs.
Course details
Dates & Location

September 2022

Duration

1 year - Certificate

2 years - Diploma

One day per week.

Costs

There are material costs for Floristry courses.
Entry Requirements
School Students
Applicants must be 14 years of age or older by 31st August of the year of applying.
A service level agreement must be agreed and signed between the College and participating School before learners can be enrolled.
The school must be in agreement with the application and agree to pay the fees.
Electively Home Educated
Students must have been out of education and home schooled for at least 6 months prior to enrolling.
Applicants must be 14 years of age or older by 31st August of the year of applying.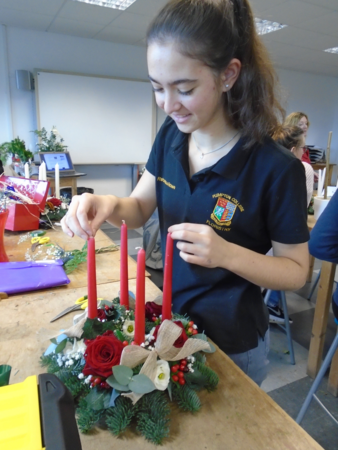 I wanted to do something artistic, practical and creative and also learn a skill that I could use in the future. I really loved doing the practical work especially making hand-tied bouquets - by the end of the course I was able to make bouquets to give to friends and family.

I remember making a punk styled hat for College Open Day exhibition – I liked doing that because it was different and we could create designs of our own choice.

The skills I have learnt in floristry will help me in any creative industry so I will have a wide range of choice for jobs.
Future Opportunities
Students usually come into college at age 14 and are on a two year programme. On successful completion of this they are then in a position to apply for a place on the 16+ full time study programmes. Towards the end of the second year this is discussed with students as part of the progression tutorials.
On applying for a 16+ course students will be required to attend an interview for the course and will be processed as a new applicant.
Once students are a 16+ programme they are also in a position to apply for bursaries to support learning, travel etc.
Ready to take the next step?