19 September 2017 10:03 - 10:03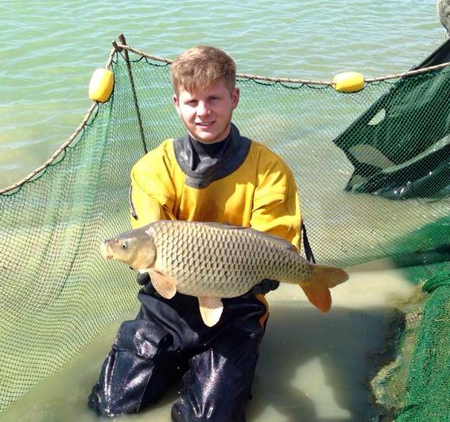 Why did you choose this course?
I chose to do this course as it involves learning about many things that I love and enjoy (fish/fishing). I believed that it would be a great opportunity to study something that I know I would love and enjoy, but also give me the credibility to go on and do something that I would enjoy doing in the industry after (jobs). It would enable me to fulfil my ambitions and dreams of working in the fishing industry. I knew that being a new course at the college that it would only get better year after year (which it has done), and that lecturers involved will give it their best to improve the course etc.
What did you enjoy most about the course?
The thing I enjoyed the most was going out doing practical lessons, either being on the college stream or out at fisheries or working with fish farmers. The college stream enabled us to maintain something regularly and taught us how to improve the stream with different methods to boost fish inhabitants. Working at fisheries taught us how to maintain a good fishery, how fishery management works and what it involves doing. Fish farming on the other hand opened up a whole new area. Everything to do with fish spawning, growth rates, stocking levels and feeding. This had to be my favourite area. Also in class I found most interesting was learning about fish behaviour at different times and fish biology.
How has your career developed?
I Started off with work experience at a local fishery. This involve many things such as, bailiffing, site management: swim repairs, planting, tree cutting, litter picking, keeping the place tidy.
Then other things such as, re stocking the tackle shop and café and stock checks.
I then went on to become a bailiff at another local fishery, this was a good time for me as it allowed me to get my name out there and to meet new people which could open up other job opportunities. As well as bailffing I had to do other general fishery/habitat management activities.
As my development in the course went on, we went on a trip to help a local fish farmer to net a 27 acre lake that he uses to grow on some fish (mainly carp). This was great experience and something I really enjoyed doing. It so happens that I went on to work full time with this fish farmer towards the end of my final year at collage and is where I still work now. This has been an eye opener and a massive step compared with what I was doing before. It's been the best thing I've done so far, which involves us netting and draining our stock ponds, the selling and delivery of our fish, breeding of fish, feeding, what to feed an how much depending on amount of fish and growth rates. We also go out and do netting jobs for other people and fisheries, also pond clearances. I also get to be involved in the processes of digging new stock ponds.
Without the course and a massive help from the lecturer I wouldn't be in the position I am in right now.
Future plans?
Currently I'm planning on staying with the fish farmer, it's a growing business for us and is getting bigger and better each year. So much so that we are hopefully going to have our very own fishing lakes in the near future, to either set up as day ticket waters or syndicates. So there is plenty for me to do at this moment in time. I wouldn't mind doing something similar abroad for a while (Canada being the main option), just because of a different environment and to further my knowledge.
And finally, every anglers dream is to have their very own fishery!