19 September 2017 09:03 - 09:03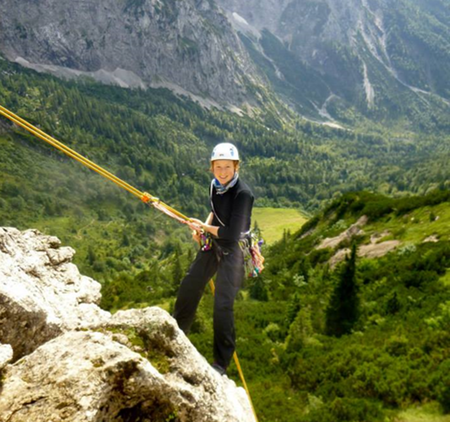 Why did you choose this course?
After deciding to leave 6th Form and A level studies I explored other options. I had always had a love and interest for the outdoors and decided that studying a subject I was passionate about would be the best option for my future. The course included both practical and academic elements, which I thought would suit me well and after attending a taster day and meeting the friendly, experienced staff I was in doubt it was the course for me!
What did you enjoy most about the course?
There were so many elements of the course which I enjoyed. The balance of practical and theory, which was always interesting and relevant. The friendly company of my peers and the continual support from tutors. It was a brilliant department to be a part of with a great atmosphere and camaraderie. The inspirational residential trips to the bunkhouse in Wales and the fantastic further opportunities; skiing in Italy and adventuring in Austria with the Alpine Club were definitely highlights from which I have unforgettable memories.
How has your career developed?
With the help of my tutor I was able to secure some invaluable work experience after my first year on the course at a scouting centre in Scotland. They kindly put me through some qualifications which meant I was in a very good position when applying for jobs after the course. My first job afterwards was as an apprentice at a centre in Mid-Wales. Predominantly working with primary school children on residential stays. Here I was able to further my practical qualifications. With further experience I looked to other opportunity's and last year worked for Birmingham University at their centre in the Lake District. My progression continued under the guidance of some fantastic colleagues; working at a higher level of understanding with more mature students. Again I was able to achieve further practical qualifications – notably my Mountain Leader. Currently I am travelling and expanding my personal experience of outdoor pursuits in New Zealand.
Future plans?
I look to continue my progression up the MLTA qualification framework but at the moment I am uncertain as to where I would like to apply my skills in the future. I am considering a number of different options, including; teaching, research, corporate and expedition work.