19 September 2017 10:03 - 10:03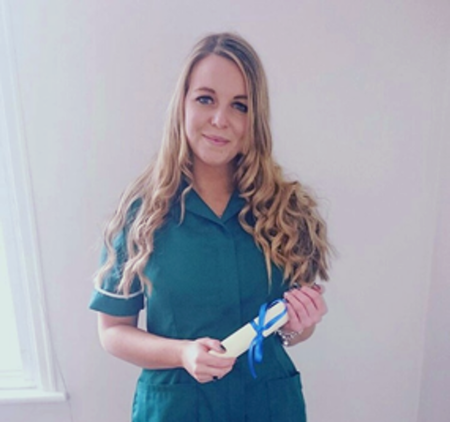 Why did you choose this course?
I have always wanted to be a veterinary nurse, and knew I worked well practically , so felt it was the best course to apply for to suit my learning needs and admirations.
What did you enjoy most about the course?
I liked the fact that I was still able gain practical experience within a practice and then combine it with theoretical knowledge which I would learn one day a week at Plumpton. The tutors were very supportive and encouraging, which made the course even more enjoyable.
How has your career developed?
Since qualifying at Plumpton and having received Veterinary Nursing Student of the Year, my career has progressed immensely.
After becoming qualified I felt it was time to move on and progress within in my career and have recently become a member of staff at the PDSA Brighton Hospital. In the 7 months I have been working here I have gained immense knowledge in clinical skills and have also been promoted to Nursing Team Leader where I manage 5 veterinary nurses and have been guided in to management by a very professional and friendly team.
Future plans?
My future plans are to continue to progress further in my career. I am enjoying every minute at PDSA and feel excited for my future here. I am still in contact with Plumpton and feel very privileged to have studied at the College!