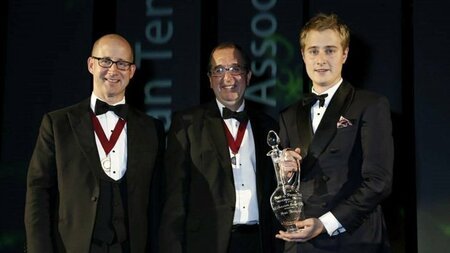 Congratulations to student on the Wine Business BA 3rd year - Sean Tennyson, who has been awarded the International Wine & Spirit Competition's Peter & Penelope Duff Memorial Trophy for the top-performing Associate of 2013.
This means that Sean was, last year, a rookie judge for the International Wine & Spirit Competition – panels of the great and the good sit, taste and decide to give medals and awards to wines and spirits that enter the competition.
Each year at a large awards ceremony at London's Guildhall trophy winning wines and winemakers and wine merchants receive their trophies and Sean was chosen to receive this award as their best novice judge.
As an extra prize, Sean will be made up to be a full judge for future panels.
The photo shows Sean on the right hand side, with on the left, G. Garvin Brown IV -IWSC President this year and Chairman of Brown-Forman and in the centre is David Wrigley AIWS MW who is IWSC Technical Director and International Development Director at WSET