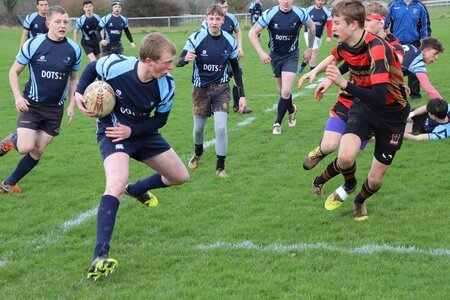 The rugby academy hosted Cardinal Newman on Wednesday, desperate to make amends for a disappointing result away to Buckswood the previous week.
The message before kick-off was about being more effective in defence and communicating clearly. Despite being without a number of players due to course commitments, the 11 that took to the field played with an excellent level of enthusiasm that had had clearly taken a blow at the end of last week.
The forwards defended the fringes of the ruck bravely and were quick to the breakdowns, allowing possession to be retained on most occasions. The back line were confident in attacking space and in going wide when the opportunities came. The continuity of the play at times was as good as it has been all season and with the team defence getting better and better as the match wore on, the hosts were able to push on for a well-deserved win 23 – 15.
Try scorers were Charlie Quinn-Gillam (L2 Hard Landscaping), Lloyd Jourdain (L3 Sports Coaching, Development & Fitness) & Chuka Mgbenwelu (L3 Agriculture)
Penalty each by JJ Hart and Ollie Fallbrown, conversion by Lloyd Jourdain.
Academy Member of the Day award went to Charlie Quinn-Gillam for fulfilling all requirements as an excellent member of the academy including producing his best performance in a Plumpton shirt to-date
Categories: Sports