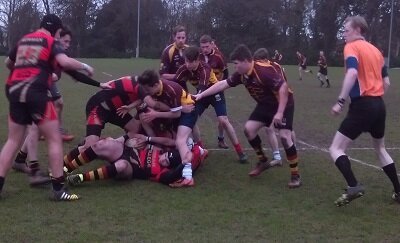 The College rugby academy took on a strong Cardinal Newman team in a match that was to provide a real test for the team.
The first half saw Plumpton produce some of its best attacking and defensive rugby all season which saw Harry Sandercock (Fish Management) crash over for a deserved score mind-way through the half.
Despite some errors allowing Newman a couple of cheap scores, at the turnaround a score line of 17 – 7 meant Plumpton were still in the match.
The second half was a frustrating affair with some fantastic scoring opportunities being missed, and with the home team's greater fitness coming through, Plumpton did extremely well to limit Newman's scoring and find their way into the opposition's scoring zone on a number of occasions.
A late flurry of scores by the hosts gave the end result a look of a very on-sided affair, which certainly wasn't the case. Plumpton can be very pleased with the improvements that they have shown and the character to keep playing hard right to the final minute.
Special mention to Harvey O'Brien (Adventure Education), Harry Sandercock (Fish Management) and Phil Hopkins (Agriculture) for their committed efforts, but Man of the Match goes to Will Williams (Agriculture) for his barnstorming runs and solid defensive efforts.
Categories: Sports