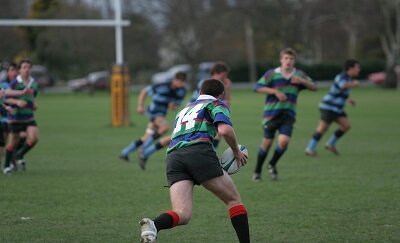 The men's rugby team took on BHASVIC in tough conditions and played some of their best attacking and defensive rugby of the season despite falling to a 26-17 loss.
Playing with the slope and the wind on their backs, Plumpton won the first half 10-5 following an early score by Phil HopkinRugbs (Level 3 subsidiary diploma in Agriculture) and a bullocking run from prop Ross Dyer (Level 3 certificate in Agriculture).
The second half saw the home team having to play a totally different game having to play up the slope and into the wind. Although an early BHASVIC score could have set the alarm bells ringing, Plumpton produced their best attacking set of phases of the season, combining good running and support to allow quick ball for hooker Dan Buttress (Level 3 extended Diploma in Fish Management) to side step the final defender and dive over for a converted score. A lot of the play was taken straight from the
The final 15 minutes saw the visitors introduce fresh legs and stretch the home team with wide attacking play. This led to them scoring 2 unconverted tries – 1 appearing to have been knocked on – for a disappointing defeat but with huge positives and pride to take from the performance.
Man of the match: Dan Buttress
Categories: Sports