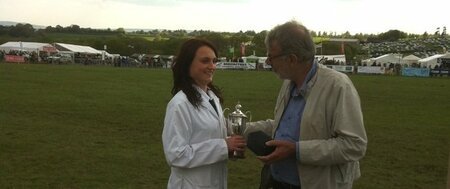 The College had a very successful day at this years Heathfield Show.
One of the highlights was Kim Fuller winning the Henry Noakes Trophy in recognition for her work throughout the year looking after pigs at the Colleges Out Centre at Netherfield. This work involved looking after the stock and also helping the Colleges Young Farmers with showing the centre's rare breed pigs. Kim from Bexhill High School attends college one day a week.
Photos show Kim receiving her trophy at the show.