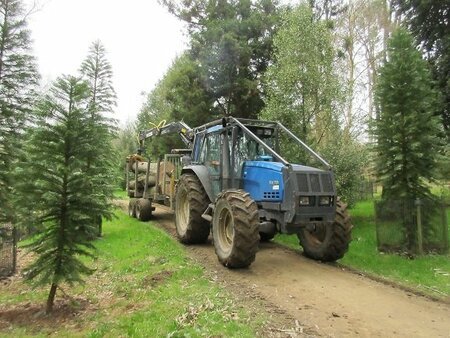 Students studying Forestry and Arboriculture courses at Plumpton College were recently invited to participate in an outdoors education operation at Wakehurst, near Haywards Heath, West Sussex. The students, studying a suite of forestry programmes, gained valuable experiences to complement their academic studies, with practical aspects to their college forestry studies, which include planning, forest nurseries, planting, maintenance, pest and disease control, harvesting, transportation, research, conservation, management systems, amenity and recreation.
The project at Wakehurst included extracting large oak trunks to be milled and used in the new Tree-trunk Trek, opening on 28th May 2016 in time for the Wild Wood Festival. Wakehurst is a beautiful botanic garden, managed by Royal Botanic Gardens, Kew and set in 465 acres of country estate. It boasts ornamental gardens, temperate woodlands, a nature reserve and an Elizabethan mansion and the Tree-Trunk Trek is the latest in the series of nature-based 'Adventurous Journeys' for children around the Estate.
Lecturer Will Greenwood says: "We are pleased to provide support at Wakehurst. This project is only one aspect of our work with external agencies providing industry opportunities for the students. Successful students go on to study up to degree level or enter employment with jobs and careers in arboriculture as a tree surgeon, industry journalist, plant pathologist, consultant, surveyor, policy advisor, power-line or trackside specialist, skills trainer and more."
Vicky Richardson, Lecturer says: "The career opportunities are so exciting! Graduating students go on to study up to degree level or about enter employment in forestry such as planting contractor, chainsaw operator, beat forester (Forestry Commission), in research as a fencing contractor, landscape architect, machinery supplier, forest surveyor, lecturer, timber buyer and a chainsaw sculptor. The College courses range from apprenticeships, many part time courses, tree surgery courses and the foundation degree in forestry and woodland management."
Forestry in a modern context now means the planting, care and management of forests, woodlands, coppice and open areas for the commercial production of timber, with this comes diverse habitat creation and opportunities for leisure pursuits. Arboriculture now means the cultivation, care, maintenance and promotion of trees and shrubs grown for amenity purposes rather than for timber, for example trees growing in towns and cities, in gardens and along highways.
James Pumpfrey, leader of the arboriculture team at Wakehurst (photographed milling the timber that Plumpton students extracted) said, "We are always delighted to welcome Plumpton College students to Wakehurst. Their support is invaluable, they are always very conscientious and we look forward to welcoming them again soon."
To find out more about Plumpton College visit their open day on Saturday 14 May 2016 www.plumpton.ac.uk
The Tree-trunk Trek will be opened at Wakehurst's Wild Wood Weekend which is taking place from 28-30 May 2016 www.kew.org/visit-wakehurst/whats-on/wild-wood-weekend