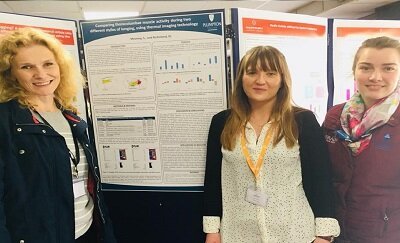 Two of our final year FdSc Equine Studies students presented at the All-Tech Hartpury Student Conference on Wednesday 2nd May.
The event is extremely competitive, with students from universities across the country submitting abstracts to be reviewed by a panel of international researchers in Equine Science. This year's event was chaired by Dr David Marlin and Dr David Davies.
Susan Mooney presented a poster of her research on equine muscle activity. She commented:
"I was really proud to have my project chosen for the Hartpury conference. Writing and submitting the abstract for the review process provided me with valuable experience that I can take forward into my future studies. Presenting a scientific poster and attending the conference was a great way to meet peers from other equine colleges, and a chance to meet and talk to some very prominent researchers and experts from the industry. It was a definitely a worthwhile experience from start to finish that I think will stand to me in my future career"
Lucy Weston was selected for an oral presentation of her work on the psychological and physical benefits of riding with the Riding for the Disabled Association. Lucy said:
"I felt honoured to be accepted to present my project at the Hartpury Conference and to have the endless support by the HE Equine Team. It was the most daunting, but most rewarding thing I have ever done. I would highly recommend anyone who is wanting to participate in the Conference's future years, to do so! I felt on top of the world, and feel that from taking part I can achieve goals and battle challenges that life throws at me."
Both students are graduating the FdSc Equine Studies this year. Hannah Davis, Equine Higher Education Programme Manager added:
"The All-Tech Hartpury Student conference is a fantastic opportunity for equine degree students to experience academic research events and the processes involved, and to network with industry experts and potential future colleagues. This is the first time Plumpton College has put forward students for selection and I am immensely proud of both Lucy and Susan for their effort and passion shown throughout the pre-planning and the conference itself. They are excellent ambassadors for the college and have demonstrated tremendous dedication to equine science and improving equine welfare in the industry."