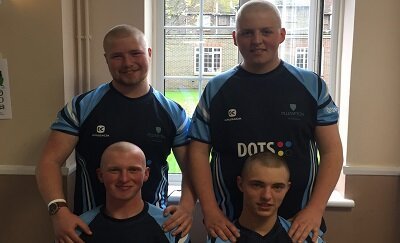 On Wednesday 15th November, four Plumpton Students took part in the MacMillan Brave the Shave to help raise money for those living with cancer.
Adam Wakelin, Ollie Sheath (both studying Level 3 Agriculture), Thomas Harrison and Thomas Conisbee (both studying Level 3 Game Management) shaved off their hair in memory of their loved ones and to help the fight against cancer. Adam Wakelin said
"It was really important for me to be part of 'Brave the Shave' after losing both my Dad and Grandad to the disease in 2005 and 2008. We wanted to raise awareness within the college as well as money for a cause that is so close us all".
Thousands of people are braving the shave to stand proudly alongside men, women and children with cancer. By taking part, the student's money will help Macmillan to provide nurses, support centres, advice lines and more to those whose lives have been affected by cancer. Macmillan help people living with cancer take back control so they can start to feel themselves again.
The students started with a target of £100, asking fellow class mates, teachers, friends and family to donate and were so pleased to find that they have managed to raise an impressive £745! The Plumpton boys are now hoping to smash their newly revised target of £1000. Their Shave Page can be found by visiting the MacMillan Brave the Shave website: https://bravetheshave.macmillan.org.uk/shavers/plumpton--boys