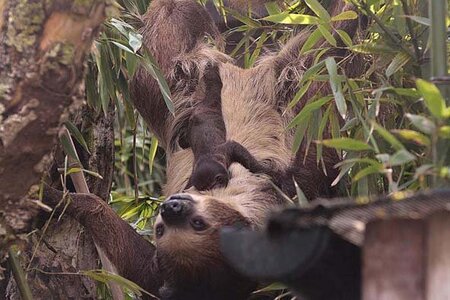 Drusillas Park in East Sussex is one of the enterprising employers for Plumpton College apprentices and they are celebrating an exciting new arrival this Spring! A rare, baby two-toed sloth has been born at the zoo, the first in their 91 years' history.
Head Keeper at Drusillas, Mark Kenward commented: "I can honestly say that this is the highlight of my zoo career and one of the proudest moments of my life. Sloths are such fascinating and primitive creatures and we still know so little about them. Although reasonably well represented in the rainforests of South America, very few are born in zoos. Ours is actually only the 4th baby in the UK and the 27th in the world in the last 12 months recorded in ZIMS (the Zoological Information Management System). With very few sloths born in captivity, every new arrival is important to further our knowledge of these beautiful and mysterious animals."
Gabriella and Natasha are Plumpton College animal care student apprentices at Drusillas. They now have direct and practical experience of animal management, away from classroom lectures, while also learning about wider business issues and gaining commercial insights. The students are keen to put their experiences into practice, to build on their transferrable skills and demonstrate these at the College Open Day on Saturday 14th May.
Plumpton College offers a wide range of successful apprenticeship programmes and, for a limited time only, offers a discount on the June intake for apprenticeship and traineeship programmes in agriculture, animal care, butchery, environmental conservation, floristry, horse care, horticulture and land based service engineering. Contact Plumpton College to find out more, WBL@plumpton.ac.uk www.plumpton.ac.uk