Level 1
COURSE OUTLINE
If you have an interest in art and design and want to unleash your creative flair then this course will provide you with the practical skills needed to prepare you for work in the floristry industry. You will learn how to put beautiful flowers together to make designs and will work in teams to create seasonal shop displays.
COURSE CONTENT
Units include
Safe working practices
Basic floristry tasks
Produce and maintain shop displays
Assemble basic floral designs.
Duration:

1 year - Certificate

2 years - Diploma

One day per week.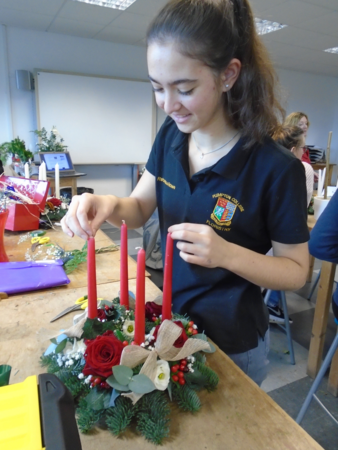 I wanted to do something artistic, practical and creative and also learn a skill that I could use in the future. I really loved doing the practical work especially making hand-tied bouquets - by the end of the course I was able to make bouquets to give to friends and family.

I remember making a punk styled hat for College Open Day exhibition – I liked doing that because it was different and we could create designs of our own choice.

The skills I have learnt in floristry will help me in any creative industry so I will have a wide range of choice for jobs.
Future Opportunities
Students who successfully complete the certificate can continue with further units gaining the full Level 1 Diploma.
Following completion of the Diploma, students can progress on to Level 2 Certificate or Diploma or apply for an apprenticeship fully preparing them for work in a floristry shop.
Talk to us
Not quite ready to apply yet? We are happy to discuss courses and help you find the perfect fit.