Level 2
A professional and commercial floristry qualification suitable for complete beginners to floristry (equivalent to A-C GCSE Level). It offers a foundation programme for a rewarding and worthwhile career.
The course offers a modular programme with each unit building towards the completion of the Diploma. Alternatively, an Award and Certificate can be gained with fewer credits.
The course is suitable for school leavers or adults interested in a career change. Applicants should demonstrate a clear interest in the subject as well as art
and design skills. The programme consists of 10 units with each consisting of practical and theory content. Written assignments are set for each unit. 21 Practical timed assessments also need to be passed.
Qualifications Gained
City & Guilds Level 2 Diploma in Floristry
College award, Functional Skills or GCSEs in English and Maths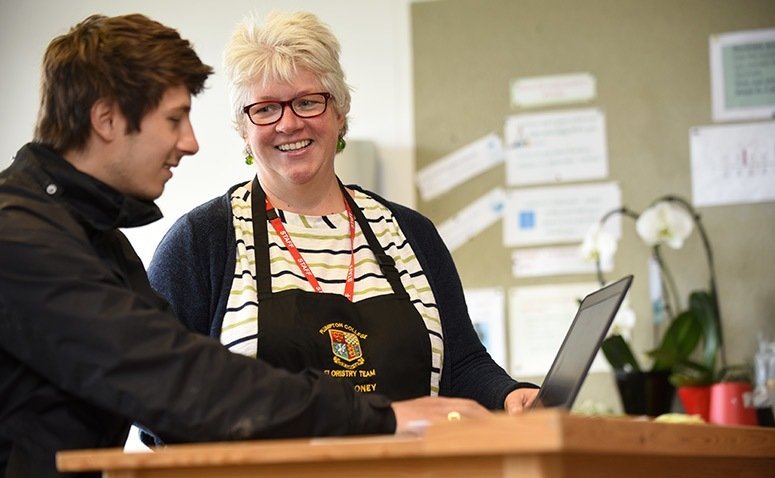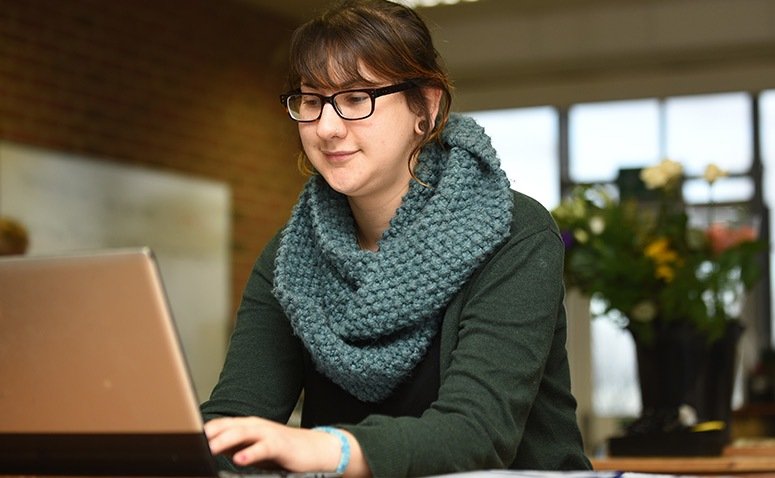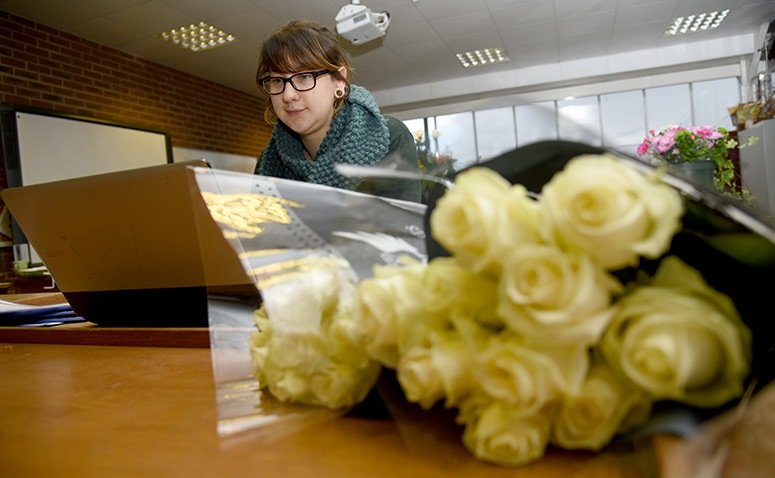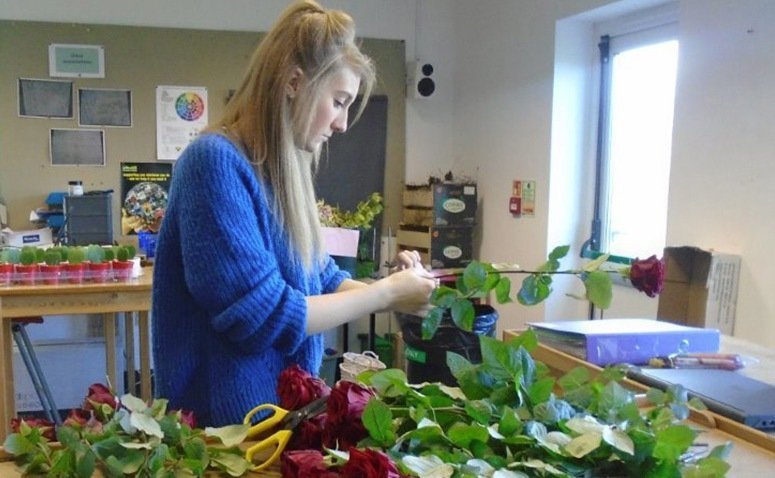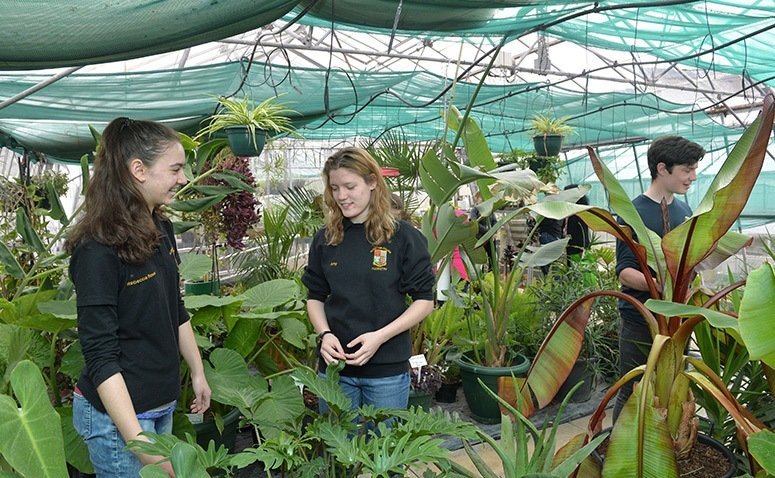 Entry Requirements:

Either:

You'll need to have achieved 2 or more GCSEs between Grade 9-3 (previous grade structure A-D)
Successful completion of a related Level 1 qualification and having studied GCSE English and Maths or a portfolio of evidence to show potential of working towards a Level 2. English, Maths and Science at GCSE.

Mature students without the above requirements will be considered

You will be expected to complete work experience in a floristry based industry. If you are under 19, you will need to complete 150 hours work experience throughout the duration of the year and if you are over 19 you will need to complete 80 hours.

Dates & Location:

September 2018

Duration:

1 year

2 or 3 days per week
Looking through the prospectus and seeing the creations encouraged me to waste no time and start my career. What I've really enjoyed at Plumpton is the freedom you gain. There's so much creativity and originality incorporated here.

More than just learning about the designs, you learn how to make them yours and gain enough knowledge to start your career straight away.
Facilities
We're truly fortunate to have the beautiful natural surroundings of our Plumpton estate and the South Downs to give inspiration for all of our courses. You'll be able to enjoy our extensive grounds and horticulture facilities, all conveniently located for your course.
The perfect working location for your studies
Extensive estate grounds and horticulture greenhouses for you to discover at Plumpton, the ideal location for identifying and creating displays from our indoor and outdoor plants.
Modern floristry classrooms in a natural environment
You'll find our classes a great inspiration for your floral creations. Helping you to develop your skills in a modern and comfortable environment.
Excellent support from experienced staff
You'll discover great support from our experienced lecturers. Their focus is on making all of your lectures challenging but enjoyable too!
Grow your knowledge on our course visits
As part of many of our courses, we offer visits to New Covent Garden, local garden centres and wholesalers, plus to the bulb fields of Holland.
Future Opportunities
After completing your course, you can choose to go on to study a Level 3 in Floristry or an advanced apprenticeship.
Alternatively, you may choose to take your NCFE Creative Craft in Advanced Wedding & Specialist Function Flowers.
Modules
Indicative Programme Content
Unit 201 - Introduction to art and design for florists. This unit enables you to recognise and use the elements and principles of design within all aspects of floral work. You will be able to identify colour relationships and produce working drawings.
Unit 202 - Identify, check and monitor the quality of incoming cut material. This unit covers all aspects of flower and plant identification and conditioning. It will enable you to identify and assess the quality of different types of cut-flowers, foliages and pot plants. You will explore a range of conditioning methods and prepare materials for various commercial uses. In addition you will process delivery notes and price goods for sale.
Unit 203 - Identify and maintain the condition of plants and planted designs. This unit enables you to gain knowledge of the botanical processes affecting growing plants and cut-flowers. You will be able to improve your knowledge of plant care and compatibility and use this knowledge to design and produce a range of planted containers for interior display.
Unit 204 - Plan, prepare and construct tied floristry designs. This unit enables you to demonstrate skill in the construction of a range of hand tied gift and presentation designs. You will also be introduced to different types of gift packaging.
Unit 205 - Plan, prepare and construct funeral designs. This unit enables you to demonstrate skill in the construction of funeral and sympathy designs. It includes the use of manufactured and assembled frames.
Unit 206 - Plan, prepare and construct floral arrangements. This unit enables you to demonstrate skill in the construction of a range of floral arrangements. The unit covers designs in various mediums and bases. You will also be introduced to a variety of gift packages.
Unit 207 - Plan, prepare and construct wedding designs with floral materials. This unit enables you to demonstrate skill in the construction of a range of simple wedding designs and accessories. It includes the use of wiring and gluing techniques.
Unit 208 - Display floristry goods. This unit provides you with the skills and the information to plan and construct displays of floristry products and associated goods for sale. You will learn how to work in a safe manner and construct safe displays. You will also use IT to produce labels for stock to aid sales.
Unit 209 - Introduction to working in the floristry industry. This unit is intended to equip you with a basic knowledge of the workings of a retail business. It introduces you to customer case, interpersonal skills required of a florist, basic employment regulations, stock rotation and handling instruments of payment. It also provides information about health and safety and administrative functions.
Unit 210 - Introduction to function decorating using floral displays. This unit enables you to demonstrate skill in the design and construction of a range of designs suitable to decorate venues for special occasions and events.
Ready to take the next step?
Apply for this course online now to begin you journey towards a qualification in Floristry.
Talk to us
Not quite ready to apply yet? We are happy to discuss courses and help you find the perfect fit.
Other courses that may interest you