Level 2
Is angling your passion? How about considering at a career in the fish husbandry sector?
If you're leaving school or looking to add to your skills, this could be the ideal course for you. You'll be able to learn about coarse, sea and game handling, habitat management and business management.
You can look forward to lots of practical experience during your session at our Plumpton College chalk stream and our new on-site lake. You'll also get to spend time at our dedicated fishery facility.
These are a suite of level 2 qualifications at either Certificate or Diploma which can be studied in a variety of combinations to allow flexibility and to help you to develop the fishery management skills you need for future employment.
Level 2 Certificate: you complete 2 subjects to study
Level 2 Extended Certificate: you complete 4 subjects to study
Level 2 Diploma: you complete all 6 subjects
This one year programme is designed for those who are interested in a successful career working in the fishery sector. The programme has a mixture of theory and practical sessions during which you will learn a wide range of skills which will include coarse, sea and game angling as well as habitat creation and management.
Extensive work experience will be undertaken working alongside organisations such as the Wild Trout Trust and the Environment Agency.
Tutor
Andy McCall
Qualifications Gained
BTEC First at the level studied in Fish Husbandry
Plumpton College Certificate
Additional Work Related Qualifications
College award, Functional Skills or GCSEs in English and maths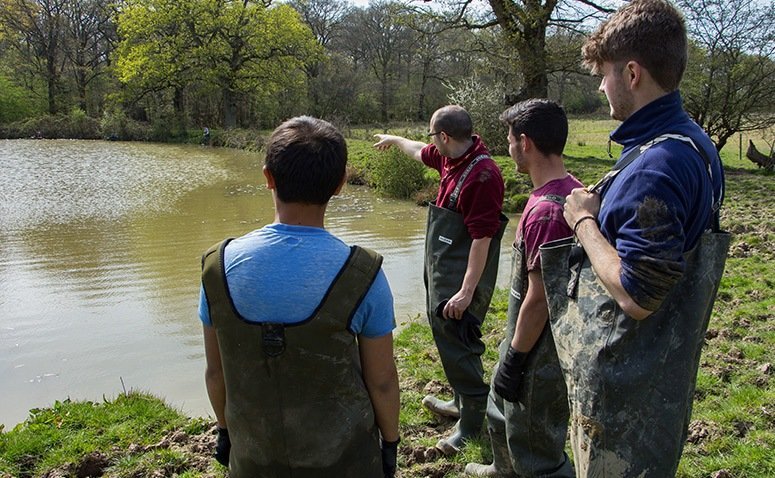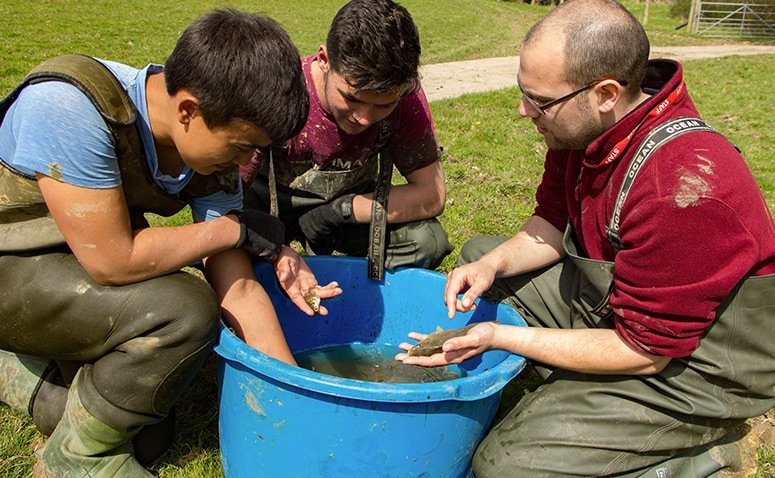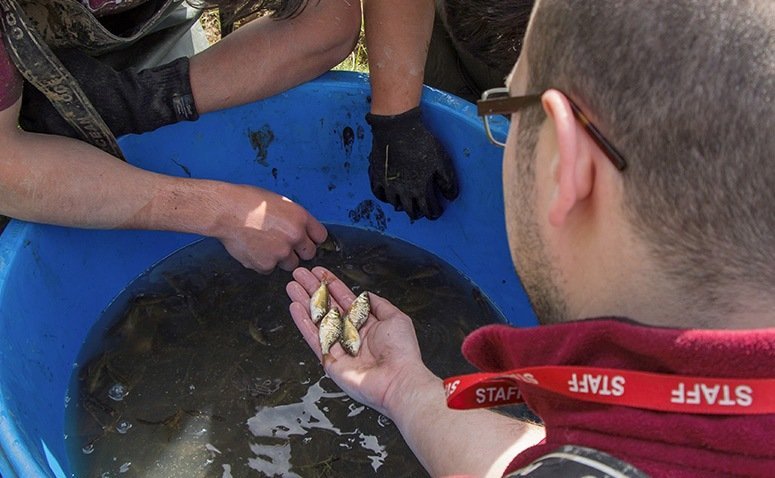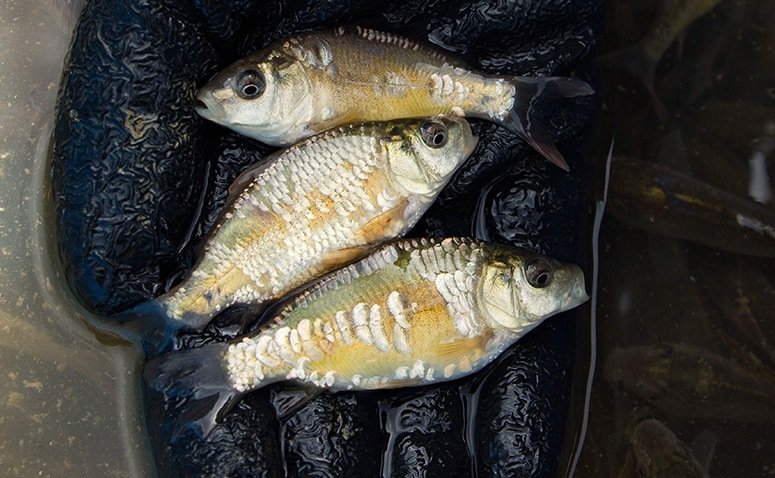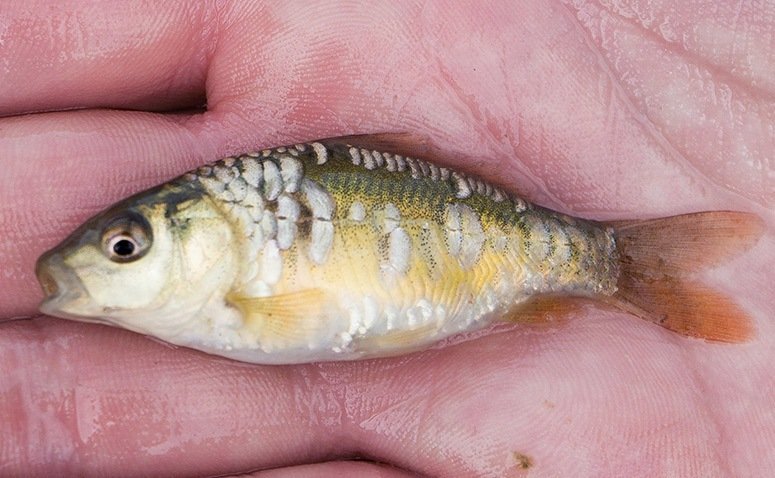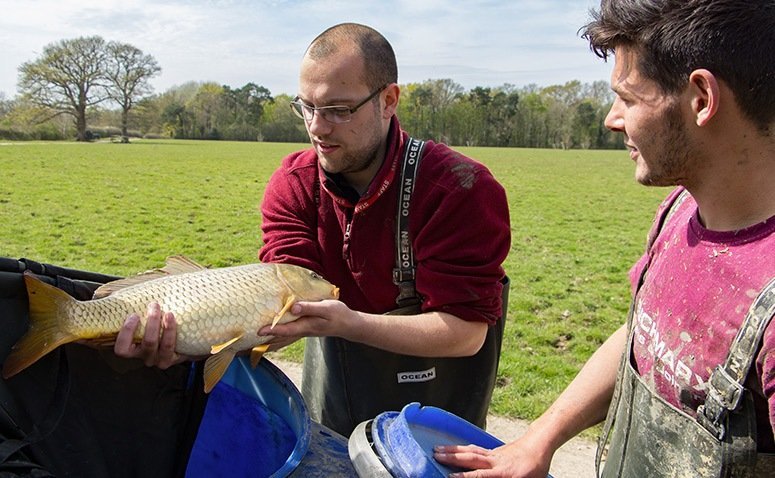 Entry Requirements:

Either:

You'll need to have achieved 2 GCSEs between Grade 9-3 (previous grade sturucture A-D)
Successful completion of a Level 1 course, having studied English and Maths at GCSE

Mature students without the above requirements will be considered

Dates & Location:

September 2018

Duration:

1 year

3 days per week
I've really enjoyed all the practical activities that we got to do like habitat management, reed pulling and seine netting, plus I've also had the chance to go on lots of fishing trips.
Facilities
Within our large estate at Plumpton, you'll have the opportunity for lots of hands-on experience at our extensive fishery management facilities to help you develop your skills. We make sure that all of our sites are fully-equipped with the most up to date equipment.
Come and discover our new fishery management facilities
We've got a new one-acre lake on-site. Stocked with coarse fish, it's a brand new practical facility you'll be able to use throughout your course.
Plus more specialist fishery facilities in development
We're in the process of developing two stock ponds that will manage our new recirculating fish farm.
We've also got a chalk stream that you'll be able to use
As part of our facilities, you'll also be able to use our stretch of chalk stream that we manage, home to spawning trout.
Make the most of our connections at Plumpton
We work closely with lots of fish farmers and fisheries across East Sussex; giving you the chance to experience activities such as electrofishing and habitat management.
Future Opportunities
After completing your course, you can choose to go on to study a Level 3 in Fish Management.
Alternatively, you'll have the skills to find employment in a role such as a Fishery Manager, building or designing ornamental fish ponds or working on a fish farm.
Modules
Course Programme
You can look forward to a varied programme of modules that also includes a work placement. You'll also continue your English and Maths up to GCSE level. Modules include:
Work related experience in the fishery sector *
Environment and land based business *
Estate maintenance
Introduction to Fish Health
Introduction to Game and Coarse Angling
Introduction to Fish biology
Undertake Freshwater Sport Fishery Management
English & maths
(* compulsory units for Diploma only)
Ready to take the next step?
Apply for this course online now to begin you journey towards a qualification in Fish Management.
Talk to us
Not quite ready to apply yet? We are happy to discuss courses and help you find the perfect fit.
Other courses that may interest you