Foundation degree
If you're looking to follow a career in the performance and leisure horse industry and related services, this is a great choice of course for you.
You'll spend time gaining an in-depth knowledge of scientific principles; applying them to the management and training of horses.
It's a highly vocational course, so you can expect to gain a wide range of practical skills here at our excellent equine facilities at Plumpton. You'll also have the opportunity to put your skills into practice during your industry-based work placement, building invaluable contacts too.
This course is one of only a small number available in the UK that offers you both a foundation in equine science and a grounding in the practical skills required by the industry. You will develop your understanding of the breeding, training and care of horses whilst building practical skills in stable management and equitation.
Our large equine unit has two well-equipped yards, two indoor schools, an outdoor school, a horse walker, and a simulator/mechanical horse, video analysis equipment and a horse treadmill.
Personal Accreditation
Whilst studying for the degree you can choose to train for the British Horse Society (BHS) examinations. This is optional and not included in course fees. Students are expected to register independently with the BHS.
Course Structure
Modules are delivered in a variety of ways including lectures, practical sessions on the college yard, equitation sessions and field trips. Opportunities are also available for you to undertake work experience abroad.
Areas of Study
We offer a wide range of modules which bring together academic and practical aspects of the subject, including Biomechanical Analysis, Equine Health & Disease, Equine Practical Management Skills and Teaching the Rider. Entrepreneurship and Career Development modules make this course a fully rounded qualification.
This course is validated by the University of Brighton.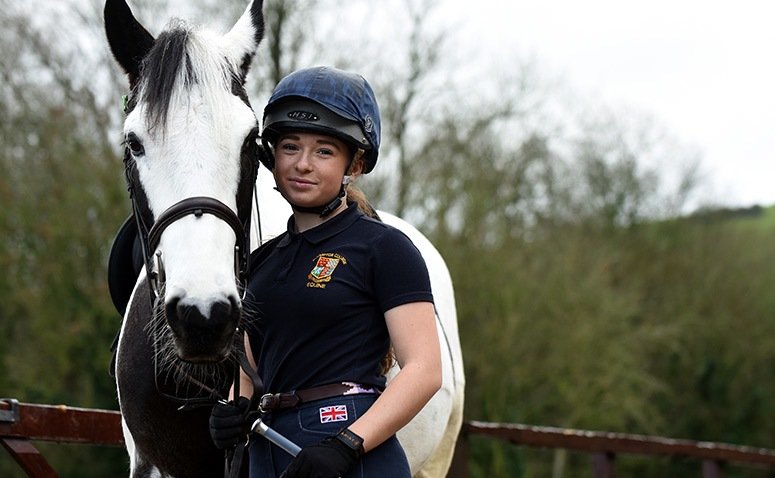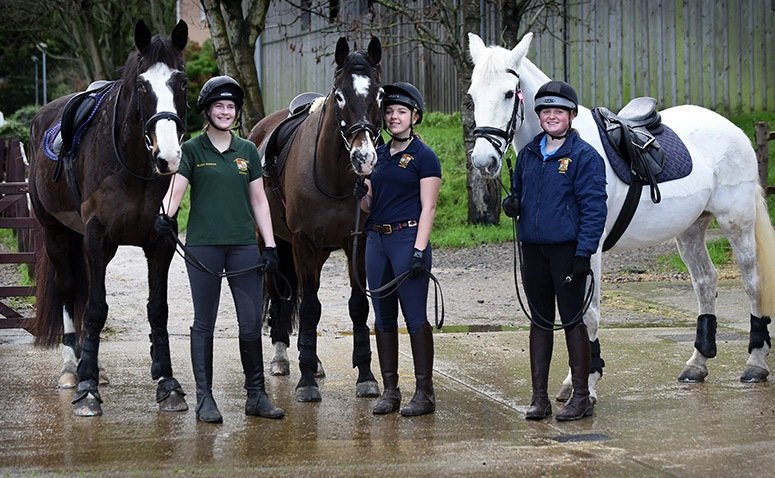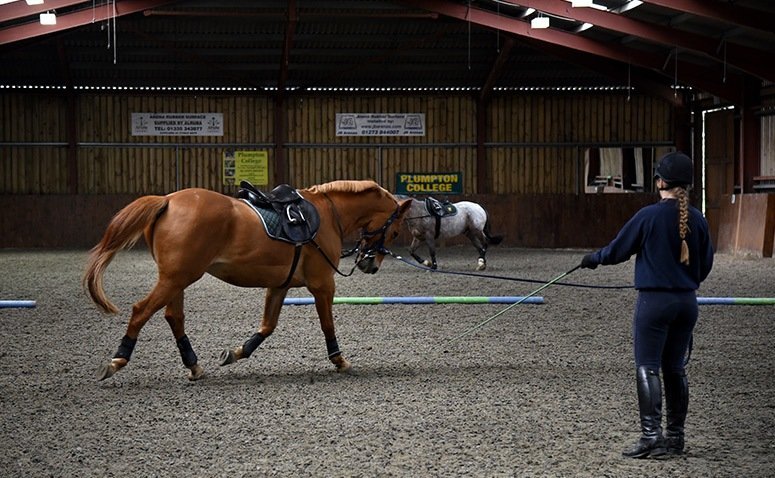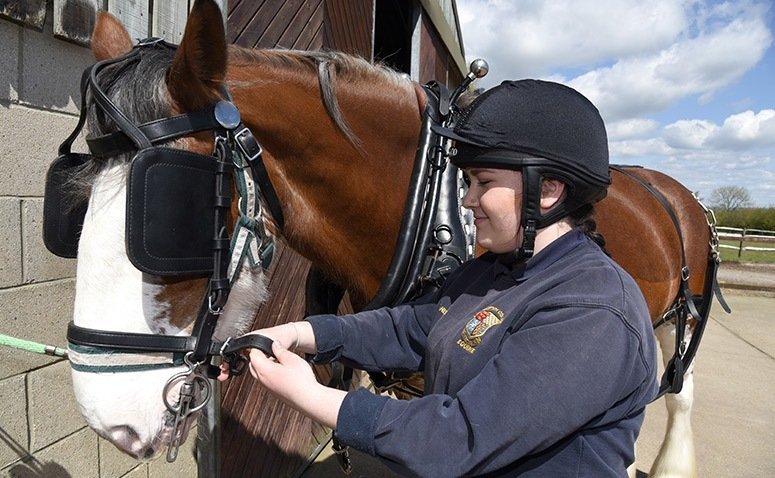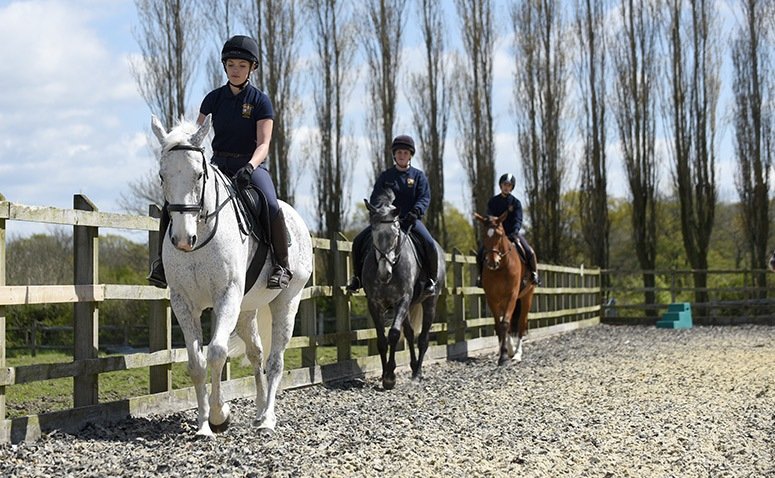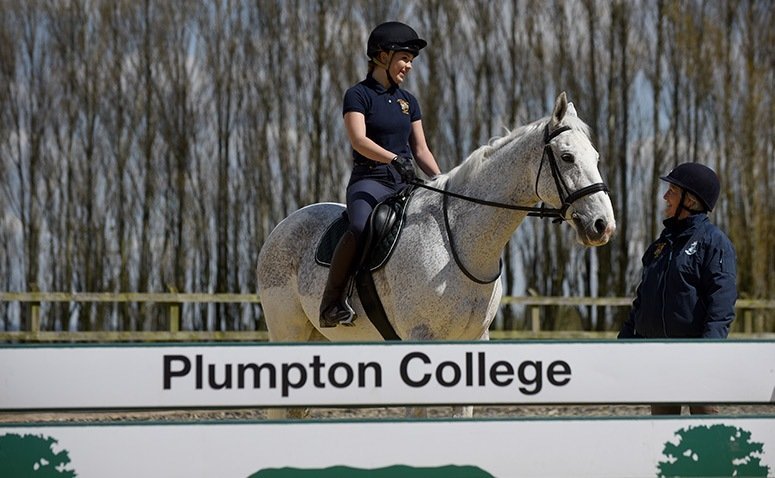 Entry Requirements:

The minimum entry requirement is 2 A Levels (grade D).

Duration:

Full-time: 2 years
Part-time: 4 years

UCAS Details:

UCAS code D422
I couldn't be happier with the course; my practical and theoretical knowledge of the horse industry has grown massively, and thanks to the experiences I have gained, I have now secured a job working with the event planning team at Hickstead.
Facilities
We're very proud of our excellent equine facilities here at Plumpton. Lots of space and excellent facilities, you'll get to enjoy lots of hands-on time with our horses as well as building your knowledge of this fascinating industry.
Come and visit our two large schools here at Plumpton
We've got two large indoor schools on-site, complete with galleries, for you to enjoy during your course.
Lots of space for you to enjoy outdoors at our extensive estate
You'll be able to use our 30m x 60m outdoor menege during your course in addition to stabling for 50 horses.
A variety of horses for you to experience and enjoy
We make sure that you get to work with and ride a variety of different horses throughout your time at Plumpton including Shire horses.
The latest equine facilities are available on-site
Keep up with the latest technologies introduced in the industry. You'll get to experience equipment such as a cross-country course, treadmill and weigh bridge.
Future Opportunities
The course will prepare you for careers including yard management, breeding and stud farm management, competition grooming, riding instruction, equine sports coaching, equine rehabilitation and therapy and management.
Foundation degree holders can continue their studies for a further one or two years, depending on grades achieved, on the Equine Sports Performance Honours Degree at Plumpton College.
Modules
Year 1
Equine Anatomy & Physiology
Equine Nutrition
Equine Practical Management Skills
Equine Behaviour
Equitation 1
Equine Health & Disease
Training the Young Horse
Equine Reproduction
Research Methods
Entrepreneurship 1
Year 2
Biomechanical Analysis
Exercise Physiology
Sports Psychology
Injury & Recovery
Industrial Experience
Project 2
Career Development
Work Placement 2
Optional modules
Teaching the Rider
Breeding & Stud Practice
Equitation 2
Skill Acquisition & Sports Performance
Introduction to Harness Horse Skills
Statistics
Nature Photography
Health, Well-being & the Outdoors
Ready to take the next step?
Apply for this course online now to begin you journey towards a qualification in Equine Studies.
Talk to us
Not quite ready to apply yet? We are happy to discuss courses and help you find the perfect fit.