City and Guilds Level 2 Certificate
Start your career in the Dog Grooming Industry
This qualification is designed for candidates who want to begin working in the dog grooming industry and have the desire to learn the skills required to work under supervision in a dog grooming salon.
Course outline:
To earn the qualification, candidates would have the opportunity to learn about the following topics:
Prepare and groom dogs prior to bathing
Bathe and clean dogs
Clean and maintain equipment used for grooming or removing hair from animals
Control and restrain animals
Dry dogs and prepare their coats for styling
Basic trimming of a dog's coat
Carry out reception duties
Handle payments from clients
Welcome, receive and care for visitors to sites
Move animals between locations
Maintain the cleanliness and bio security of the animal care working environment
Please do not delay your booking – to guarantee your place, please book 2 weeks in advance of course date
Entry Requirements:

Completion of Level 1 Principles of Dog Grooming (Plumpton College Certificate) or equivalent.
Minimum age of sixteen
If 16yrs – 18 yrs, must have GCSE Maths and English, Grade 4 and above (Grade C and above)Completion of Level 1 Principles of Dog Grooming (Plumpton College Certificate) or equivalent.
Relevant experience of working with dogs/animals (minimum of 4 weeks) with supporting reference and completion of the entry assignment

Dates & Location:

10th February - 13th July 2020
11th February - 14th July 2020
13th February - 4th June 2020
14th February - 5th June 2020

Location:

Plumpton College

Duration:

18 Weeks

Costs:

Course Fee £1157
Future Opportunities
Continue your career as a qualified Dog Grooming assistant in the industry or progress onto our City and Guilds Level 3 Diploma in Dog Grooming
Ready to take the next step?
Apply for this course online now to begin you journey towards a qualification in Dog Grooming Assistant.
Talk to us
Not quite ready to apply yet? We are happy to discuss courses and help you find the perfect fit.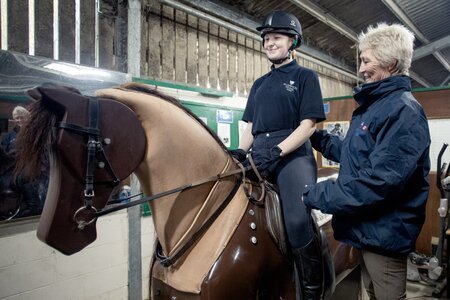 Hire our equine facilities
Discover our facilities available to hire, including indoor and outdoor schools and mechanical horse
Can't find an apprenticeship?
Is the apprenticeship area you are interested in not listed? Not to worry, contact us with what apprenticeship you are looking for and we will get in touch with more details.
Getting to the college
Find the easiest travel options to get here