Level 1
COURSE OUTLINE
If you have an interest in blacksmithing and metalwork this course will give you an introduction to the basic and fundamental skills for working with metal.
You will cover a broad range of skills and processes, giving you an insight into different metalworking trades and subjects covered on higher level courses.
COURSE CONTENT
Year 1: Basic and fundamental blacksmithing and metalworking techniques working towards the production of a selection of small and larger items; dice, spoon, key fobs, fire poker and tongs.
Units in Self-Assessment and Careers Progression
Year 2: Basic and fundamental jewellery skills and techniques for manipulating copper and silver. You will work on several short, creative projects; researching, designing, experimenting and fabricating your own designs for a keyring, silver ring, pendant and a clock face.
Duration:

1 year - Award

2 years - Certificate

one day per week.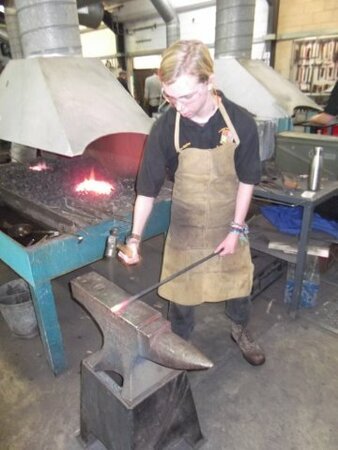 I chose this course because I really enjoy practical subjects and have experience in wood work and associated crafts. I am fascinated by rural and traditional crafts and thought metalsmithing would be an interesting skill to learn. I enjoy working with my hands; the course is perfect as it is very practical. In the future I would love to be a traditional craftsman working in wood and metal.
Future Opportunities
On completion of this course you can progress on to Level 2 and 3 blacksmithing and metalworking. This could lead you to a future career in the industry such as blacksmith, fabricator, designer or artist.
Talk to us
Not quite ready to apply yet? We are happy to discuss courses and help you find the perfect fit.