Level 3
These are a suite of level 3 qualifications which can be studied in a variety of combinations to allow flexibility and to help you to develop your practical and technical Metalsmithing skills.
Level 3 Certificate: you simply complete 3 subjects to study
Level 3 Subsidiary Diploma: you complete 6 units where 2 are core units
Level 3 Diploma: you complete 12 units where 6 are core units
Level 3 Extended Diploma: you complete all 18 units where 6 are core units
This course is designed for those wishing to extend their basic knowledge in blacksmithing and metalwork. Prospective students are likely to have completed the Level 2 Diploma in Metalsmithing or have relevant work experience.
Work Experience
Study programmes include a minimum of compulsory work experience hours achieved through one day a week or block placements. The amount of hours required is dependent on the study programme.
Industry Work Placement
All students aged 16-18 on our Level 2 & Level 3 programmes will now have to take part in an exciting and compulsory 50-day industry placement programme alongside completion of their vocational course. The programme will give you the chance to gain valuable skills in a real working environment whilst being paired with your ideal employer.
Our mission is to pair students with their ideal employer and to support them continuously during the placement.
There is flexibility on how students complete the placement; it can be during non-college weekdays, weekends, in blocks or over the holiday period. You will receive all of the necessary information during your interview, and if you have any queries in the meantime please contact workexperience@plumpton.ac.uk
Qualifications gained
Subsidiary or Extended Diploma in Blacksmithing and Metalwork
Plumpton College Certificate in Blacksmithing
Relevant additional qualifications
College award, Functional Skills or GCSEs in English and Maths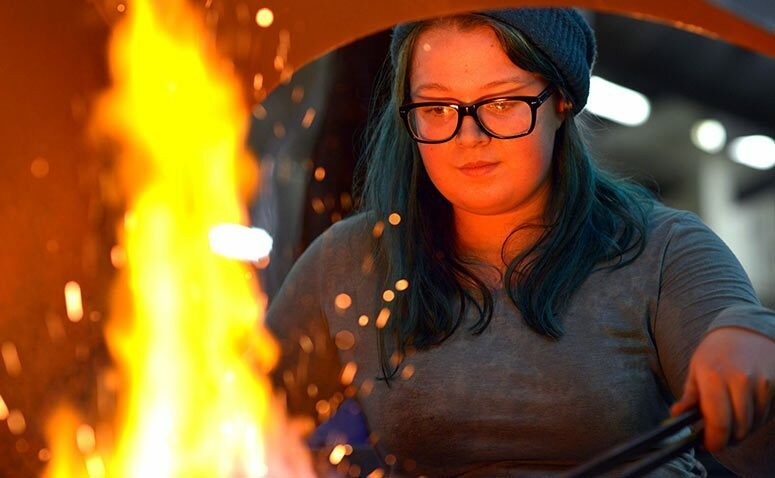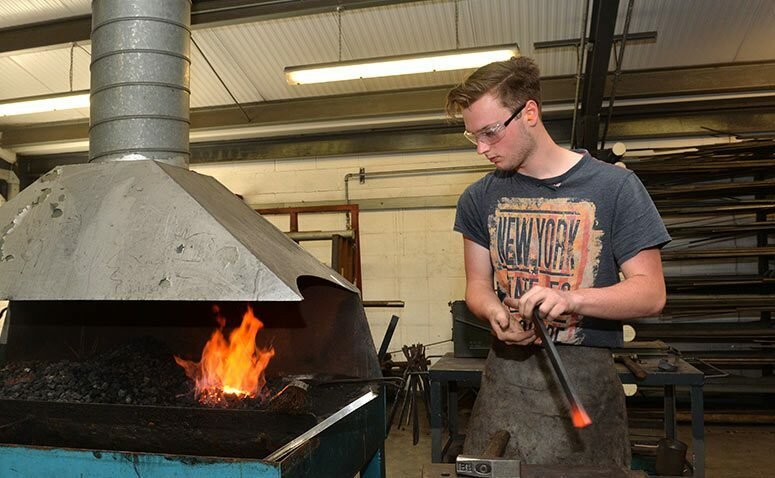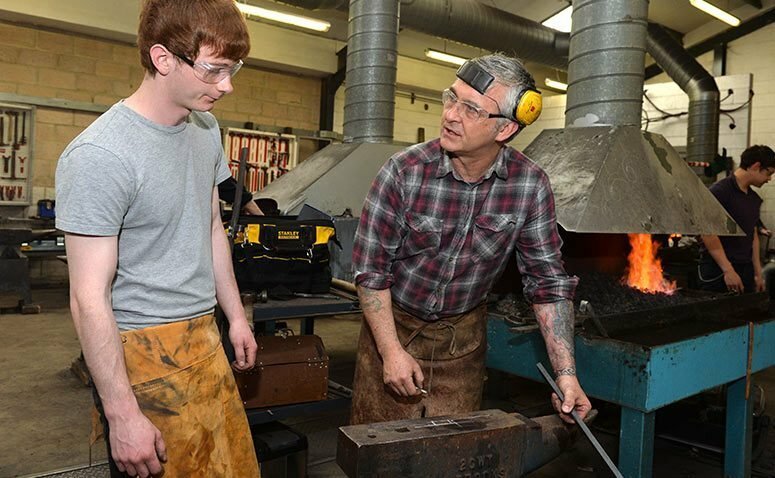 Entry Requirements:

Either:

You'll need to have achieved 4 or more GCSEs grades 9-4 (previous grade structure A-C) including English and Maths
Successful completion of a Level 2 qualifiaction

Mature students who do not possess any of the above qualifications will be considered.

Dates & Location:

September 2019

Duration:

2 years, full time

3 days per week
I've now completed my Level 2 course and I'm in my final year of Level 3 Extended Diploma. I particularly enjoy drawing and designing and making useful things.

My favourite part about Level 3 has been experimenting at the forge with new connection techniques.
Future Opportunities
Practical employment in the blacksmithing/metalsmithing/fabrication industry. Self employed, vehicle restorer, Apprentice in metalsmithing and fabrication industry. Further courses to degree level.
Modules
Indicative Programme Content
The Extended Diploma programme is based around six mandatory core units and twelve specialist units, all other certificates are a combination of units chosen from:
Workshop Practice
Fabrication Drawing
Using Forging techniques
Using Fabrication techniques
Drawing Practice
Principles and methods of design
Introductory Welding
Small scale design and working
Work Experience
Large scale design and working
Forge Practice
Repousse and other decorative skills
Blacksmithing and construction skills
Business Management
Manual Arc welding
English & maths
Metal Arc Gas shielded welding
Specialist units
2D Visual Communication
Using Ideas to Explore, Develop and Produce Art and Design (silversmithing)
3D Design Briefs (silversmithing)
3D Design Crafts Briefs (silversmithing)
Application of Welding Processes
Fabrication Techniques and Sheet Metal Work
Working with Blacksmithing Specifications and Calculations
Introduction to Land-based Workshop Practice
English & maths
Ready to take the next step?
Apply for this course online now to begin you journey towards a qualification in Blacksmithing & Metalwork.
Talk to us
Not quite ready to apply yet? We are happy to discuss courses and help you find the perfect fit.