Standard Level 2
This Apprenticeship is an excellent way to develop your skills while working in the industry.
The key role for Stockperson is to raise the animals with optimal welfare and consideration for their needs throughout the different stages of their life. This is practical work involving a combination of technology and manual labour.
THE STANDARD INCLUDES:
Functional skills in English and maths
Occupational Qualification – Level 2 Stockperson Standard
This standard covers the core generic requirements for looking after animals competently and apprentices will choose a sector options, with focus on specific needs for different livestock.
SECTOR OPTIONS:
Pigs
Dairy
Beef
Sheep
Careers Hub
We offer impartial careers guidance to all current and potential students, to learn more about careers support at Plumpton College or to explore your next step, contact Careers Hub on 01273892010 or email careers@plumpton.ac.uk to book an appointment with a member of the team – we're here to help.
Entry Requirements:

You will need an employer who would like to take you on as an apprentice.

You will also attend college for a minimum number of set hours each week.

You will have ideally have achieved GCSE grades A-E or equivalent. If you have an equivalent qualification, we will also take this into consideration, along with any industry experience you may have.

Dates & Location:

Three starting points – September, January and April

Duration:

18 months

Costs:

Non-levy paying employers will share the cost of training and assessing their apprentices with government - this is called 'co-investment'.

From April 2019, you will pay 5% towards to the cost of apprenticeship training and government will pay the rest (95%), up to the funding band maximum.
Ready to take the next step?
Apply for this course online now to begin you journey towards a qualification in Apprenticeship Stockperson.
Talk to us
Not quite ready to apply yet? We are happy to discuss courses and help you find the perfect fit.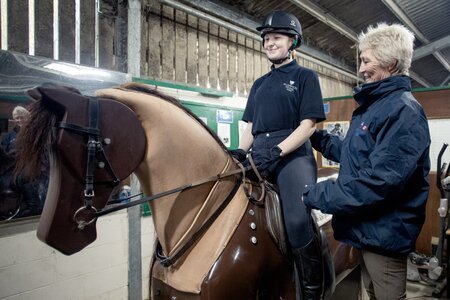 Hire our equine facilities
Discover our facilities available to hire, including indoor and outdoor schools and mechanical horse
Can't find an apprenticeship?
Is the apprenticeship area you are interested in not listed? Not to worry, contact us with what apprenticeship you are looking for and we will get in touch with more details.