Lots of agriculture courses to choose from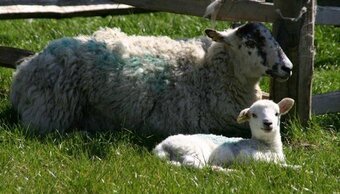 If you're looking for one of the most important industries in the land-based sector, you'll certainly find it in agriculture at Plumpton.
With the world's population growing all of the time, it's vital that we find ways to produce food sustainably. We have an excellent range of courses that will inspire you and give you all the necessary skills and knowledge you'll need to succeed.
Whether you're just leaving school or you'd like to take a degree, we've got lots of choices for you to consider at Plumpton. Equally if looking to expand on your current skills, you'll find an agriculture course to suit you.
Course finder
Displaying results 25 to 28 out of 28
Facilities
Come and discover our excellent agriculture facilities at Plumpton - set in the backdrop of the beautiful South Downs. You'll find the latest state of the art equipment plus all the different types of farmland for you to experience here at Plumpton.
Lots of space for you to work in
Our 780-hectare commercial farming estate gives you the opportunity to experience different livestock and arable farming.
The latest equipment for you to discover
We've got a modern 300 cow dairy unit complete with 36:36 Herringbone milking parlour where you'll gain hands-on experience.
An extensive range of livestock for you to experience
You'll get to work with our Sussex beef cattle, sow pig unit plus our extensively managed flock of 550 sheep.
The perfect environment for you to study
You'll enjoy practical lessons where you'll gain hands-on farming experience in our modern classrooms and farming sites.
Future opportunities
Currently the UK farming industry is facing some major changes, however challenges always create opportunities and there are exciting prospects for keen, enthusiastic individuals to progress into farming careers. Helping to meet the growing needs of the industry, new employees will have the skills and experience necessary to meet the challenges of the 21st century.
Gaining a recognised, industry-focussed qualification will provide a fantastic foundation for all learners to progress and succeed. Providing a platform for an individual to grow and explore the wider areas of the industry, whether that be progression on to an Agriculture or Animal Science degree programme, or into an employed position with an agricultural contactor, there are numerous, exciting opportunities available for our graduates.